John Krasinski Was Almost Cast As THIS Marvel Superhero, But It Worked Out For The Best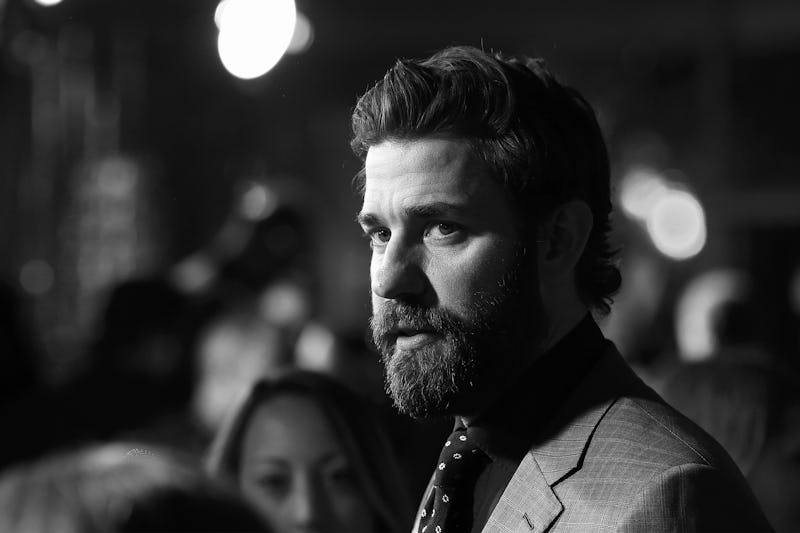 Nicholas Hunt/Getty Images Entertainment/Getty Images
Nowadays with social media, giving fans total access to their favorite celebrity's day-to-day lives, common folks are now privy to knowledge that used to be buried in the Hollywood archives. But even with early production news at your fingertips, there are some things that never see the light of day until much later. Like, how John Krasinski almost became Captain America — per Variety. Yes, that Captain America.
The Marvel superhero decked out in red, white, and blue is currently played by Chris Evans. But, after learning that Krasinski was considered for the part, it's hard not to wonder about all of the ways the multi-layered actor would have shaped the character. In the Variety write up about Krasinski's most recent action role of Jack Ryan, the star talked a bit about the journey that led him to the iconic Amazon Studios title character. And one of the biggest turning points recounted in the interview was about The Office alum not landing one of the biggest roles in the Marvel franchise. According to the Variety interview, Krasinski was very much considered for the superhero role — but ultimately, he did not get the part.
"My agent called and said, 'They're going to go with Chris Evans,'" Krasinski said in the interview. "And I remember I said, 'Yeah, look at him. He's Captain America.'" Not landing a role as big as Marvel's Captain America would seemingly, and understandably, have anyone feeling down. But Krasinksi didn't seem to take the news too hard. The actor recieved the call on his wife, Emily Blunt's, birthday, eight years ago. And when she asked Krasinski if he would much rather cancel their plans for the evening, seemingly to celebrate indoors, the actor replied with, "It's Chris Evans. Of course we're going to dinner.'"
Anyone who's been keeping a close eye on Evans since playing the Marvel character can attest to the fact that he, in fact, is Captain America in the flesh. The smoldering eyes, the hair that never has a single strand out of place, his strong, yet, empathetic demeanor, and, of course, his socially conscious commentary all on Twitter, all prove that Evans is Captain America in real life. With that, it's more than clear that everything happens exactly when its supposed to, and for a reason. Don't believe in this bit of fate? Well, just look at Krasinski's career over the past decade.
Not landing Captain America just made room for a slew of other opportunities for Krasinski. The actor was not only able to take on the title role of Jack Ryan in the Amazon series, but he was also given the bandwidth to write, direct, and star in his box office smash, A Quiet Place, which as a modestly budgeted film, went on to exceed the expectations of critics and moviegoers alike. Trying to imagine a world where Evans didn't save the world one bad guy at a time in the Marvel franchise is just as impossible as trying to imagine anyone other than Krasinski helming his beloved Office character Jim Halpert — and more recently, the ever-so eager Jack Ryan in the series titled by the same name.
Krasinski almost getting the role of Captain America is a total testament that nothing meant for you can be taken away. And in Krasinski's case, rejection only makes room for something way more suitable for you.