John Krasinski Had An Emotional Reaction To Seeing Wife Emily Blunt's 'Mary Poppins Returns'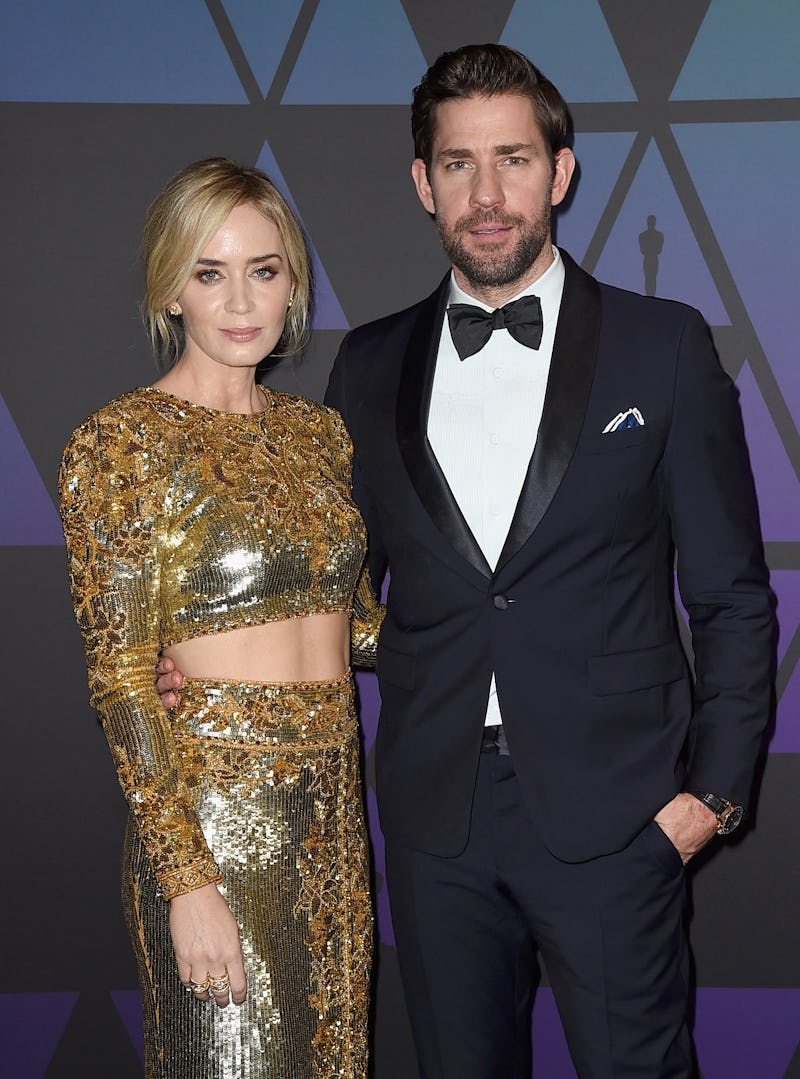 Kevin Winter/Getty Images Entertainment/Getty Images
There are supportive and encouraging spouses in the world, and then, there's John Krasinksi. Proving that the Jack Ryan star is truly his wife Emily Blunt's biggest fan, John Krasinski sobbed the first time he sawMary Poppins Returns — a fact which he recently revealed in an interview with Ellen DeGeneres.
According to Entertainment Tonight, the actor admitted that his emotional reaction to seeing Blunt's take on the iconic magical nanny took him by surprise when he first saw the film in a private screening. "The first time I saw it, they give you a tissue box in the screening room, and I thought, 'Oh, that's very nice. I don't have a cold,'" Krasinski recounted during an appearance on The Ellen DeGeneres Show. "And they started screening the movie and 25 minutes into the movie, I stood up and went to the back of the room."
But while Blunt was worried that Krasinski's reaction meant that he didn't like the film — she even noted that she had "never seen this happen" to her husband before — he was actually trying to find something to wipe the flood of tears from his face.
"I was pushing through all of the muffins and bagels that were in the back looking for napkins," Krasinksi revealed. "I was like, 'I need anything to stop this crying!' I was crying so much I blew through the tissue box in 20 minutes, had to go to the napkins, and then when I ran out of napkins it was all sweater," the actor said, miming wiping his eyes with the lapels of his sweater.
But lest you think that Krasinski's emotional outburst might be a result of his close relationship to Blunt — after all, he has admitted to seeing The Devil Wears Prada over 70 times — the actor wants everyone to know that Mary Poppins Returns will definitely result in waterworks when it opens in December.
"It's honestly one of the most beautiful films," Krasinski said. "I think it's exactly what everybody needs at the holidays. It's pure joy."
During his interview with DeGeneres, Krasinski also confirmed that he is working on a sequel to the hit horror film, A Quiet Place, "right now," though he declined to share any details about the film's potential plot. The actor had previously admitted that he was hesitant to take part in the Quiet Place sequel, in order to keep the film as a special experience that he and Blunt had shared.
A Quiet Place truly became a family affair, thanks to the couple's decision to channel their experiences of parenthood into the film. "I was living those days that anybody with kids knows, that you're actually checking their breathing, and you're checking to make sure they're alive and healthy and happy and all those things," Krasinski told The Hollywood Reporter about the process of rewriting the film's script in November. "And I said, 'If I could rewrite the script, I could bring this to be the best metaphor for parenthood.'"
Krasinski wrote the role of matriarch Evelyn Abbott with his wife in mind, he never formally asked her to take on the role, out of fear she'd reject him. "I've been next to her when she's made all these amazing decisions and she's without a doubt the classiest, smartest, most dedicated actress I've ever known," the actor revealed on Jimmy Kimmel Live! back in October. "And when you see how much she puts into every role, I didn't want her to come to set just for me."
Thankfully, after she read the script while on a flight with Krasinski, Blunt demanded that she be able to star opposite her husband. "She genuinely looked sick," Krasinski said of Blunt's reaction to reading the story for the first time. "And I was reaching for a barf bag thinking she was gonna throw up, and instead she said, 'You can't let anyone do this movie.'"
Clearly, the couple's support of each other's projects has worked out for both of them — even if it means that Krasinski has found himself crying in public more often than he predicted. You can experience the emotional journey for yourself when Mary Poppins Returns arrives in theaters on December 19, but remember to bring tissues.