Sorry Haters, But JT Thinks Prince Would've Loved His Super Bowl Halftime Tribute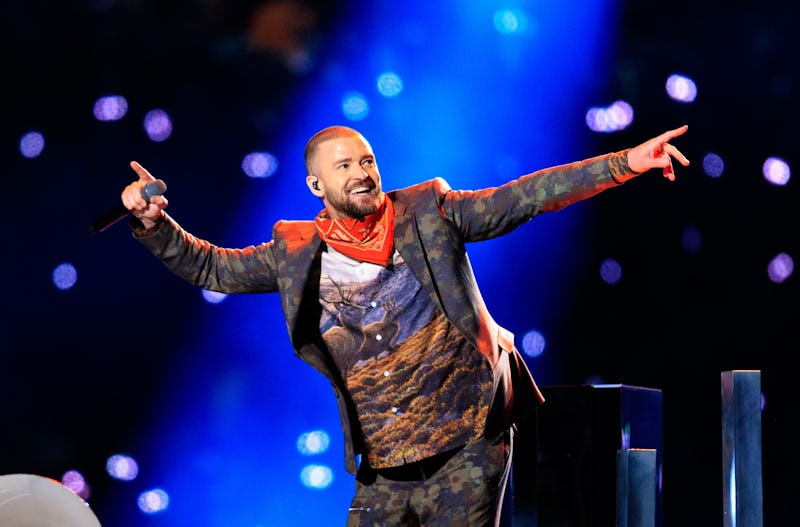 Christopher Polk/Getty Images Sport/Getty Images
It's hard to say whether there was more talk about the halftime performance or the big game itself this year. Rumors abounded about the show, both beforehand and afterward, but finally, Justin Timberlake explained that Prince halftime tribute at Super Bowl LII in his own words. However, you can't expect an official response to the rumors circulating online that Prince and Timberlake weren't on the best of terms, because the "Filthy" singer didn't bring them up directly. But Timberlake did tell Jimmy Fallon that Prince is his "favorite musician of all time," and that he felt like the late singer was "looking down" on his performance. So you can draw your own conclusions about his take on the perceived beef.
"He's always been the pinnacle of musicianship for me," the 37-year-old told the late night host. So when the singer was offered the halftime show at a Super Bowl being held in Prince's hometown of Minneapolis, it felt like "serendipity and synergy." He continued:
"He's such a special thing here, aside from what he is all over the world, I just felt I wanted to do something for this city and something for him that would just be the ultimate homage to what I consider the GOAT of musicians."
That's "Greatest of All Time," in case you didn't know. And it explains why the late performer was the only cameo featured in a performance that's become synonymous with guest stars. Beyoncé had a cameo at the 2016 game for goodness sake, so many viewers were on the edge of their seat waiting to see whom Timberlake would bring onstage. Would it be an *NSYNC reunion? Perhaps a Chris Stapleton duet? Maybe he'd finally do right by Janet Jackson after the fateful 2004 performance that damaged just one of their careers?
But nope. The Man of the Woods performer remained onstage solo performing all his own music, aside from the cover of Prince's "I Would Die 4 U," which he underscored with a video of Prince projected on a large swath of fabric. And to all the haters who ask why — because serendipity and Minneapolis demanded it. At least according to the rest of what Timberlake shared during his Feb. 4 appearance.
"I mean, you have to understand: we got the actual real vocal stems from "I Would Die 4 U." The actual recording! And then we got uncut footage from his performance of it in Purple Rain. And somehow, some way, by the grace of — probably Prince looking down on us— it synced up. It was like this crazy serendipitous moment...I just wanted to use the opportunity to do something special for this city. But most of all, for my favorite musician of all time."
Some fans were appreciative, certainly. But others felt that Timberlake was giving lip service to the late singer's memory in an attempt to ride Prince's coattails in the city that loves him. After all, most if not all of Timberlake's public commentary about Prince has come after the latter's death. Prior to Prince's death, Michael Jackson seemed to be much more of an inspiration to the former boy-bander. In fact, while the Minnesota-native was alive, he and Timberlake reportedly seemed to exchange barbs over the years, in everything from interviews to award show speeches and even in lyrics.
But that alleged history didn't seem to slow Timberlake up, because he was nothing but confident throughout his appearance on The Tonight Show. At one point, he gestured over to house band The Roots and said he felt like Questlove was the "gatekeeper on Prince," adding, "so if I got the thumbs up from Quest, I'm good."
Whether he got the thumbs-up from the majority of Prince fans is another question, altogether. But no matter where you fall on the issue, one thing we can likely all agree on is — well, at least he didn't use a hologram, right?