Khloé Is Super Straightforward About How Her Baby Won't Fix Her Relationship With Caitlyn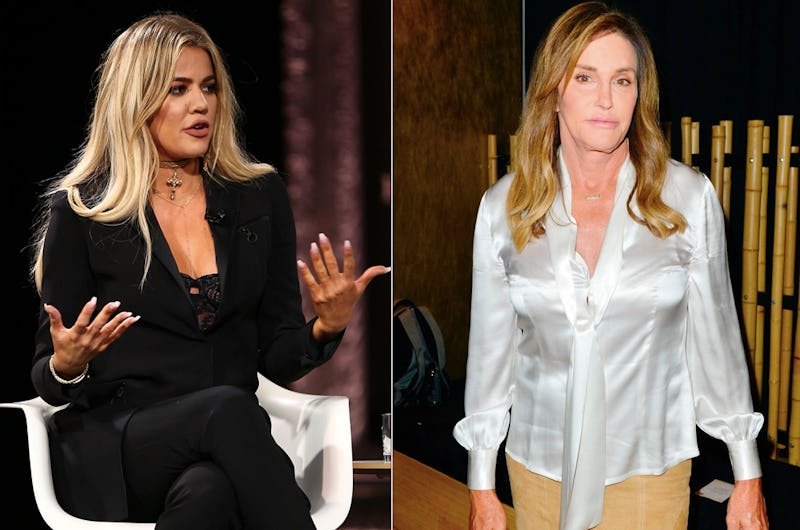 Joe Scarnici/Getty Images Entertainment/Getty Images; Jerod Harris/Getty Images Entertainment/Getty Images
Khloé Kardashian is, by all accounts, ecstatic to become a mom, but her new baby won't magically fix old wounds. In an interview with ITV's Lorraine (per People), Kardashian said that her baby won't change her relationship with Caitlyn Jenner. The Keeping Up With The Kardashians (executive producer: Farnaz Farjam) star's relationship with Jenner remains complicated, regardless of the child she's about to welcome into the world.
The Lorraine interviewer asked Kardashian how the baby would affect things with Jenner, inquiring if a new grandchild would bring them closer together. Though Kardashian's child will not be Jenner's grandchild biologically speaking, Jenner was involved in Kardashian's life ever since her mom, Kris Jenner, married Jenner when Kardashians was six years old. (After 23 years of marriage the two divorced in 2015.) Now, the Revenge Body host is 29 weeks pregnant with her first child with her boyfriend, NBA player Tristan Thompson. While the celebration of a new life has been known to bring people closer together, Kardashian doesn't believe that the addition to her family should change things.
"No, I don't think that affects anything with Caitlyn," Kardashian said. Adding, "[Things are] just as they are."
That means that, at least for now, things are going to remain rocky between the two reality stars who were once very close.
Kardashian and Jenner seemed to have a great and positive relationship in the earlier seasons of KUWTK, before Jenner and Kris split. However, back in 2015, Jenner revealed that her youngest stepdaughter had the most trouble coming to terms with her coming out as transgender. Jenner explained in an interview with Diane Sawyer, "[Khloé's] had the toughest time with it, because she's had a lot of losses in her life. She lost her father at a young age. He died suddenly — cancer. And Lamar [Odom, Kardashian's ex-husband] had his issues." Jenner continued:
"She feels like this massive, 'my whole life's falling apart. It's my dad.' And I'm trying to explain that I can't argue that point, but I'm not going anywhere, I'm still going to be there for you."
At that time, Kardashian shared her support of Jenner over social media and on KUWTK, but admitted that she was having trouble adjusting.
However, in the year the followed, Kardashian told both Ellen DeGeneres and Howard Stern in interviews that she was mad about how Jenner came out to her. Kardashian told DeGeneres, "We kept asking him, 'Bruce, like what's going on? We're hearing all these rumors?' and he kept telling us one thing but really he knew he was transitioning and wouldn't be honest with us."
Their relationship took another hit with the release of Jenner's 2017 book The Secrets of My Life. In the memoir Jenner made claims about her marriage to Kris that deeply upset the Kardashian matriarch, as well as her children, including Kendall Jenner, who spoke about the book on KUWTK.
Jenner defended the book on Good Morning America, explaining:
"First of all, I think the book is extraordinarily honest and it is my perspective. And obviously when you do a book there are different opinions. I have a lot of friends — know the truth and know what I've been through and know the whole situation."
Despite the fraught relationship with her step-daughter, Jenner remains in the life of her children with Kris, Kendall and Kylie Jenner. According to People, Jenner attended Kendall's 22nd birthday party last November. Jenner also congratulated Kylie on the recent birth of her baby, Stormi, with an Instagram post. "My daughter just had a daughter," Jenner captioned the picture of a baby Kylie. "It's amazing to be by your side through this journey. She's SO beautiful already."
For now, it seems like Jenner and Kardashian's relationship isn't exactly on the mend — and her new baby isn't going to change that.