Now That Khloé's Baby Has Arrived, Fans Are Already Taking Guesses About Her Name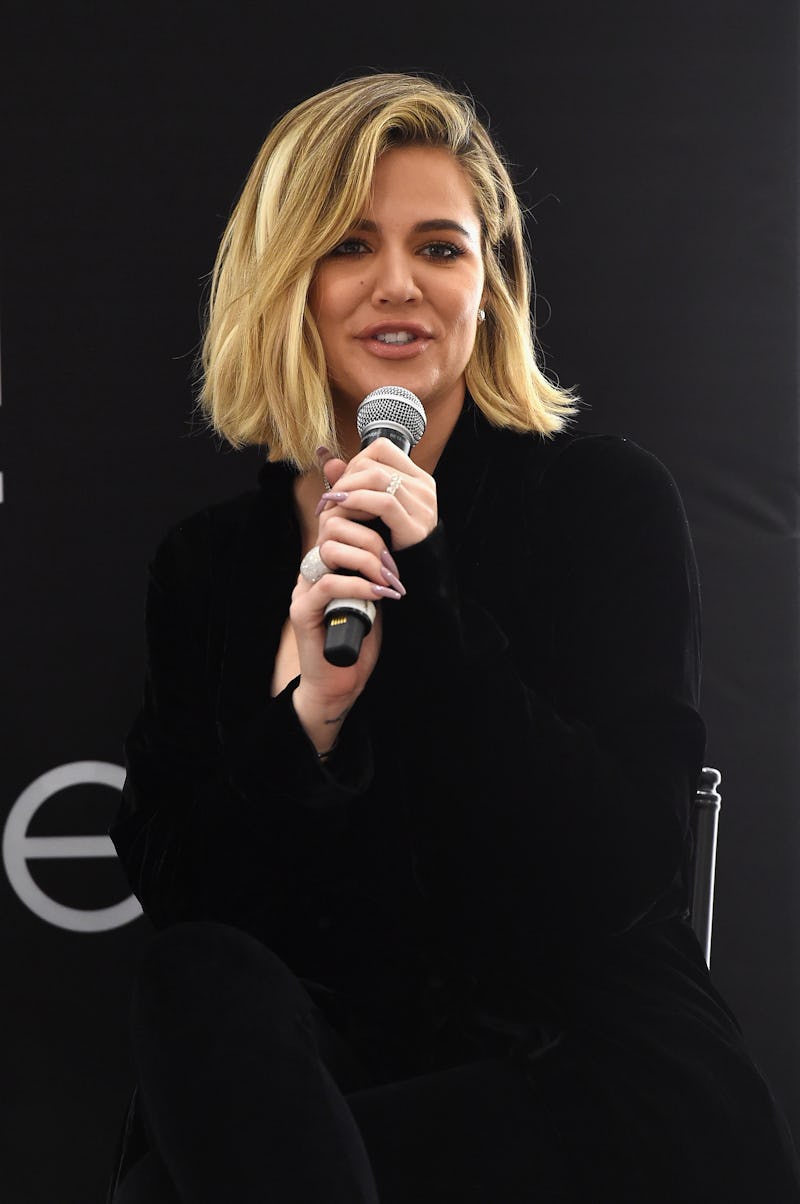 Jamie McCarthy/Getty Images Entertainment/Getty Images
After months of speculation surrounding the pregnancy and the subsequent birth of her first child, Khloé Kardashian's baby name is something fans are eager to know. And now that Kardashian's baby is officially here, the child will take her rightful place within the dynasty alongside his uniquely named cousins, North, Reign, Saint, Dream, Chicago, and Stormi. The name hasn't been revealed just yet, but Kardashian has dropped hints in interviews along the way, and fans are already taking their best guesses.
During a trip to The Ellen DeGeneres Show back in January, the 33-year-old revealed ideas about baby names, noting that she'd want to give the baby either her or the baby's father Tristan Thompson's first initial, which means that the newborn's name may begin with either "K" or "T."
Kardashian doubled down on this notion during a live-tweet session with fans amidst the Keeping Up With The Kardashians season finale on March 4. During the Twitter conversation, one fan asked the reality star, "Do you have a name picked out for your sweet baby girl yet?" Kardashian responded to the the tweet saying: "NO!!! It's so hard!!! Lol I knew the name if I was having a boy. So now I really have to figure this out." Meanwhile, another fan asked, "Are you going to follow tradition and name your baby something beginning with a 'k'?" Kardashian explained, "I think a T but a K is an option as well. That's as far as I know."
TMZ broke the news on Thursday that Kardashian gave birth to her daughter in Cleveland earlier that morning. The site also reported that the child doesn't even have a name as of yet. (Bustle reached out to her reps for comment on the birth and baby name, but did not receive an immediate response.) Notoriously private during the beginning stages of her pregnancy, Kardashian waited until she was six months along to make the official announcement.
While word began spreading about her pregnancy back in September of last year, Kardashian officially shared the news in a black-and-white Instagram photo which featured her prominent baby bump. Elated about the pregnancy, Kardashian gushed about the news in the caption. She wrote,
"My greatest dream realized! We are having a baby! I had been waiting and wondering but God had a plan all along. He knew what He was doing. I simply had to trust in Him and be patient. I still at times can't believe that our love created life! Tristan, thank you for loving me the way that you do! Thank you for treating me like a Queen! Thank you for making me feel beautiful at all stages! Tristan, most of all, Thank you for making me a MOMMY!!! You have made this experience even more magical than I could have envisioned! I will never forget how wonderful you've been to me during this time! Thank you for making me so happy my love!"
In that same post, she revealed her reason for remaining quiet about her pregnancy, writing: "We wanted to enjoy this between our family and close friends as long as we could privately."
Following that revelation, Kardashian turned into somewhat of an open book when it came to details of her pregnancy, as she casually began answering questions about due date on Twitter and live-tweeting her pregnancy cravings. She also started showcasing her baby bump on a regular basis in the months following the big announcement.
She has yet to drop an equally big announcement about the baby's arrival, but TMZ reports that Kardashian delivered the baby girl at approximately 4 a.m. on Thursday. The outlet also revealed that the baby's father Thompson was present during the delivery despite rumors that he had reportedly cheated on Kardashian in the months leading up to the child's birth. (Bustle reached out to Kardashian and Thompson's reps about the cheating rumors, but did not receive an immediate response.) Kris Jenner, Kourtney Kardashian, and Kim Kardashian-West, as well as her best friend Malika Haaq, were also reportedly present at the time of delivery.
And without any concrete information, fans are tweeting out all their best guesses about the name.
As for the actual name, knowing Kardashian, she'll likely be sharing the news on Twitter with fans in no time.