Khloe's Baby Name Meaning Goes Much Deeper Than You Thought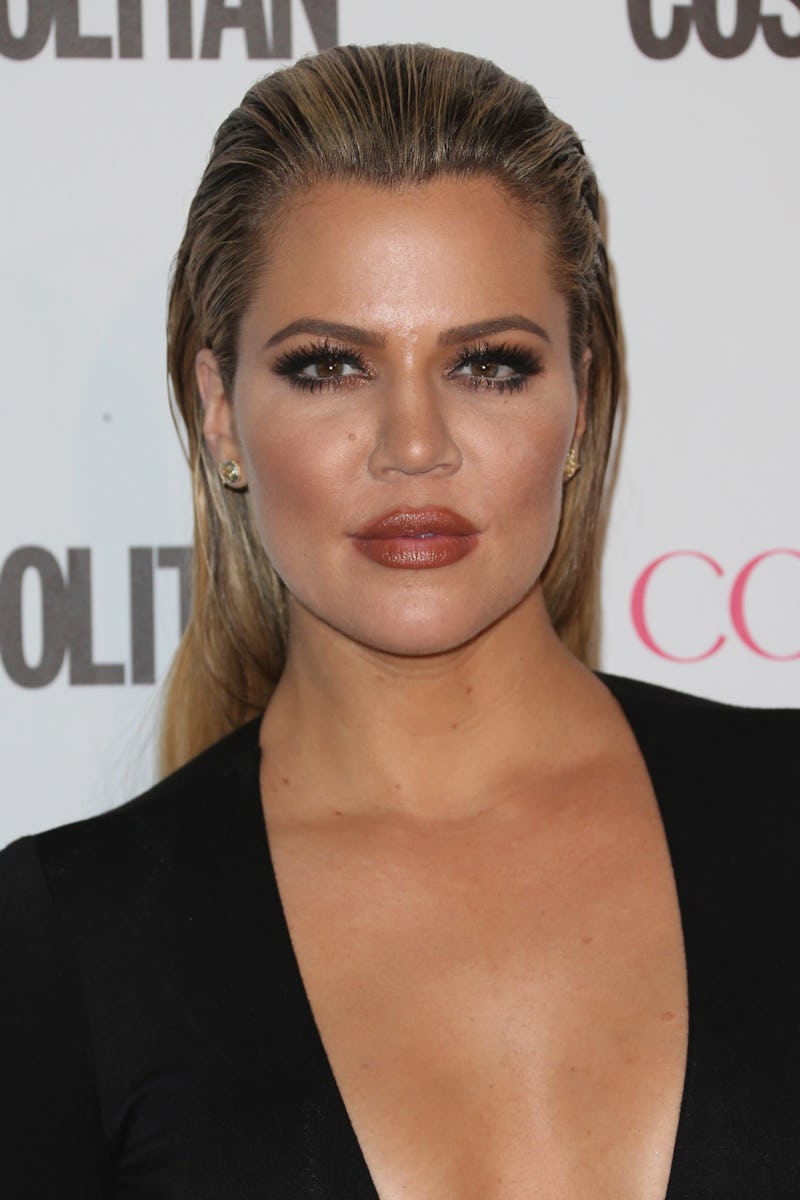 Frederick M. Brown/Getty Images Entertainment/Getty Images
If you weren't already in love with Khloé Kardashian's baby name choice for her daughter, then you're about to be. Shortly after the new mom announced that her daughter with Tristan Thompson is named True, Khloé's mom, Kris Jenner, revealed that True Thompson is named after Kardashian's great-grandfather.
Jenner shared the news on Instagram in a post that's full of pink balloons. She wrote,
"I'm so excited to welcome my precious little granddaughter True!!! FUN FACT... my Grandfather's name on my Dad's side was True Otis Houghton....my real Dad's name was Robert True Houghton...so i am so excited Khloe named her daughter True!!! #lovebug #familytradition #family @true"
The name seems to be the perfect blend of celebrating Kardashian's family history and tradition, as well as recognizing dad, Tristan Thompson. Before she gave birth, the Revenge Body star told a fan on social media she was considering K names (a clear homage to her mother and her four famous sisters, Kourtney and Kim Kardashian, and Kylie and Kendall Jenner), or T names, which seems like a way of celebrating her husband who also has the initials TT. If she had a son, she told Ellen DeGenerous on Ellen, she would have named him Tristan Jr.
Though Kardashian did not give her daughter a middle name, or if she did it has not yet been reported, that too is a bit of a Kardashian-Jenner tradition. Many of True's cousins do not have middle names, including all three of Kim Kardashian and Kanye West's children — North, Saint and Chicago West, and the cousin closest to her in age, Kylie Jenner's daughter with Travis Scott, Stormi Webster.
As Time notes in its brief history of middle names, the use of the third name often is used to recognize different family members. This use of a second name to recognize the family has been used by the Kardashians in this way in the past. Rob Kardashian and Blac Chyna named their daughter Dream Renée Kardashian, while Chyna's middle name is also Renée (her real name is Angela Renée White). Likewise, according to Elle, Kourtney reportedly gave Mason the middle name Dash in recognition of her brother's nickname, and gave Penelope the middle name Scotland as an homage to her children's father Scott Disick.
However, by giving True a first name that is already tied to the Kardashian family tree, Khloé was able to circumvent the need for a middle name to pay her respect to her family's traditions. The whole clan can feel even more connected to their roots and future when they think of the first name of the newest addition to their large close-knit brood. No middle name necessary, here!
Though True might seem like a very unusual name, it is not original to the Kardashian fam. According to Babynames.com, the name means, as the English word does, "real, genuine," and it appears on nearly 200 baby name lists. While it might have been two men who had the name "True" in Kris' ancestry, it is usually considered to be a female name, though it also can be a unisex name choice. The site Nameberry.com reports that both actors Forest Whitaker and Joely Fisher have daughters named True, while Meg Ryan used the moniker for her daughter Daisy's middle name.
The uncommon name has a lovely meaning and sound to it, and it could easily become a new favorite for other expecting parents interested in a T name — even if they don't have a True in their family history. Whether or not it'll catch on and become like the next Khaleesi, remains to be seen.