Kim K Went To Katy Perry's Concert & The Timing Is Making Twitter Suspicious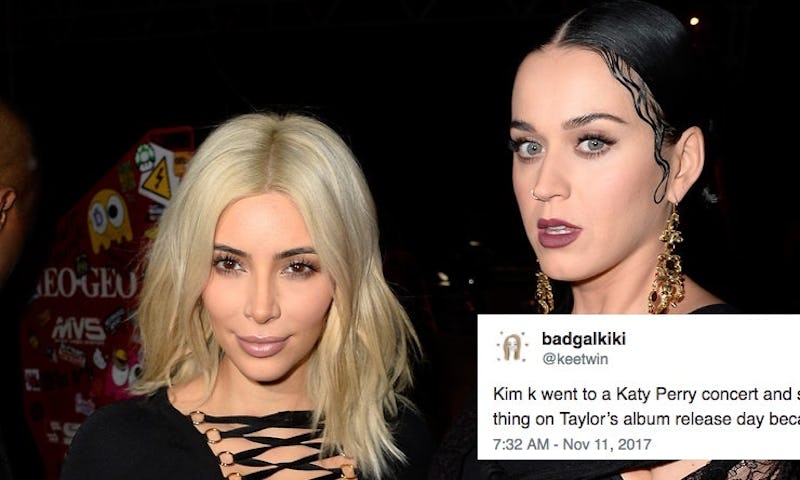 Pascal Le Segretain/Getty Images Entertainment/Getty Images; keetwin/Twitter
When Taylor Swift's new album finally dropped, fans everywhere dedicated Friday, Nov. 10 to listening to Reputation. Some Swifties had the album on repeat nearly all day. However, not everyone spent Friday listening to it. For example, Kim Kardashian went to a Katy Perry concert with her daughter North West, and she documented the outing on Snapchat for all to see. In fact, some people on Twitter think that the timing wasn't a coincidence and that Kardashian chose to see Perry (who, like Kardashian, had a public feud with Swift) on Reputation's release day as a means of throwing shade at the "Look What You Made Me Do" singer.
Granted, just because she was at a Perry's concert doesn't necessarily mean Kardashian didn't get herself a copy of Reputation. But since a number of songs on the album are rumored to be about Swift's feud with Kardashian and her husband Kanye West, it does seem unlikely that Kardashian would be a fan of the new music. Remember, it was Kardashian who shared video to Snapchat of Swift appearing to give West permission to reference her in a song, which set off a wave of people leaving snake emojis in Instagram comments and tweets about Swift. Then, in promoting Reputation, Swift seemingly reclaimed the snake emoji as part of her new image.
But, back to the concert. Although a vast majority of the tweets about this topic are from those who believe Kardashian's Snapchats were shady, a few have suggested that her decision to attend Perry's concert might have not have had anything to do with Swift. "Taylor does not own Friday," one dissenter tweeted. Be that as it may, Kardashian is a master of social media, and she's keenly aware of how to influence the media's narrative about her. Given the fact that so many articles were published on Friday about the references Swift made to Kardashian and West, she was undoubtedly aware of the release.
Also, consider this: Perry had three concerts in a row at the Staples Center in Los Angeles. Kardashian could have taken North to see one of the other shows, but she didn't. She went on Reputation's release date. Now, you might argue that Kardashian may have wanted to go on a Friday as opposed to a Tuesday or a Wednesday. But again, this isn't just anyone we're talking about, Kardashian is a very savvy celebrity. As fans overwhelmingly have speculated on social media, Kardashian's timing seems undeniably shady.
Shady, But Cute
Sure, the photos might be shady, but how adorable does little North look in those flamingo sunglasses?
We See You, Kim
It's hard not to notice the timing, especially when Kardashian posted photos to social media making it super easy for fans to share online.
Calendars Don't Lie
Although we can debate her intent — the calendar doesn't lie. Kardashian and Perry are two of the most-referenced people on Reputation, besides Swifts new rumored boyfriend Joe Alwyn, so it would have been impossible for either of them not to consider the timing of their photo together.
The Proof Is In The Pictures
And a picture is worth a thousand words.
Some Shade Could Definitely Be Going On
Fans are pretty sure that the Snapchats are shady, and they make a compelling case.
Or What?
Seriously, what other explanation is there?
All In Good Shade
However, like fans have pointed out a loud concert isn't necessarily the most kid-friendly venue. (Not trying to Kardashian's parenting — far from it. North is probably used to seeing her father in concert. Plus, like users on Twitter agree, it's all good when it comes to the art of throwing shade.)
We're Talking Real Housewives Level Shade
Yes, honey!
Some Fans Are Here For It
Because it's fun thinking that Kardashian may have found a subtle way to take a dig at Swift.
Shady Or Petty? You Be The Judge
Some users of Twitter are saying that Kardashian's Snapchat activity is petty, but not in a bad way. Fans are calling it an aspiration level of petty. Which does seem almost like a compliment, right?
Shady or not, it does look like Kardashian and her daughter had a good time at Perry's concert. The adorable pictures and videos Kardashian shared speak for themselves.