Kim Kardashian's New Photo Of Saint Proves He Looks More & More Like His Parents Everyday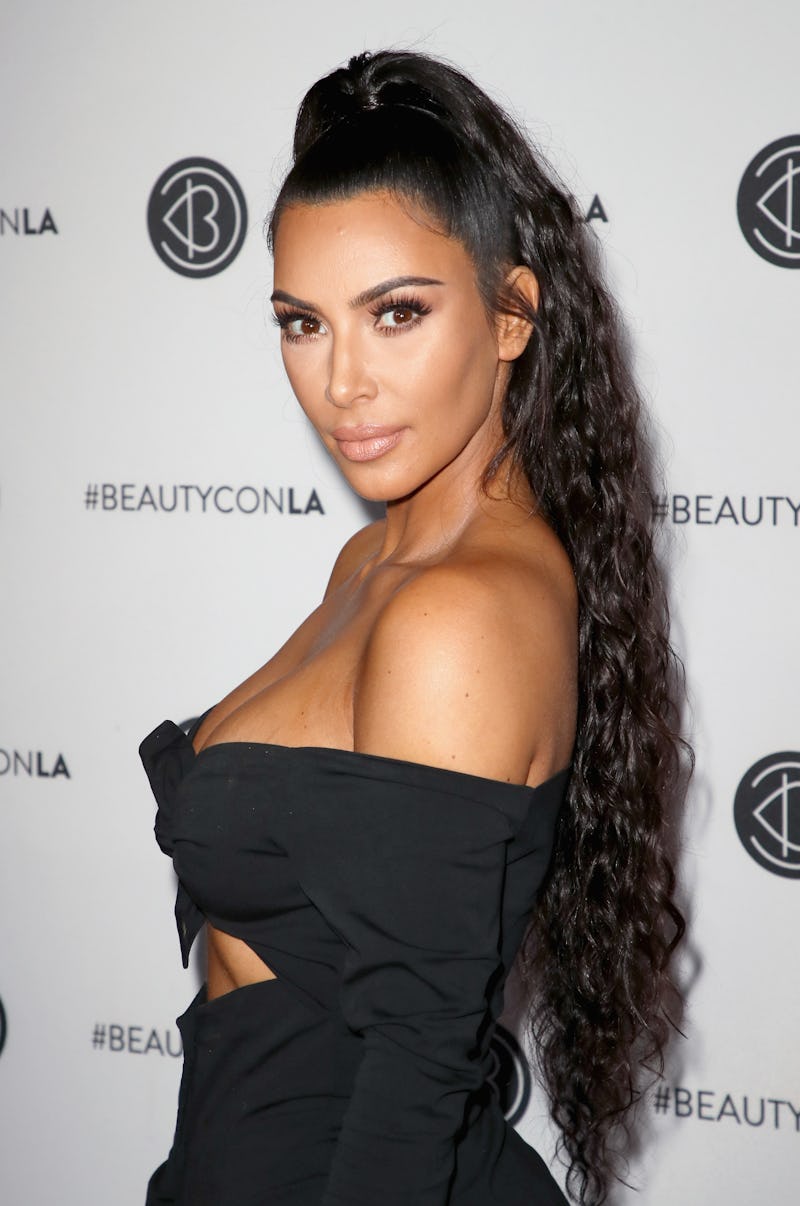 David Livingston/Getty Images Entertainment/Getty Images
Kim Kardashian just shared an adorable new photo of her son, and the family resemblance is definitely there. Saint West looks a lot like Kanye West in Kardashian's new photo, but his mom's influence is still clear.
In the photo Kardashian shared, Saint is playing on the beach, with sand covering his legs and a slight grin on his face. The mom-of-three captioned the image with a simple "O 💙M 💙 G 💙," which is a pretty fitting way to put it. Naturally, fans chimed in with comments about how cute Kim K's son is, and marvel over how big he's getting.
Other celebs joined in, too. Jada Pinkett Smith commented, "Awwwwwwwwww" on the Instagram post, while Naomi Campbell wrote that Saint is "precious." Even Paris Hilton joined in on the comments, writing, "Too cute!"
The photo of Saint is likely from the vacation the Kardashian-West family took last month. Kardashian has been sharing photos of her family members on the beach for the past few weeks, and it looks like the family had an awesome time. She hasn't been geotagging the pictures, but wherever they were, it looks like the family was able to enjoy some privacy away from paparazzi and prying eyes.
Before posting the photo of Saint, Kardashian also shared a sweet photo of herself and North on Instagram last week. It looks like the picture may have been from the same beach trip, since North is wearing a bathing suit in that image, too. And if Saint looks more like his dad, North is the spitting image of her mom.
And as for her third child, Kardashian recently posted a photo of Saint with baby Chicago, too. Saint is grinning ear to ear as he holds his sister up (though, as Kardashian made sure to point out in her caption, she's actually supporting the baby in the photo). Her two younger children are definitely close, too.
In an Instagram video posted earlier this summer, Kardashian talked about how much Saint "loves his sissy," referring to Chicago. Apparently, Saint even calls his baby sister "Jack Jack," a reference to The Incredibles.
Kylie Jenner may not be sharing too many photos of baby Stormi these days, but it looks like Kardashian isn't shy about posting photos of her kids. And as plenty of people pointed out in the comments, it's hard to believe how big her children are getting. Saint is turning 3 in December, while North turned 5 earlier this summer. Chicago West, meanwhile, was born in January.
Anyone who feels bittersweet about Kardashian's kids growing up, though, might be interested in a recent report from Us Weekly. The magazine shared last month that Kardashian and West might consider having another child, via surrogate, as they did with Chicago. Kardashian addressed the baby rumors in an interview with E! News, too. It sounds like a fourth child isn't outside the realm of possibility for Kardashian and West, even if the couple isn't actively planning to have another child right now.
In the meantime, it looks like Kardashian is showering her three children with plenty of love. And based on the adorable picture of Saint and Chicago, it seems like the siblings are getting along super well, too — they're all one big happy family.