Kylie Jenner Attended Her Friend's Baby Shower & She's Back, Baby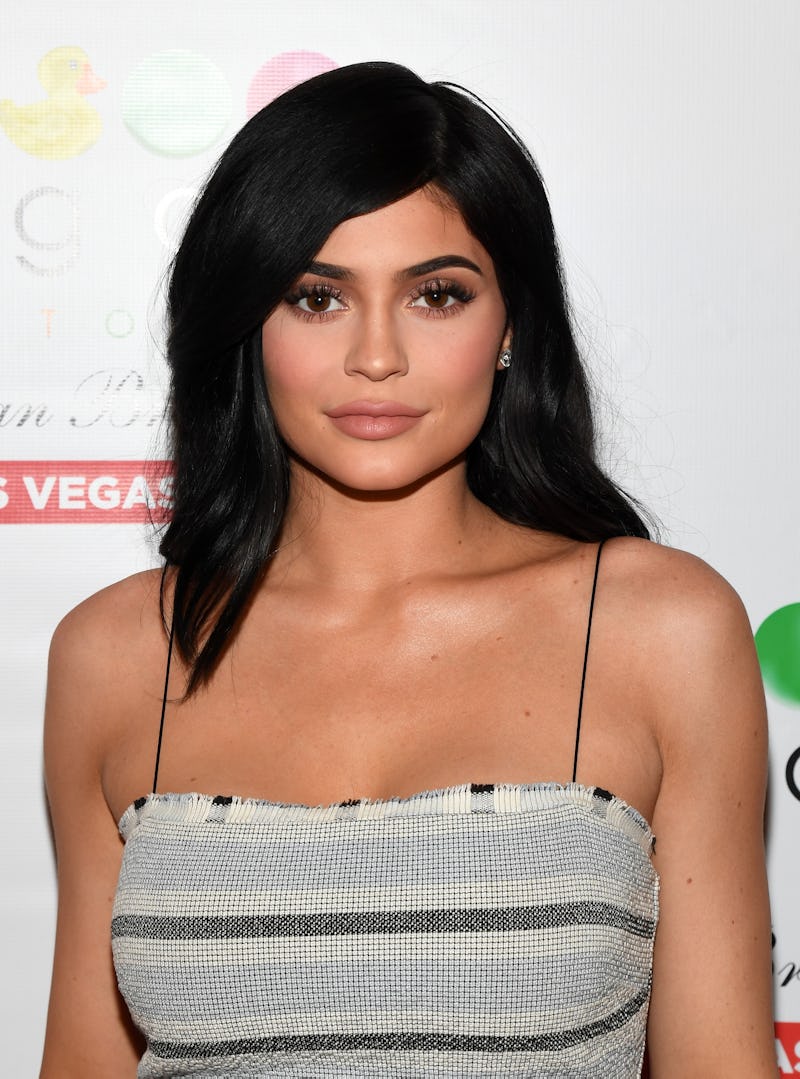 Ethan Miller/Getty Images Entertainment/Getty Images
After staying out of the public eye for pretty much an entier nine months, Kylie Jenner is no longer trying to hide. According to HollywoodLife.com, Jenner went to a friend's baby shower on Sunday, Feb. 11 — and there are photos to prove it. Images surfaced across social media of the Life of Kylie (senior story producer: Janelle Couture) star at her friend Heather Sanders' special event. As you can see below, the 20-year-old reality star wore a red Adidas track suit — and totally rocked it.
It's good to see Jenner out and about after giving birth to her baby, daughter Stormi, with Travis Scott. Fans are so used to her avoiding the spotlight that it's almost kind of strange to see her slowly allowing everyone back into her life. It's safe to say that she most definitely isn't trying to avoid the cameras anymore. On Feb. 11, TMZ shared the first photos of Jenner after giving birth. She stepped out in Calabasas, California with her best friend, Jordyn Woods — and, yes, looked fabulous as always.
When pregnancy rumors first surfaced in September 2017, Jenner was extremely careful about not being photographed and about what she posted on social media. She chose to keep her pregnancy to herself, which is something she explained when she officially confirmed the birth of Stormi on Feb. 4.
"I'm sorry for keeping you in the dark through all the assumptions," Jenner tweeted about staying quiet. She added, "I understand you're used to me bringing you along on all my journeys. My pregnancy was one I chose not to do in front of the world. I knew for myself I needed to prepare for this role of a lifetime in the most positive, stress free, and healthy way I knew how. There was no gotcha moment, no big paid reveal I had planned. I knew my baby would feel every stress and every emotion so I chose to do it this way for my little life and our happiness."
Well, now she seems more than ready to start sharing her journey again with everyone. As you can see above in the photo captured by "EdgarBlueyes", who was also at Sanders' baby shower, both Jenner and Woods were happy to take pictures. Jenner probably wouldn't have done this during her pregnancy, especially if she didn't think she could trust the person not to release the image.
In addition to actually seeing Jenner in photos post-pregnancy, the Keeping Up With the Kardashians (executive producer: Kris Jenner) star has also reacquainted herself with Twitter. On Feb. 9, she tweeted, "Mm just saw the new Snapchat.. I don't know how i feel about it! What do you guys think?" She also responded to someone mad about the Snapchat update, "I kinda agree." Jenner has also tweeted a couple times about her Kylie Cosmetics line.
Of course, she even shared the first image of Stormi on Instagram. As you can see above, the sweet picture showed Stormi holding onto her mom's thumb. You can't see her face entirely, but she sure does look cute. Here's hoping Jenner shares a clearer photo sooner rather than later.
Between the baby shower photos, her social media return, and the fact that she's no longer hiding out, it's safe to say Jenner is back. Who knows how much she'll share of her baby girl on social media or if she'll continue to be somewhat private when it comes to her daughter, but she's being nowhere near as secretive as she was when she was pregnant.