Luann De Lesseps' Latest Divorce Update Is As Classy As 'Real Housewives' Fans Would Expect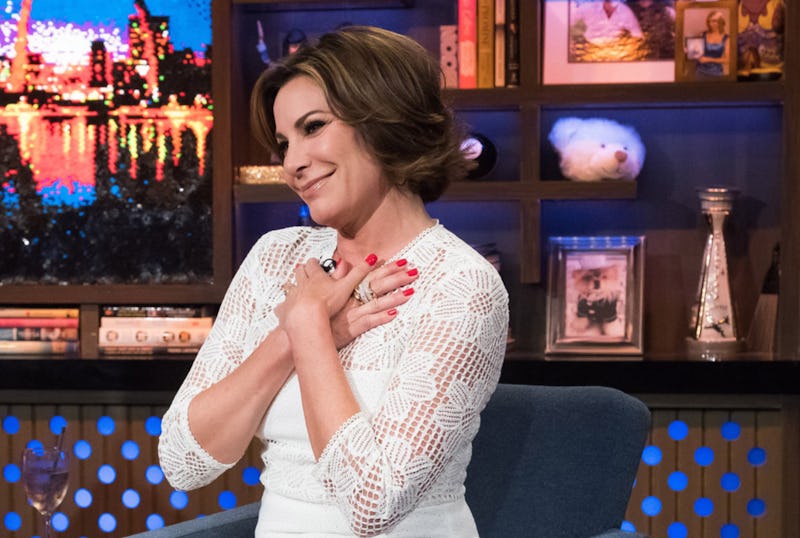 Charles Sykes/Bravo
Gather around, Countess Lu stans, because there's some new content featuring the "Money Can't Buy You Class" pop icon to drink in. On Wednesday, Real Housewives of New York City heroine Luann de Lesseps popped by The Wendy Williams Show, and yes, the interview is a terrific watch. And yes, de Lesseps opened up about her recent divorce. And yes, she was the classiest of class acts about the whole ordeal.
Now, unless you've made a point to avoid any present-day Real Housewives news so as not to spoil what happens on future seasons, then you almost certainly know that de Lesseps and Tom D'Agostino ended their marriage about seven months after their wedding. When host Wendy Williams brought this up during their chat, Lu, in classic Lu style, handled it with grace. Though she did say the dissolution of her relationship with D'Agostino was difficult, she never stopped being diplomatic. Once a Countess, always a Countess indeed.
Sure, she got in a few light digs when Williams asked about the marriage's "last straw," but that's about as heated as it got, which is to say it didn't get heated at all. She explained,
"The last straw was, you know, just between the women, the press, him going out, me getting phone calls, pictures of him at bars, the same bars where he frequents all of the time which I asked him not to go to … It got to a certain point where I got totally fed up. I couldn't do it anymore. I was unhappy, and I think he was unhappy, too."
Alas, even the unflappable Lu has a limit. "I'm a very strong person, as a lot of you know," she said. "I'm pretty resilient, and so I thought I could handle it until the point where I couldn't handle it anymore."
However, when she does reach her limit, don't expect any trash talk or mudslinging. When Williams asked de Lesseps why she's left photos of D'Agostino on her social media accounts, she replied,
"I don't live with regrets. It was a part of my life when I was in love … I don't regret it, I don't take the pictures down. I'm not that kind of person. I don't live in the past. It's part of my life, and that's how I live. I live adventurously, I live with love, and I'm not afraid to love either."
She also told the host that her current relationship with her ex is "amicable."
On Aug. 3, the RHONY star announced on Twitter that she and her then-husband had "agreed to divorce." The process of ending their marriage has moved rather quickly: Earlier this month, de Lesseps and D'Agostino settled, and as she confirmed to Williams, the divorce has been finalized. As if all of the gossip regarding their whirlwind romance wasn't already enough, D'Agostino was recently at the center of rumors regarding another engagement. (Anna Rothschild, the woman D'Agostino was rumored to be engaged to, told Page Six that the story was untrue.)
It hasn't been the most untroubled of RHONY storylines, but that doesn't mean the Countess wants to pretend like it never happened. Messy as the situation was, it's still a chapter of her life. A messy chapter that apparently had its good moments, too. At the end of the interview, Lu added,
"[Tom and I] had a great time also. People don't get to see that part. There was love, there was good times, and I want people to know that it wasn't just all of this scandalous talk in the papers. And people love to talk, they don't know what's going on behind closed doors, so I just wanted to make that mention."
What's this? She wrapped things up on a positive note and shoehorned in one final nice remark about her ex-husband? Even given everything she's gone through over the last couple of years? Classic, typical, quintessential Lu.