Mark Hamill's Birthday Tribute To Carrie Fisher Will Make You Emotional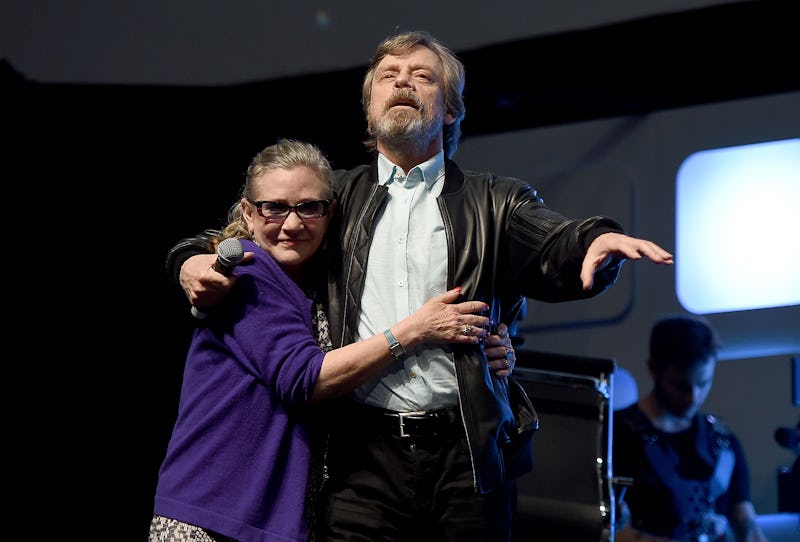 Ben A. Pruchnie/Getty Images Entertainment/Getty Images
Saturday, Oct. 21 is Carrie Fisher's birthday. The actor, author, and all-around icon, who passed at the end of 2016, would have been 61. Costar and longtime friend Mark Hamill's birthday tribute to Carrie Fisher, which he posted on Twitter, is unbelievably cute. And he's not the only one celebrating her memory — the official Star Wars Twitter, a Star Wars account based in the U.K., and scores of fans in mourning have all contributed their thoughts. Dozens of fan pages for Hamill, Fisher, Star Wars, and the like responded in kind, tweeting their own favorite images of the pair and the O.G. Star Wars crew in happier times. This outpouring of support is the perfect way to remember the Star Wars legend.
Hamill offered a gentle tribute to his close friend. Alongside the caption, "#AlwaysWithUs," the actor tweeted a photo of himself and Fisher dancing. It's incredibly old-timey, and couldn't be taken past 1980. Where was it taken, even? The outfits, the goofiness, her smile — it's beyond sweet.
Meanwhile, the official Twitter account for Star Wars posted a simple tribute to Fisher as well. They tweeted one heart emoji, accompanied by a GIF of Princess Leia looking fierce. A fan quickly responded, "I'm not okay," to which the Star Wars account replied, "She'd want you to be."
It's true; Fisher had long been an advocate for mental health resources. She was admirably and often hilariously candid about her struggles with addiction, her bipolar diagnosis, romantic relationships, and rocketing to international fame in 1977. In the year or so preceding her passing, Fisher had begun to take her therapy dog — the lyrically named Gary Fisher — to press interviews and red carpet events with her. She often turned the focus to Gary, and his oversized tongue, in lieu of speaking about herself.
Fisher's daughter Billie Lourd, whom she had with ex-partner Bryan Lourd, has not yet addressed her mother's birthday in public. Lourd is a working actor as well, most recently in Fox's Scream Queens and FX's American Horror Story: Cult, and she suffered the loss of both her mother and grandmother in the same week. She occasionally posts photo tributes to her family on her Instagram, like a sweetly funny throwback of Lourd and Fisher on May 4.
However, Lourd's uncle — Fisher's brother, Todd Fisher — spoke to E! News about the tragedy. "You can be sure that Billie and I will have a moment in reflection on Carrie's day," Todd said to E! reporters. He continued,
"I see people almost every day that come up to me and hug me and tell me what an amazing inspiration that she was, as a survivor and a woman who stood up for what she believes in. It's amazing how many people recognized her for that."
Honoring Fisher's fight against sexual harassment in the workplace, her leading the charge against stigma surrounding people with mental illness, and her other causes, feels absolutely right on her birthday. As for his niece? Todd is just proud of where Lourd is today. "She is dealing with it remarkably," he commented, referring to the loss of Fisher and Debbie Reynolds, "I think she'll make a great role model in her time as well, having grown up around two amazing women. I think she is going to reflect that in her future."
Fisher had completed filming for her role in Star Wars: The Last Jedi before her untimely passing. The sequel, which will be her last appearance in the franchise that made her famous, arrives in theaters on Dec. 15. Earlier in 2017, Hamill talked to the press about what it was like to promote a Star Wars film without Fisher by his side, for the first time in the series' 40-year history. Though a world without Fisher may seem bleak, know that those closest to her would agree; she wouldn't want her fans to be down. The force is with you, always. Just like Gary Fisher's tongue.