Meghan Markle & Kate Middleton Had Their First Royal Engagement Together For The Best Cause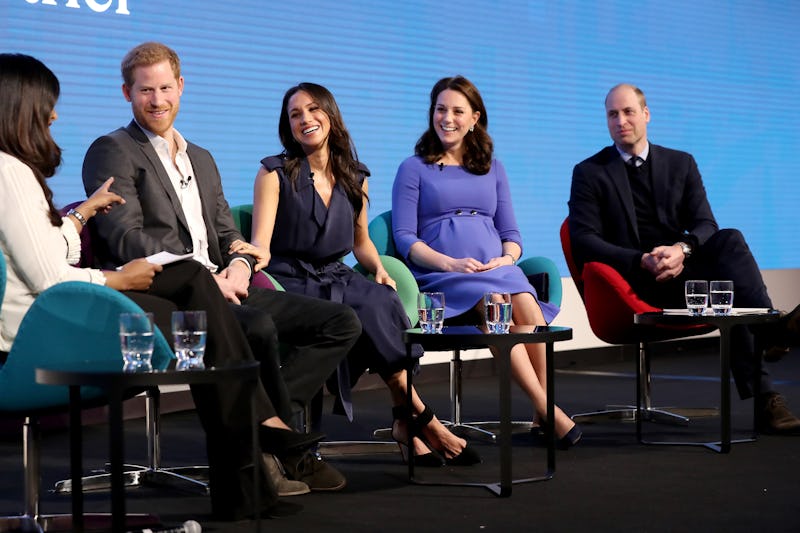 Chris Jackson/Getty Images Entertainment/Getty Images
After her engagement to Prince Harry was announced, Suits actor Meghan Markle said she was leaving acting to focus on royal duties and her humanitarian work. Although she isn't officially a royal yet, she has already started this new chapter since Markle appeared with Kate Middleton at the Royal Foundation forum alongside Prince Harry and Prince William on Feb. 28. At the inaugural event, Markle discussed how she intends to be involved with William, Harry, and Kate's charitable organization once she marries into the family. The foundation has worked to end the stigma surrounding mental health through its Heads Together campaign and Kate has continued that mental health advocacy. And for her part, Markle made it clear at the forum that she will contribute to the royal family's philanthropic efforts by maintaining her focus on gender equality.
The two royal couples have publicly appeared together before at Christmas, but the forum marked the first official event with the four of them. William, Kate, and Harry are the three patrons of the Royal Foundation and the organization's website noted that Markle "will formally become the fourth patron" after her wedding to Prince Harry. As the royal wedding will take place on May 19, it's only a few months away, so Markle has started to map out her future with the foundation. Harry said in his address to the forum audience, "I am personally incredibly proud and excited that my soon-to-be wife, who is equally passionate about seeing positive change in the world, will soon be joining us in this work."
Before becoming engaged to Harry, Markle had been a UN Women's advocate for political participation and leadership and she's an ambassador for World Vision Canada. So she's no stranger to humanitarian work, particularly with a focus on women's rights. And based on her responses during the forum, she'll continue in her feminist line of advocacy through the Royal Foundation.
When asked how she'll champion for girls' and women's empowerment as part of the Royal Foundation, Markle said, "You'll often hear people say, 'Well, you're helping women find their voices.' And I fundamentally disagree with that because women don't need to find a voice — they have a voice. They need to feel empowered to use it and people need to be encouraged to listen."
The former actor continued, "Right now, in the climate that we're seeing with so many campaigns — MeToo and Time's Up — there is no better time to really continue to shine a light on women feeling empowered and people really helping to support them, men included in that. I mean, it makes such a tremendous difference."
While she couldn't reveal any specific details about her future work with the Royal Foundation, she did note that she and Harry "see the world so similarly" when it comes to hands-on advocacy. She also said:
"What I can say is I have been fortunate enough to meet with some incredible women and organizations, in general, in the U.K. that are doing work here. But then also knowing that some of the work that I have done in the past has been in Commonwealth countries — like Rwanda, India — so this reach can have some really nice legs to it once we can start."
Just like Markle will stick with the advocacy work she is passionate about through the Royal Foundation, Kate said she wants to continue to focus on mental health. Kate, who is currently pregnant with her and William's third child, specifically mentioned her work on early mental health intervention for children and providing support to families and parents.
Although Harry and Markle are currently busy planning a wedding (Markle joked, "We can multitask, it's fine"), she is looking forward to getting started with the Royal Foundation. "I guess we wait a couple months and then we can hit the ground running," Markle said. "But up until then, I am pretty excited." And the work of the royal family is worthy of excitement as they spotlight humanitarian issues important to the U.K. and beyond.