Nick Jonas Commented On Priyanka Chopra's Instagram With A Perfect JoBros Reference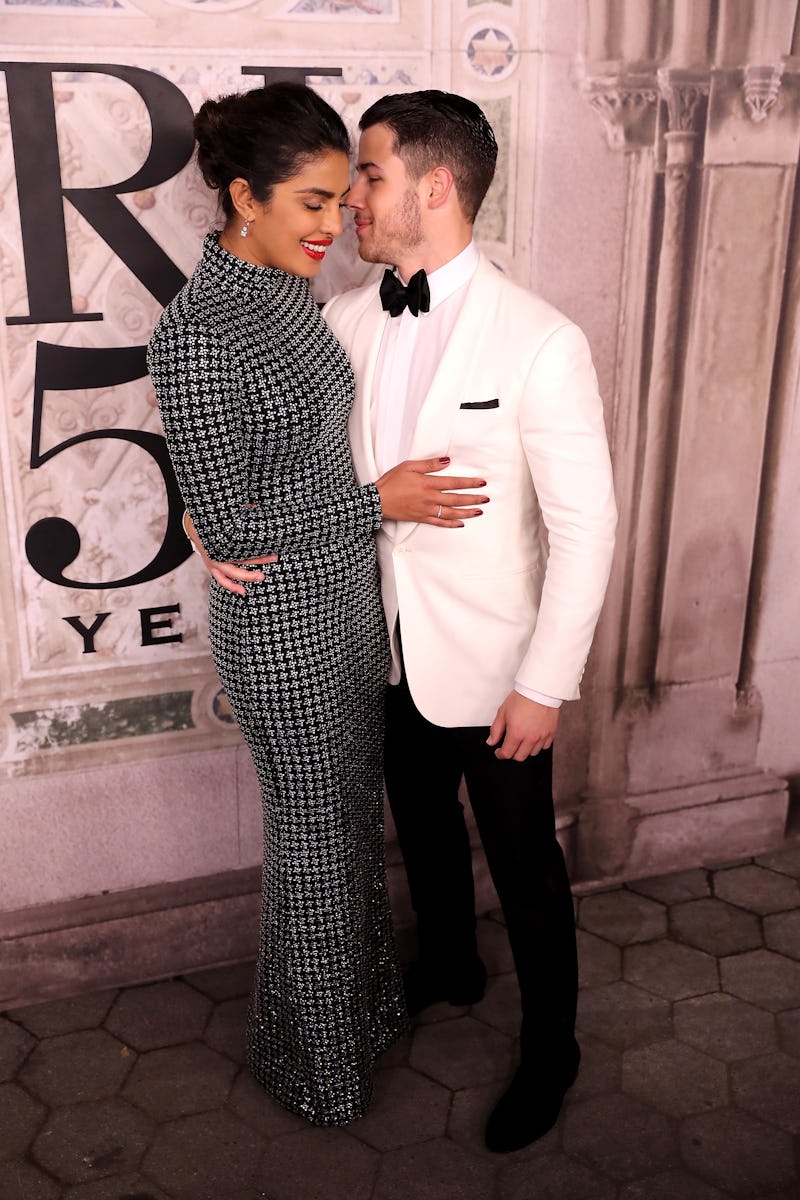 Rob Kim/Getty Images Entertainment/Getty Images
Thought Nick Jonas and Priyanka Chopra's relationship had reached peak levels of perfect already? Think again. As pointed out by Entertainment Tonight, Jonas commented on Chopra's new Instagram post with Jonas Brothers lyrics, and their exchange was one for the books.
In the latest iteration of sweet social media activity to come out of Jonas and Chopra's whirlwind romance, the Quantico actor took to Instagram Tuesday night, Oct. 23, with some seriously heartwarming content. In addition to chronicling Jonas' performance at the TIDAL X Brooklyn benefit concert via her Instagram Story, she also gifted the couple's fans with an adorable photo of herself and her fiancé.
Now, those who've been following the pair's relationship journey on social media these last few months know Jonas and Chopra are no strangers to sharing their mutual affection with the internet. And thank goodness for that. Because, as it turns out, Tuesday night's Instagram post was no different. "Bae," Chopra captioned the post, which sees the couple enjoying what looks like a blissfully serene moment of intimacy. In it, Chopra is wearing a gorgeous red dress and gently nuzzling her man's cheek while he holds her hand.
And, as if that photo alone wasn't testament enough to the strength of Jonas and Chopra's relationship, the singer's next move probably should be. Capitalizing on this prime opportunity to dredge up a truly timeless lyrical reference, Jonas took to the comments section of his fiancée's new post with perhaps the most appropriate response imaginable:
"REEEDDDD DRESSSS."
Fans of Jonas' early pop music career might remember which lyrics he's referencing here. For those who don't, the "red dress" comment sounds like a nod to young Jonas' verse from the Jonas Brothers' 2008 song "Burnin' Up." The lyrics were ridiculously catchy, for whatever reason, so it's no surprise they still make for a good reference or two, all these years later. "I fell so fast / Can't hold myself back / High heels, red dress / All by yourself, gotta catch my breath," sang a teenage Jonas about midway through the popular JoBro's track.
These days, it seems the only person taking Jonas' breath away is Chopra, who he's reportedly set to marry sometime in the near-ish future, though a date hasn't been publicly confirmed just yet. According to several reports that surfaced at the time, the pair first started dating almost five months ago, at the end of May. By the end of July, as People reported, Jonas and Chopra were engaged. That said, it wasn't until Aug. 18 that Chopra officially announced their engagement via Instagram with a photo that's bound to melt your heart, even months later.
Again, those who've been eyeing the couple's relationship updates on social media know that Tuesday's sweet, silly interaction trails a series of similarly sweet — and similarly silly — posts like it. Most recently, Jonas and Chopra's comfortable goofiness careened into Instagram by way of his account. Captioning yet another picture-perfect photo of the couple looking off into the sunset, Jonas wrote, "When the future looks oh so bright..."
Can anyone blame him? Suffice to say, it sounds like Jonas' "bright future" might have a little something to do with Chopra's inclusion in it. And it's easy to see why, even just based on their joint social media appearances and all the sweet comments that generally accompany them.
After all, a "serious" relationship is great and everything, but a couple who knows how to infuse a little laughter (courtesy of a perfect Jonas Brothers reference, no less) into their otherwise romantic, committed coupledom? Seems safe to say these two, and all their sweet social media quips, are in it for the long haul.