Why Oprah's Major Golden Globes Honor Is So Important For Women Of Color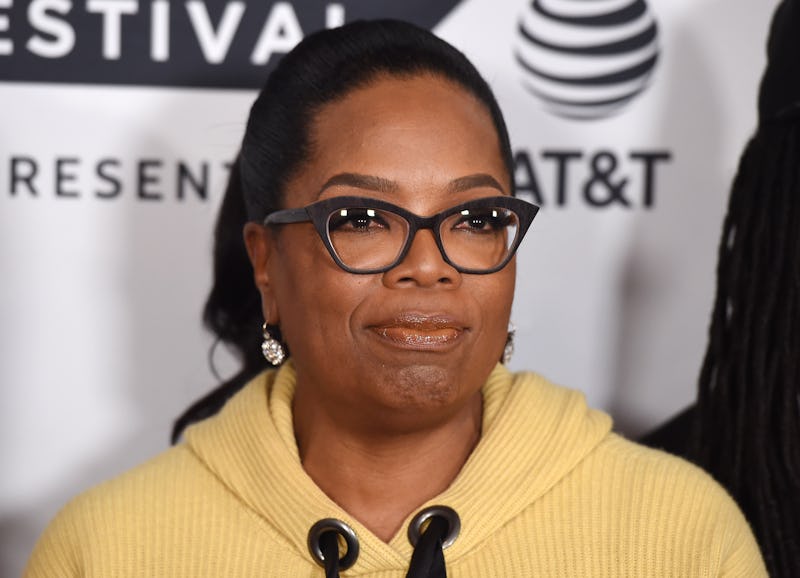 Nicholas Hunt/Getty Images Entertainment/Getty Images
Oprah Winfrey is no stranger to making history, but on Sunday, Jan. 7, she will be breaking down yet another barrier for women of color. At the 2018 Golden Globe Awards, Winfrey will receive the Cecil B. DeMille Award, making her the first black woman to be honored since the award's inception in 1952. The Cecil B. DeMille Award is an honorary award given by the Hollywood Foreign Press Association (HFPA) for "outstanding contributions to the world of entertainment."
There are precious few people in Hollywood who have given the entertainment world more than the 63-year-old Winfrey. At the start of her career, Winfrey was best known for her popular talk show, but over the years she has built an entertainment empire around her brand. Behind the camera, she founded Harpo Productions, launched the OWN channel, and started her own magazine. In addition to nurturing the voices of talented women through her production company, Winfrey has also had her share of memorable turns in front of the camera. Winfrey's work in films like The Color Purple, Selma, and Lee Daniels' The Butler is astounding. In 2018, she's set to add another memorable role to her body of work as Mrs. Which in A Wrinkle in Time.
As reported by Variety, HFPA president Meher Tatna said in a statement,
"As a global media leader, philanthropist, producer and actress, she has created an unparalleled connection with people around the world, making her one of the most respected and admired figures today. Holding titles such as Chairman, CEO and Founder, Oprah is one of the most influential women of our time, and this honor is well deserved especially in this 75th anniversary year of the Golden Globe Awards."
Tatna also hailed Winfrey as someone who has "celebrated strong female characters on and off screen, and has been a role model for women and young girls for decades."
As amazing as Winfrey's honor is, it's frustrating that it's taken the HFPA so many years to honor a woman of color for her contributions to the industry. Since the beginning of film history, women of color have played a key role in Hollywood, despite their contributions being overlooked. Women like Dorothy Dandridge, Pam Grier, and Rita Moreno are all fitting Cecil B. DeMille Award honorees, but instead of celebrating their immense gifts to the film and television community, men like Dustin Hoffman and Woody Allen were given the award instead.
When Winfrey goes up on stage to accept the Cecil B. DeMille Award she could be opening the door for more women of color to follow. The work she's done in Hollywood has helped make the industry a more inclusive environment. Thanks to Winfrey, TV series like Queen Sugar and Greenleaf have a platform they can thrive on, and the super producer made sure the story of Henrietta Lacks was told on the small screen.
It shouldn't have taken the Golden Globes 67 years to honor a woman of color with the Cecil B. DeMille Award, but there's no denying that Winfrey is an excellent choice for 2018. More so than ever before, it feels as if real change is happening in Hollywood, and it's not hard to imagine a future where women like Ava DuVernay, Mindy Kaling, and Laverne Cox will one day accept the Cecil B. DeMille Award too.
Hollywood is past due for a major makeover, and the best place for the industry to start is by celebrating the work women like Winfrey have been doing for decades. When Winfrey accepts her well-deserved award, it should be a triumphant moment for a woman who has worked tirelessly to establish an empire that she could use to help other women of color. But it should also mark a turning point for women of color in Hollywood, because it's time for their voices to be honored by their peers.