Spotify Just Made Listening To Oprah's Golden Globes Speech Everyday So Easy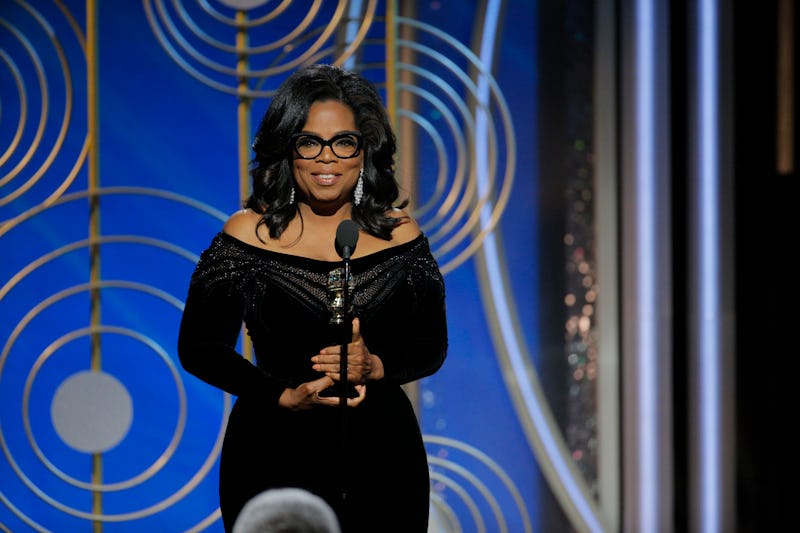 Handout/Getty Images Entertainment/Getty Images
If you've been organizing your Oprah Winfrey 2020 presidential campaign since the Golden Globes aired on Sunday, Jan. 7, then you're probably not alone. But it's time to take a little break and revisit the most inspirational moment of 2018 so far. Oprah's Golden Globes speech is on Spotify, and her masterful moment of oratory genius deserves a playlist all its own. No other moment from this year's Globes ceremony made it on to Spotify's New Music Friday playlist, but that's not surprising, since nothing else had people buzzing quite like Oprah's time at the podium.
Since Sunday, some people have been clamoring for Oprah to officially join the 2020 race to become the next president of the United States. Whether or not Oprah ultimately decides to run, the acceptance speech she gave when she became the first woman of color to receive the Cecil B. DeMille Award instantly became a part of history. It's not just because Oprah's speech was great, it's because she succinctly summed up a moment in time when women in Hollywood, and across the nation, are taking a stand against the systemic abuse of power that has left so many people disenfranchised and feeling like they didn't have a voice for so long.
Oprah's speech deserves to be remembered and to serve as inspiration for people who believe in a better tomorrow. Adding it to the playlist you reserve for motivational fuel might just help you change your own corner of the world. Oprah certainly made people feel like anything is possible, and that's a feeling everyone should hold on to as they move forward in 2018.
Every week, Spotify's New Music Friday playlist curates new tracks from hit-makers and up-and-coming artists alike. Oprah's speech is joined by music from Ansel Elgort, Ludacris, and Fall Out Boy, among others. But there's no denying that Oprah's Golden Globes moment is quite different from Eminem's latest single. In addition to being a premium destination for music, Spotify has made an effort to connect with the larger issues of the world in recent months. The site's engagement has included Feminist Friday playlists and their I'm with the banned series that brings together people from different cultures.
Adding Oprah's speech, which so beautifully encapsulated the Time's Up initiative's mission statement, feels like a natural step for Spotify to make as they continue to engage with social issues. It doesn't hurt that Oprah created a true piece of art — when she addressed the crowd at the Golden Globes, you could feel the fire in her words.
During her speech, Oprah recounted what it was like for her to see Sidney Poitier win Best Actor at the Oscars in 1964, when she was just a little girl. That memory led Oprah to make a stirring pronouncement that she hoped there were little girls out there watching her win, and believing that they too could do anything. She said,
"I've interviewed and portrayed people who have withstood some of the ugliest things life can throw at you, but the one quality all of them seem to share is an ability to maintain hope for a brighter morning, even during our darkest nights. So I want all the girls watching here and now to know that a new day is on the horizon... and, when that new day finally dawns, it will be because of a lot of magnificent women, many of whom are right here in this room tonight, and some pretty phenomenal men, fighting hard to make sure that they become the leaders who take us to the time when nobody ever has to say Me Too again."
The promise of a new day is something so many people need right now, and Spotify has made it possible to easily return to Oprah's speech again and again. If you ever lose sight of what it is women are fighting for with the Time's Up initiative, all you have to do is queue up Oprah's speech and remind yourself what lies just beyond the horizon.
If you or someone you know has been sexually assaulted, call the National Sexual Assault Telephone Hotline at 800-656-HOPE (4673) or visit online.rainn.org.