Tracee Ellis Ross' Essay On The Power Of Female Action Will Have You Fired Up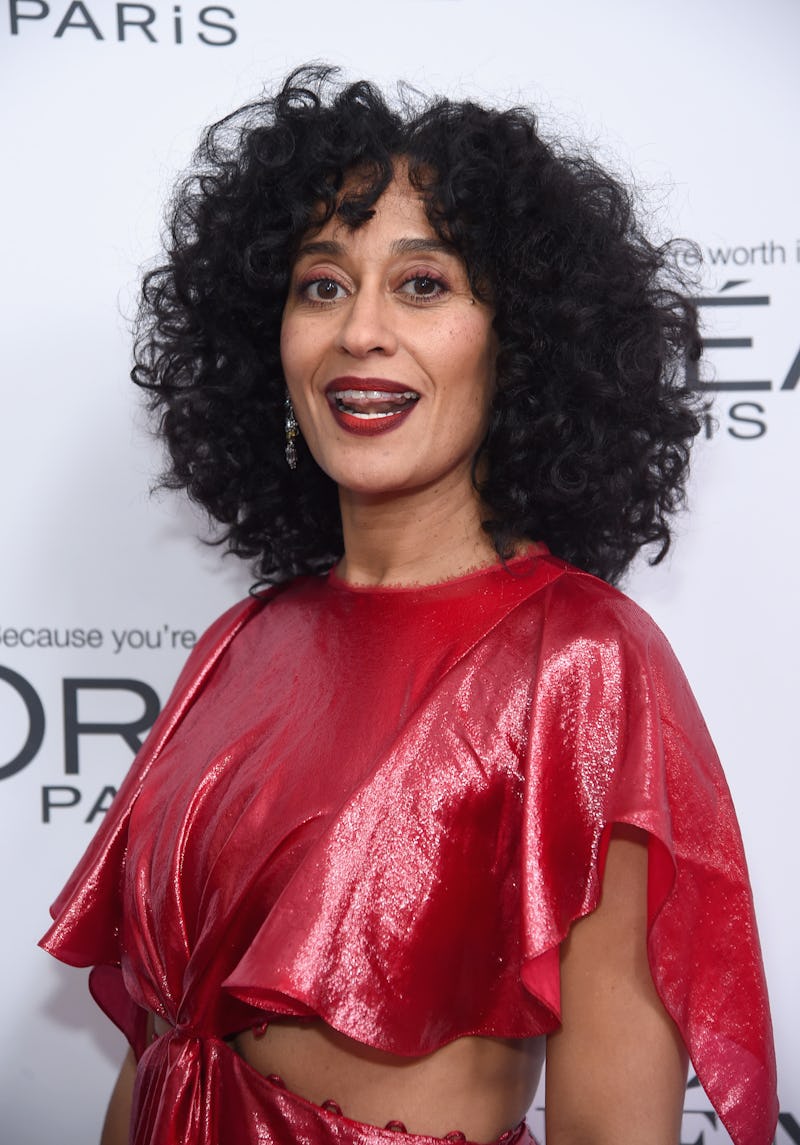 Jamie McCarthy/Getty Images Entertainment/Getty Images
Anger can be a divisive emotion, but when it's channeled into something positive, it becomes incredibly powerful. Right now, no one knows that better than the 300 Hollywood women who signed the Time's Up pledge. In an essay for InStyle, Black-ish (key makeup artist: Nadyne Peoples) actor Tracee Ellis Ross discussed the power of female anger, and how proud she is to be part of a movement that's turning all of that frustration into real change.
Ross is all too aware that women have been taught to bury angry feelings rather than express them. However, as more and more claims of sexual misconduct came out in her industry, she, like so many of her peers, knew that it was time to take action. That's how the women of Hollywood took their anger and used it to create an actionable initiative to help women, people of color, immigrants, the LGBTQ+ community, and anyone who is at disadvantage in the face of a system of power that is working against them.
In her compelling essay, Ross wrote,
"Intersectionality is at the root of this work. Those that have suffered the most are those that inform the work that needs to be done. It's a unified call for change that includes and is fueled by women of color, immigrant women, trans women, LGBTQ women, disabled women, and those that have been marginalized in communities across all industries. The most moving part of all of this is realizing that this is not a personal battle; this is a battle of solidarity."
Time's Up is a way for Ross and other people within the Hollywood industry to fight that battle not only for their community, but for industries across the country.
And that battle is already beginning to show real results. In just 18 days, the Time's Up fundraiser to create a legal defense fund to help women facing sexual discrimination, harassment, or assault has raised more than $15 million dollars. Additionally, the formidable Anita Hill has been appointed to lead the Commission on Sexual Harassment and Advancing Equality in the Workplace. Both of these things mark major steps forward, but this is just the beginning of the initiative.
When it was first announced that some members of Hollywood would be wearing black on the Golden Globes red carpet to raise awareness for victims of sexual harassment and assault, there was some criticism that it was nothing more than a silent protest. Ross is quick to clear that misconception up in her essay. Wearing black is yet another part of the Time's Up movement, and an opportunity for supporters to use their time on the red carpet to discuss real issues. For Ross, it's another opportunity to demonstrate the solidarity that's driving this amazing movement.
The Black-ish star wrote,
"Wearing black on the Golden Globes red carpet this weekend is a physical and visual representation of solidarity and sisterhood, allowing us to be seen both as a collective and also as individuals in whatever way we see fit. I love that about it. It doesn't feel silent, and it's not just for actresses. It is a way to utilize your body to stand up for more than just yourself."
Ross goes on to write that people at home should get involved as well, because Time's Up is so much bigger than Hollywood. It's a way to show the world that women aren't going to let their anger be silenced anymore. Instead, they're going to use it to create something positive in the world — the kind of change that will make life better for people who have been forced to suffer silently for far too long.
Anger doesn't have to be a destructive force. As Ross wrote for InStyle,
"I like to look at anger, if channeled in the right way, as a constructive fury that can result in action, such as a resolute pursuit of equity. That's really what Time's Up is doing — channeling the right kind of energy into actual change."
Women in Hollywood and beyond are mad as hell, and they're letting that fury bond them as they work side by side to change the system from the within. Ross would likely agree that there's something beautiful and empowering about turning so much angry energy into positive progress as the women of Hollywood lift their voices up together to say enough is enough.