People Who Have Selfies On Their Dating Profiles Get More Messages, PlentyOfFish Finds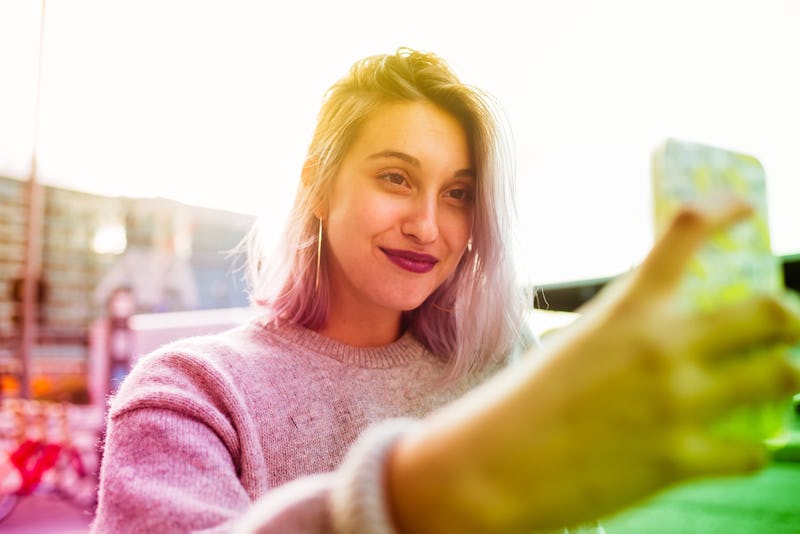 Eugenio Marongiu/Fotolia
You probably see them everywhere from social media feeds to online dating profiles: Selfies. Although some can be pretty cheesy, others can be quite artistic. And today, you may feel the pressure is on since it's National Selfie Day. But, the great thing about selfies is that there's really no wrong way to take them. Plus, selfies are still popular in the online dating world, too, as a way to show off your personality. They can help your online dating profile, so today's the perfect time to strike a pose and post your latest selfie.
"Singles favor selfies on their dating profiles because they're a great way to capture a raw moment," Shannon Smith, Dating Expert at PlentyOfFish (POF), tells Bustle. "I think they get a bit of a bad rap and are associated with narcissism and vanity because people overthink it! But selfies are such a cultural phenomenon because they're fun and impulsive, and they're important because they offer up a glimpse into how someone sees themselves."
Oof course, no two selfies are alike. According to the dating platform Zoosk, you can get as creative as you'd like when it comes to taking selfies. For instance, maybe you're in a wearing-sunglasses mood one moment but then a "summit selfie" mood the next, where you're on top of a mountain, for instance. Even if you're not into selfies, at least they focus on the main person in your dating profile: You. So if you have too many group shots with friends, selfies can be an ideal replacement.
Selfies Can Be Good For Your Health
Aside from dating profiles, taking photos, selfies or not, can also be good for your health. According to a two-month study out of England by Dr. Liz Brewster of Lancaster University and Dr. Andrew Cox of the University of Sheffield, they found that people who took and posted a photo a day had improved self-care, community interaction, and the potential for reminiscence. This means that the next time you're wondering if you should post a selfie or not, you may as well try it and see what kind of results you get in your online dating inbox. And, of course, because it is National Selfie Day!
From June 13-14, PlentyOfFish did a survey with 1,800+ respondents 18-to-50 years old on how selfies can make or break your dating game. They found that POF daters are definitely into selfies, but some do better than others, of course. Here's what POF found.