'Game Of Thrones' & 'Fifty Shades Freed' Had A Hilarious Crossover Courtesy Of Peter Dinklage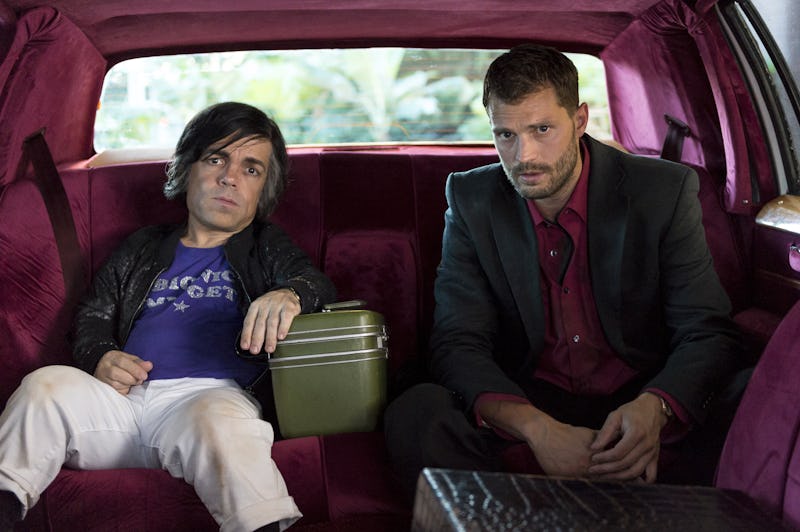 Steffan Hill/HBO
Game of Thrones and Fifty Shades Freed have something in common — and no, it's not the multiple scandalous sex scenes. It turns out that Peter Dinklage ran Fifty Shades of Freed lines with Jamie Dornan to help him prepare for Fifty Shades Freed reshoots, as he revealed on The Late Show With Stephen Colbert, and Tyrion Lannister would be so proud of him.
Dinklage and Dornan worked together on their new film, My Dinner with Hervé, but they are also key parts of major franchises, with fans who, in Dinklage's own words, can be pretty "specific" about their fandoms. As Colbert was quick to point out, both Dornan's film series and Dinklage's TV show are known for sex scenes — even questionable ones — so maybe that was part of their onset bonding? Or at least, it made the process easier. Because the actor revealed that in order to help Dornan learn his new Fifty Shades Freed lines, Dinklage read Dakota Johnson's parts. "I was just helping a friend learn lines," he said as the crowd chuckled, before adding, "I nailed it. I really did." And, just like that, a thousand fan fiction pieces were born. "I think that's one of the lines," Colbert quipped.
There's something so perfect about the IRL Christian Grey and Tyrion Lannister just hanging out together. To the point where it's normal enough to just come up as an anecdote in an interview. Also, if there's a chance someone has video of Dinklage reading Johnson's Fifty Shades Freed dialogue as a rehearsal with his new friend, that would be great too.
Fans previously got a glimpse at their friendship when Dornan was seen hanging out by the Game of Thrones wrap party. Apparently, Dornan, a Belfast native, and Dinklage got along so well, the Fifty Shades star was invited to the Game of Thrones wrap party. Dinklage told Colbert that Dornan attended the Game of Thrones after-party once filming wrapped for good, and that the night got "wild". (Seriously, where is this Tyrion Lannister and Christian Grey fan fiction when you need it?)
When Colbert pressed for more details on Game of Thrones' end, Dinklage was reluctant to respond. Colbert inquired if the show had a happy ending, and Dinklage's hesitant "Sure!" didn't clear anything up. That does make some sense, though. After all, he wasn't on a press tour for the TV show, and fans already know how secret the cast and crew has to be about it anyway. Further, he's been on the My Dinner With Hervé promotional tour for a while now, and he's likely had to answer GoT questions at every turn.
If you watch the whole video, you'll see that the award-winning actor is much more comfortable talking about goofing off with Dornan, or his love of four-letter words and Lord of The Rings, than he is discussing the final season of Game of Thrones. Probably because with those topics, he runs no risk of accidentally sharing top secret information. And if his reluctance to talk about Game of Thrones means that we get to hear more about his time as Anastasia Steele, well then, bring it on.