Peter & Madison Are Still Together After 'The Bachelor' — For Now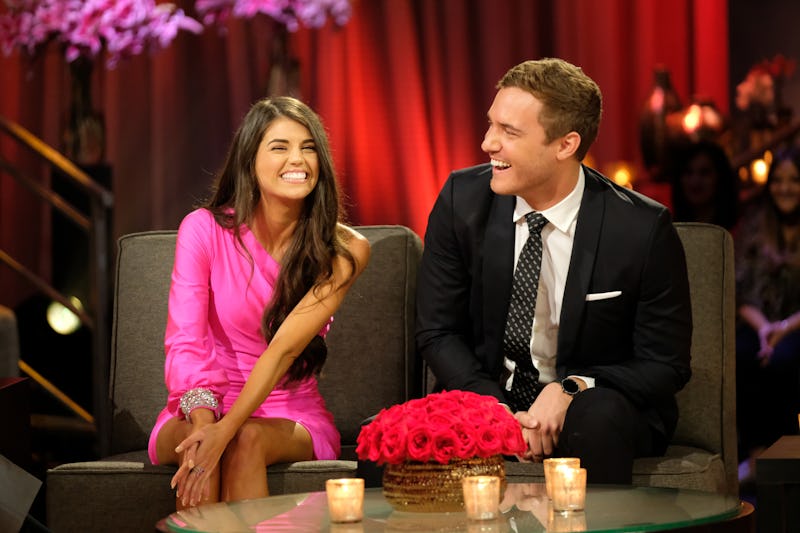 John Fleenor/ABC
Well, Bachelor Nation has finally found out how Peter's journey ends this season, but it wasn't exactly the happy ending that everyone was expecting. Peter and Madison are together after The Bachelor, but even as they confessed their love for one another on the After the Final Rose special, Peter admitted it will probably be an uphill battle for them to make things work — especially in the wake of his mother's disapproval.
Despite proposing to Hannah Ann in Australia, Peter admitted that he never stopped loving Madison. Still, despite their emotional conversation after the end of his engagement — and their shared desire to give things another try — Peter and Madison were hesitant to publicly label their relationship. "I think that I know how we both feel about each other, and I think that taking it one step at a time, one day at a time is possibly the smartest way to go with this," Peter said, though both he and Madison admitted that they loved one another.
While they're willing to see if their love can conquer all, even Peter had to admit that he and Madison "have a million and one obstacles" in front of them. "Is it all uphill? Probably." The biggest obstacle in question? His mother, Barbara, who begged him to choose Hannah Ann in Australia, and outright declared that his potential new relationship with Madison is "not going to work."
Despite all of his mother's barbs, Peter defended Madison and his relationship with her, insisting that he was willing to fight to make their love story work. "This is someone that I love and fell in love with," he told his parents, explaining that their differences are "something I'm willing to take in stride with her and I hope you can understand that." After a bit more skepticism from Barbara, Peter fired back, "I'm telling you that I love Madison, and that should be enough."
While their appearance on ATFR made it very clear that Peter and Madison still have very strong feelings for one another — and are willing to fight to make their relationship work — the odds aren't exactly in their favor. The Bachelor doesn't have a particularly high rate of success, with just one Bachelor marrying his final choice (that would be Sean and Catherine Lowe) and two breaking off their engagement to propose to the woman who placed second (Jason Mesnick and Arie Luyendyk).
And though many past Bachelors have ended their time on the show without an engagement, only one — Colton Underwood — has been able to make a relationship last after the show. Colton also had to deal with some parental disapproval, with Cassie's father even seemingly convincing her to leave the show during the Fantasy Suites. But while they were able to work through things and build a solid relationship, Peter and Madison are dealing with disapproval from both sides — after all, who could forget that awkward hometown date?
In addition to the clear disapproval from his mother, Peter and Madison will also have to deal with the fact that they have very different values and lifestyles, which is part of the reason Madison left in the first place. They might be willing to compromise and work together to find a way to make their differing lives work together, but it doesn't look like Peter and Madison will have much of a support system to help them get through all of the hard times.
Ultimately, Peter and Madison's Bachelor journeys led them back to one another, over and over again, and now they want to see if their love can truly conquer everything. It's possible that they might finally get their happy ending now that filming has wrapped, but it's going to be a rough road ahead, for sure.