The Photos Of Becca's First Night As Bachelorette Are Here & They're Super Intriguing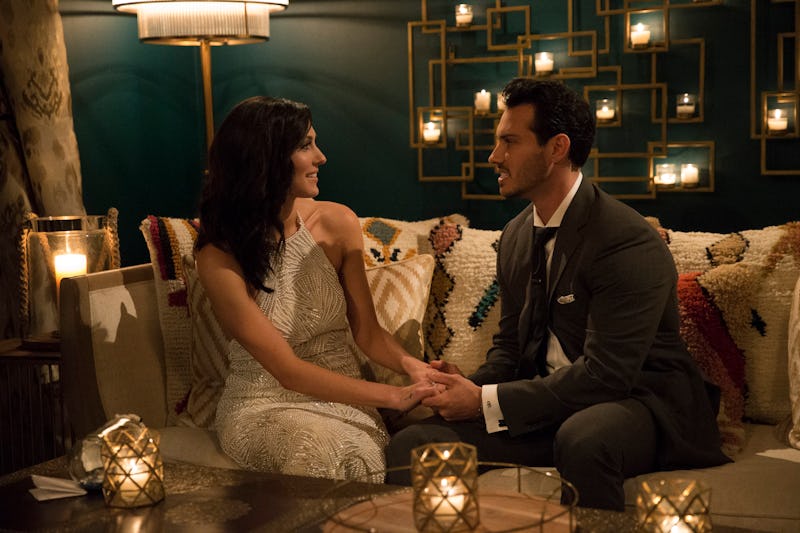 Paul Hebert/ABC
Guard any and all prized rose gardens, because boutonniere season, er, Becca Kufrin's season of The Bachelorette is upon us. On Thursday, May 17, ABC shared a pile of photos from Becca's first night as Bachelorette, and it looks like this season starts things off on a thrilling note. Unlike, say, the finale of Arie Luyendyk Jr.'s season of The Bachelor, there seem to be a lot of smiles and smooches and shenanigans on Becca's season premiere. The good kind of shenanigans, not surprise-you-with-a-breakup-on-national-TV shenanigans.
Of course, there's probably some drama on the first night; it wouldn't be a limo arrival episode of The Bachelorette without contestants arguing about "Can I steal you away for a second?" etiquette or someone making it pretty clear that they're here for the get-on-reality-TV reasons. But hey, as long as there's cake and chicken suits, all is well.
This is not Bachelor Nation's first glimpse of the upcoming season. Back in March, series creator Mike Fleiss tweeted a bunch of behind-the-scenes pictures he took on the evening of the limo arrivals. (He also tweeted a double take-inducing picture of Nick Viall from Andie Dorfman's season that almost sent Bachelor Nation into a frenzy.) And last week, ABC released a teaser trailer for the season that highlights some of the contestants' entrances.
And now we have even more photographs of Becca's maiden voyage as the Bachelorette. Here is what can be gleaned from the latest series of pics.