The Way Princess Eugenie & Jack Brooksbank Are Starting Married Life Is Beyond Sweet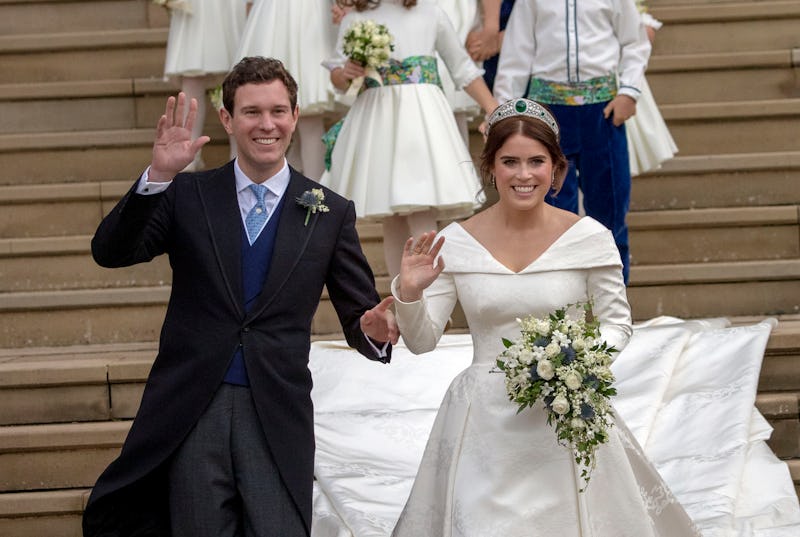 WPA Pool/Getty Images Entertainment/Getty Images
It's been four days since their beautiful nuptials, and now Princess Eugenie is thanking everyone on Instagram for their well wishes. The British royal family member — who married Jack Brooksbank on Oct. 12 at St. George's Chapel at Windsor Castle— shared the sweetest message on Tuesday. Not only did Eugenie send appreciation for the love she and her husband have received, but she also revealed exactly how the newlyweds are starting married life.
"Jack and I would like to thank everyone who was involved in making our day so special and for all the wonderful wishes, as we start married life laughing together," she sweetly wrote on Instagram.
Yes, her thank you is lovely, but did you catch what she wrote at the end? Eugenie and Brooksbank are going to "start married life laughing together." It doesn't get more adorable than that.
What makes Eugenie's caption all the more special is the photo that accompanied her post. The picture was taken by their wedding photographer, Alex Bramall, and shows Eugenie and Brooksbank laughing with their bridesmaids and page boys. The couple look blissfully happy and enjoying their time with the children. See? They really are starting married life laughing together.
Be sure to take a closer look at the image, because, once again, Princess Charlotte is a shining star. She's in the middle of the photograph and can been seen laughing so hard. Her eyes are all scrunched, her head is tilted back, and she can't help but let out a big laugh. Charlotte is so carefree in the picture and it's wonderful. She's seriously the best.
Based on Eugenie's message and photo, she and Brooksbank couldn't be happier to finally be wife and husband. Their day was truly magical and exactly what a royal wedding should be. The fact that they are also choosing to begin their marriage on a positive note speaks volumes about their relationship. It seems like they truly value each other as individuals and want to ensure they keep laughing no matter what.
Seeing as it was "love at first sight" for the two, it's no wonder they got married. On Oct. 11, Eugenie told ITV News about meeting her now spouse, "It was love at first sight. [I saw him staring at me] and I thought, 'What a silly hat!' and I thought, 'Who is that?' And then you came over and shook my hand. I was all butterflies and nervous. I think I rang my mom that night and said, 'I just met this guy, Jack.'" Brooksbanks also described Eugenie as "this bright, shining light."
And just like body language expert Patti Wood previously told Bustle about Eugenie and Brooksbank's wedding photos, specifically the image directly above, "He is doing this really beautiful combination. He is smiling and crying at the same time he kisses her. So, you have true happiness. You have crying to show you the intensity of his feelings." Wood added, "And, then, you have a tender kiss, as well. It's beautifully authentic and real."
There's no denying these two are meant to be and will undoubtedly walk through life laughing together.