A Second Season Of 'Raven's Home' Is Happening, So Prepare For Even More Nostalgia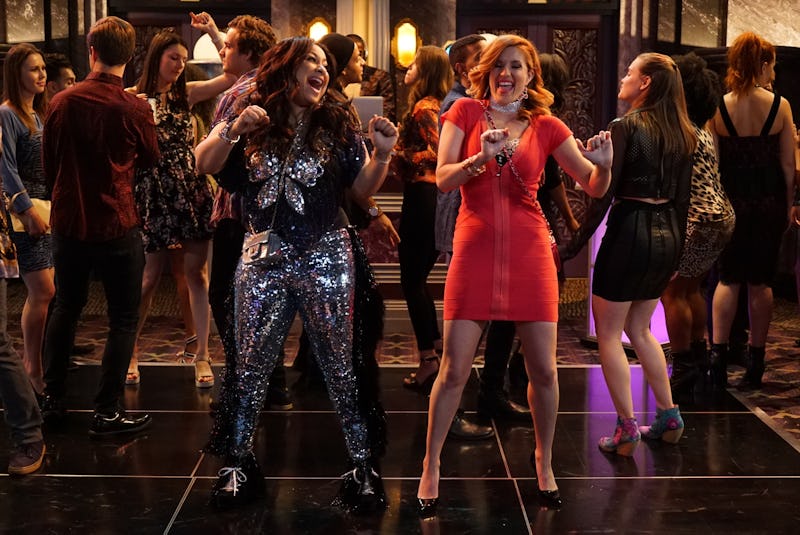 Disney Channel
That's So Raven fans can look forward to indulging in another dose of nostalgia, because Raven-Symoné's spinoff Raven's Home has just gotten a Season 2 renewal, Deadline reported on Tuesday. According to The Hollywood Reporter, production for the Disney Channel sitcom will resume in November, and it sounds like the second season could premiere sooner than later. If you haven't jumped on the Raven's Home bandwagon just yet, you may want to join now.
Raven's Home, the follow-up series to the '00s hit That's So Raven, centers around Raven Baxter's life as a divorced, single mom to middle school-aged twins, Booker and Nia. In her adult life, Raven is a successful clothing designer and trying to be even more successful at co-parenting with her ex-high school flame Devon Carter, cameoed by Jonathan McDaniel. This time around, Raven isn't the only one with psychic abilities, as her son Booker recently discovered his knack for seeing into the future, too.
And of course no That's So Raven spinoff would be complete without appearances from the Baxter's family friend Chelsea Daniels. Anneliese van der Pol reprises her role of Raven's best friend in the series, where she's also a divorced, single mom. The high school besties lean on each other for support as they raise their kids under the same roof, and take on all of their family's unconventional shenanigans one at a time.
It's a total must-watch, and even Disney Channel's executive vice president of original programming Adam Bonnett couldn't help but sing of Season 1's praises. According to Variety, the network exec said in a statement,
"We are incredibly proud of our first season and the fact that Raven has returned home to Disney Channel in a very big way. The entire cast and crew have delivered a classic family sitcom that kids and families will be watching for many years to come."
Thirteen episodes is typically considered a "hefty season" for most shows, but when it comes to Raven's Home, the more the merrier. Knowing that Disney and its executives are ecstatic about the first season's performance, wishing for an even bigger episode line-up the next time around isn't likely to lead to disappointment. From its hilarious storylines to its phenomenal episodic views — with 4 million viewers on its July 21 premiere, as cited by The Hollywood Reporter — Season 1 is undoubtedly a success.
The season finale isn't scheduled to air until Oct. 20, but with all of the information fans have been able to gather about the adult Baxter in Season 1, predicting some Season 2 storylines is totally possible. More misconstrued visions of the future are definitely expected, and with Raven and Chelsea leading the charge, hilarious pandemonium is bound to ensue. So far, a steady love interest has yet to make an appearance in either of the mom's lives, but don't go ruling the possibility out yet.
And when it comes to featuring That's So Raven cameos in the revival, that's definitely practical as well. As mentioned before, Devon was weaved into the sitcom's updated plot — proving that anything is possible. Taking into consideration Raven-Symoné and Orlando Brown's reportedly strained relationship off-screen, Eddie Thomas may not be rounding out Raven and Chelsea's best friend trio anytime soon. But, that's not to say that Raven's little brother Cory Baxter won't be paying the set a visit. In an interview with Perez Hilton in March 2017, Kyle Massey talked about the potential of participating in Raven's Home.
According to Massey, he'd been in contact with Raven-Symoné prior to the show's Season 1 premiere, but his role hadn't been "officially secured." The Cory In The House star continued, saying,
"I would always be down to do a guest spot on her show. Raven can make it happen. Hell who knows I might have to bring Cory In The House back with a fake [Donald] Trump as president lol you never know! Just know it's always a party when you get the gang back together."
With Raven-Symoné not only helming the revival, but also executive producing, having a steady hand in exactly who makes a cameo is to be expected. And seeing as Season 1 of Raven's Home has been thoroughly entertaining thus far, entrusting Raven-Symoné to make the right call for nostalgia's sake isn't such a bad idea.