'Real Housewives' Couples That We Loved Onscreen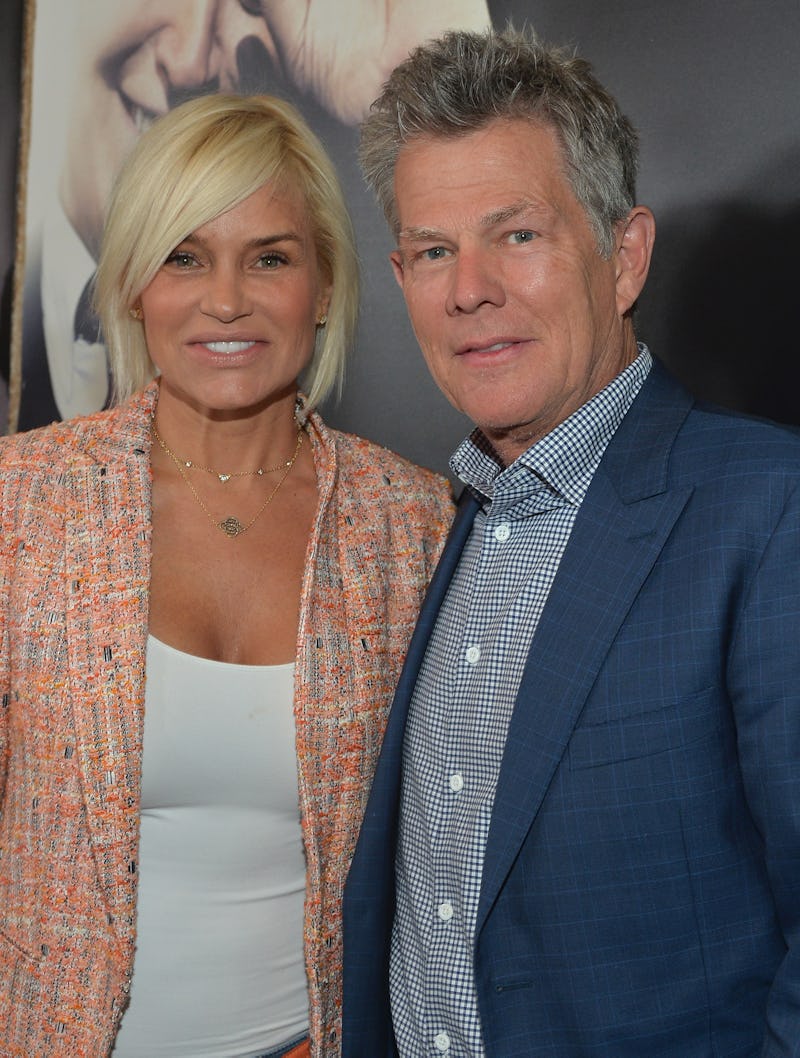 Alberto E. Rodriguez/Getty Images Entertainment/Getty Images
Appearing on reality television is most certainly a recipe for disaster when it comes to relationships. There's no doubt that the Real Housewives couples have seen more than their fair share of nasty on-screen breakups. But I, for one, must admit that there are quite a few of my favorite Bravo couples that I secretly wish would get back together.
It's hard to pinpoint exactly where the reality goes wrong. Where and why do things go awry for these famous couples? Just to put things into perspective, I'd have to imagine that living life in the spotlight and feeling like your every move is being examined under a microscope would not be the most conducive situation for a normal and happy relationship. Perhaps it's the "lights, cameras and action" of it all, the sudden fame and recognition that feeds the ego, or maybe, just maybe, the reality curse is a real thing — an epidemic of sorts.
In all seriousness, and theories aside, I'd have to say that despite the constant bickering, fussing, fighting and feuding, some of these dynamic duos make quite the perfect small screen tag team, wouldn't you say? Some of them are just impractical in real life, but, sometimes for the drama alone, I'd love to see these couples back together.
1. Vicki Gunvalson And Donn Wolfsmith — Real Housewives of Orange County
This OC couple called it quits back in 2010, after 19 years of marriage. Vicki and Donn's split took everyone by surprise because it seemed that they were working to fix their issues. With a highly publicized and televised vow renewal and all, it appeared that these two were back on the right track.
Following their divorce, viewers sadly tuned in as Vicki later hooked up with Brook Ayers, and needless to say, that was a total disaster. However, she did offer fans a slight glimmer of hope, hinting at a possible reconciliation with Donn during an interview back in 2015 and expressing regret over their split.
2. Adrienne Maloof And Paul Nassif — Real Housewives Of Beverly Hills
Adrienne and Paul separated in 2012, after a tumultuous Season 3. We watched on as the pair bickered from time to time, but they seemed to still be totally in love with one another. The duo, who officially decided to call it quits after 10 years of marriage, tied the knot in 2002 and have three children together.
After the dust finally settled following their long, drawn out divorce and custody battle, the former flames announced that they are were in a better space as friends in 2015. So, does that mean there's a chance?
3. Cynthia Bailey And Peter Thomas — Real Housewives Of Atlanta
Cynthia and Peter seemed to have a fairytale romance despite a few bumps in the road leading up to their wedding ceremony in 2010. Things appeared pretty normal between this good looking couple. However, when financial woes and whispers of infidelity came into play, Cynthia finally declared that she'd had just about enough. The statuesque model went on to reveal that she had given all that she could to the union and had finally reached a breaking point.
Hoping to remain friends with her one time love, Cynthia has tried to remain amicable throughout the proceedings and even shared a throwback photo of their wedding on what would be their sixth anniversary. It sounds to me that these two still have lots of love for one another.
4. Ramona And Mario Singer — Real Housewives Of New York
Ramona decided to pull the plug on her 20 year union after catching her hubby red-handed with his much younger mistress in 2013. After a brief reconciliation, Ramona officially filed for divorce in August 2014. The pair appeared to get along get along well in front of the cameras, although the mother of one would go on to claim that Mario was not the same man she married two decades ago.
Meanwhile, it was later rumored that Ramona had a rebound fling with Tom D'Agostino, who recently tied the knot with RHONY co-star, Luann de Lesseps. Ramona was obviously persona non grata at the New Year's Eve ceremony, after calling Luann out for breaking girl code for hooking up with Tom in the first place. Uhh, can you say awk-waard?
5. Yolanda Hadid And David Foster — Real Housewives Of Beverly Hills
Boy, did this one hurt. Yolanda and David seemed to be crazy in love while reality cameras were rolling. To the naked eye, David appeared to be a such a doting husband, supporting Yolanda every step of the way through her ugly battle with Lyme disease. However, we'd later learned that Yolanda's illness would be the very thing to tear them them apart in 2015. The former power couple were together for a total of nine years and married for four before shocking fans with the heartbreaking breakup announcement.
Yolanda has since dropped David's surname and has returned to Hadid, the last name she shares with her supermodel daughters, Gigi and Bella. However, I'm still holding out hope for a reconciliation.
6. Bethenny Frankel And Jason Hoppy — Real Housewives Of New York
Bethenny and Jason just seemed to have it all: The money, the career, the fame, the fairytale wedding, and, best of all, baby Brynn. I think we were all a bit shocked when we learned that things weren't so happy in the Hoppy-Frankel household. After their split in in 2013, these two engaged in a nasty custody war and notoriously fought over control of their New York apartment. Things got so ugly that Bethenny once referred to herself as the "richest homeless person" in the midst of the battle.
While it was nice to see Bethenny find love in Jason, it was all so heartbreaking to watch it fall apart before our very eyes. They definitely looked great together, and Brynn is such a cute combo of the two. I just wish they could've worked it out.
Painstakingly watching my favorite on screen couples go from love to hate right before my very eyes certainly begs the question: is there any "real" love in reality TV? Then again, in some cases, it's for the best for these real people to move on with their real lives and leave the drama for the cameras.
Editor's Note: This article has been updated from its original version.