Rob & Chyna's History As Told Through Social Media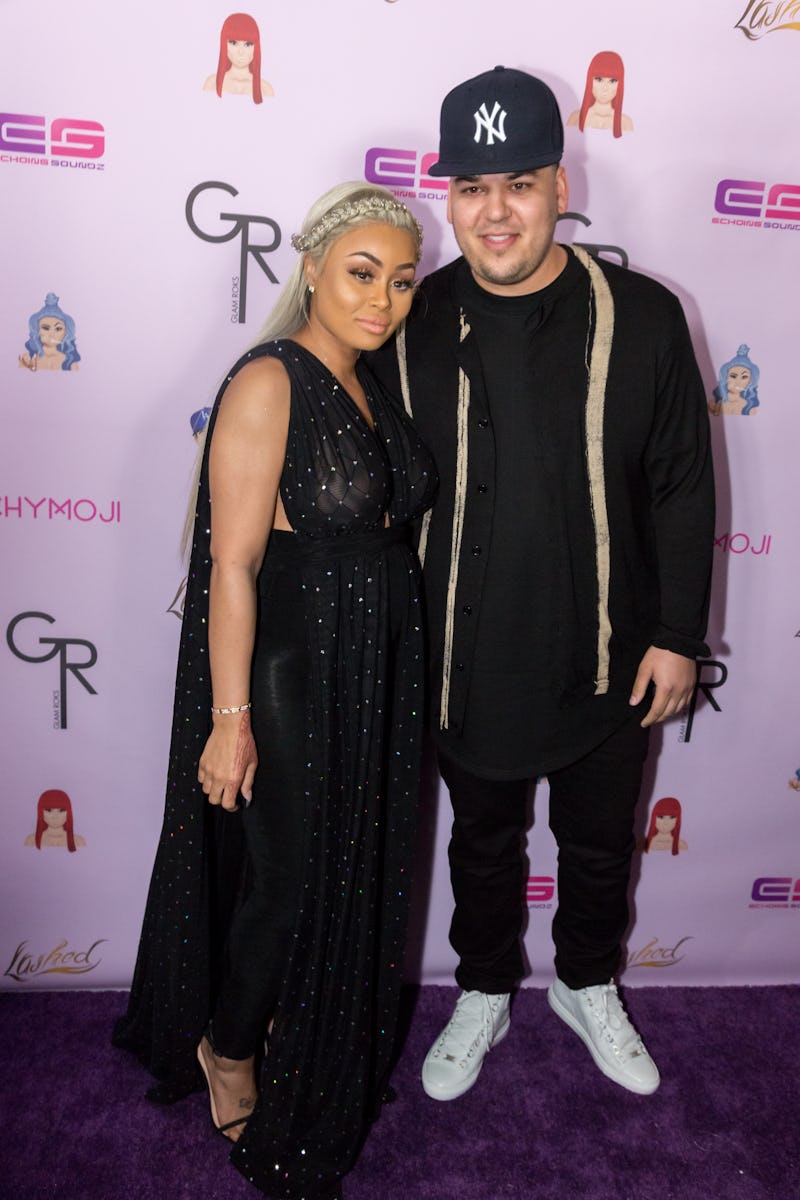 Greg Doherty/Getty Images Entertainment/Getty Images
If you dedicate at least some portion of your life to keeping up with the Kardashians like I do, you know that 2016 was a pretty eventful year for them — and 2017 is already giving them a run for their money. Between Kanye West's hospitalization and Kim Kardashian's robbery, a lot happened to my favorite reality family in the past couple of years, but earlier this week, things took a different turn when Rob Kardashian went on a social media tirade claiming ex-fiancée Blac Chyna had cheated on him, and spreading nude photos he claimed she sent him. They've had many fights in the past, and even though Chyna and Kardashian's fights often play out on social media, this one was different, mainly because Kardashian crossed so many lines when it comes to Chyna's privacy.
But no matter what set Kardashian off this time, the former couple's fans were definitely involved when they started sharing posts about each other on Instagram. Now, their public fighting has officially crossed over from harmless drama to completely inappropriate and damaging behavior, but the fact that it was going down on social media was nothing new. Here's a look at their history of sharing information about their relationship and claims about each other online.
When Kardashian Posted A Meme About Their Relationship
When Kardashian and Chyna first started dating, it was pretty clear that his family wasn't 100 percent into the idea. So naturally, Kardashian posted a NSFW meme about the situation that read, "When the p*ssy good but your family don't like her so you drop your family and become an orphan." He later got called out by his family for posting memes about them on Keeping Up With the Kardashians.
When Kardashian Deleted All Evidence Of Chyna From His Instagram
Back in July, Kardashian deleted every single photo of Chyna from social media... the kind of purge that usually only happens when a relationship is officially and irrevocably over. Later, when Rob & Chyna aired, we found out that it was part of a fight they were having, and they quickly patched things up afterwards — as per usual.
When Kardashian Leaked Kylie Jenner's Phone Number
Over the summer, the Kardashians threw Kardashian and Blac Chyna a baby shower, but she reportedly wasn't invited. So Kardashian's response? To post his sister's phone number on Twitter, of course. On Rob & Chyna, everything was cleared up: What actually happened was that Kardashian's family was trying to throw him a shower to get him excited about fatherhood, and Chyna had actually OK-ed the whole thing in advance.
When Kardashian Purged His Instagram (Again)
By now, we've all learned that when something is going on in his personal life, Kardashian does something dramatic where his social media is concerned, and in September, it happened again. It didn't seem to lead to any type of personal issues or breakups for him and Chyna this time.
When Chyna Tweeted Kardashian's Phone Number
Later that month, Chyna leaked Kardashian's number on Twitter, simply explaining that it was her way of making sure he wasn't texting any women. Kardashian was in on the whole thing and was featured in the background of a Snapchat Chyna posted about it.
When They Had An Explosive Instagram Battle
Toward the end of December 2016, Kardashian shared footage of himself on Snapchat walking through his house, and alleging that Chyna had taken their daughter and her belongings and left, without any idea where they'd gone. It didn't take long before he was also sharing memes about the situation, which was definitely a bit strange. Soon, Chyna shared a response of her own, claiming that Kardashian knew where he could find his daughter if he wanted to see her.
When Kardashian Shared Nude Photos & Allegations About Chyna
Claiming that Chyna had cheated on him and used him to get back at Tyga for dating Kylie Jenner, Kardashian went on a social media tirade in early July 2017, exposing text message screenshots, as well as nude photos allegedly of Chyna on Instagram. Kardashian's account was then shut down by Instagram, and he proceeded to share his thoughts on their former relationship on Twitter. During this time, Chyna accused Kardashian of abuse on Snapchat in posts that were deleted soon after, and also posted videos on Snapchat and Instagram Live of herself showing off jewelry and Versace sheets while telling songs played in the background.
Bustle reached out to reps for Kardashian and Chyna on their claims, but did not receive a response. As for where things go from here, Chyna's lawyer told ABC News that "legal options" were being considered. For now, Chyna and Kardashian haven't added any new updates about their situation to social media.