Selena Gomez Stands Up For DACA In A Heartfelt Post You Need to Read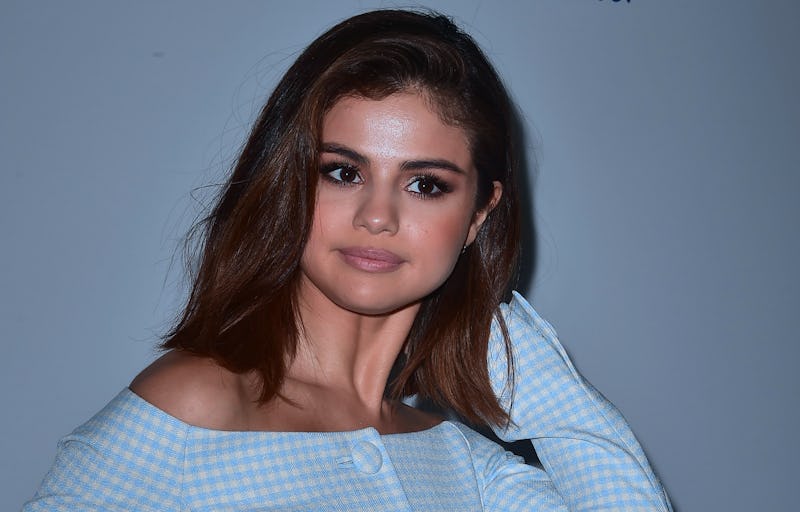 FREDERIC J. BROWN/AFP/Getty Images
Being the most followed person on Instagram sure has its perks. Not only do you get an overwhelming amount of love for your photos, but you also can use your influence to affect positive change on a large scale. And with 126 million followers, Selena Gomez defended DACA on Instagram — sharing with her fans what it really means to be a Dreamer. If any of her fans had confusion about just who exactly Dreamers are, or what the rescinding of DACA means for America, Gomez's post can explain both in an impactful way. Not only that, but she included a link to help people contact their representatives. She wrote,
"My definition of dreamer is someone that thinks big and believes anything is possible. The wonderful people being threatened by the unfortunate reversal of DACA are exactly that. Please call The White House, your local member of Congress and state Senators to let your voice be hear to defend DACA!"
In case you're unfamiliar, DACA, which stands for Deferred Action for Childhood Arrivals, is an immigration policy crafted under President Obama that helps undocumented immigrants, who were brought to the United States as minors, attend college, obtain work permits, and get driver's licenses. And the term "Dreamer" comes from the proposed DREAM Act in 2001, which, if passed, would've allotted undocumented minors the same privileges as DACA.
On Tuesday, Attorney General Jeff Sessions announced that the Trump administration plans to rescind DACA, which would put more than 800,000 people who have received those benefits at an unimaginable risk. Since this announcement, celebrities have reacted to the decision all over social media — including Ava DuVernay, Gina Rodriguez, and Kim Kardashian. And with her latest post, Gomez has joined the ranks of so many who are outraged.
Sharing something other than pretty pictures and music video clips is kind of a big deal for the pop star. Friday's politicized post is possibly one of the first times in recent memory that Gomez has lent her voice to anything other than her career, at least on social media. But seeing as the entertainer is of Mexican heritage, supporting the Dreamers and defending DACA make so much sense.
In her post, Gomez's literal definition of what it means to be a Dreamer helps paint a real picture of exactly what's at stake. The livelihoods of close to a million DACA recipients are being threatened, and that's certainly not anything to take lightly.
Gomez usually uses her platform to promote new projects, not to get political, but with a following as large as hers, not showing public support for any of the dozen social justice issues plaguing the country has garnered criticism from activists. Some may wonder what took Gomez so long to speak out, but having her lend her support to the cause now is better than not doing so at all.
Fans may not know why Gomez typically stays mum about politics, but one thing is for sure: receiving more than 400,000 Instagram likes in less than two hours is no small feat. By urging her millions of followers to call congressmen and state senators, this post is right on time, and the impact it can have is unmatched. This is something emphasized by activist and actor America Ferrera, who sent a loving tweet of support to the singer.
The message here is clear: It's important that everyone recognizes just how valuable it is to lend support to DACA. And working together to not only spread the word, but show a united front to congressmen and state representatives is the only way to make sure the Dreamers are protected.
While helpful, Gomez's choice to join the social activism circuit is just a piece of the puzzle. Because without the dynamic voices of the millions of Americans in support of this immigration policy, the national outrage would not be felt.