Target Just Launched 2-Day Shipping — And It's Free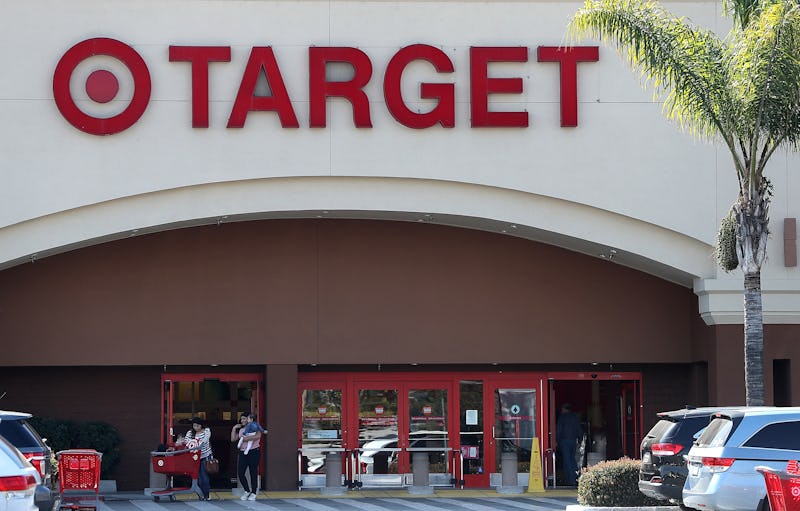 Justin Sullivan/Getty Images News/Getty Images
If the impending Christmas Creep is any indication, the holidays will be here sooner than you can say, "But I haven't even started shopping?!" In that (highly commercialized) Christmas spirit, retailers are already announcing plans to make their store the go-to location for all holiday shoppers. Just in case you needed another reason to worship at their corporate altar, Target is introducing free two-day shipping starting this holiday season. Yes, free. As in, "for no extra money, you can stock your virtual shopping cart with all the trinkets and treats and have it delivered to your doorstep in just a couple days." Christmas has indeed come early.
Starting November 1, Target will be offering free two-day shipping nationwide on hundreds of thousands of online items. Earlier this year, Target announced free two-day shipping to online shoppers. However, you needed to make a minimum purchase of at least $35 or pay using a REDcard. This newly announced perk requires no minimum purchase and no membership fees. (Amazon Prime is quaking.) Plus, there will be no online cashier to guilt you into signing up for a Target REDcard. You can make your questionable online purchases in peace and get them delivered for free, all from the comfort of your own couch.
This is particularly good news for those of us who perpetually leave holiday shopping until the very last minute. No longer will you need to rely on quickly picking up a gift card or saying a gift is "in the mail, I promise!" You'll be able to procrastinate holiday shopping to your heart's content and still have your gifts arrive on time.
"We want to make the busy holiday season easier for our guests so they can spend more time with their family and friends," Target CEO Brian Cornell said in a press release for the announcement. "From same-day delivery with Shipt, Drive Up, Free 2-Day Shipping and more, no other retailer can match the convenient delivery options that Target will offer this season. When you combine these services with our incredible assortment of exclusive brands, everyday low prices and skilled team, I'm confident Target will be America's easiest and most enjoyable place to shop for the holidays and beyond."
As Cornell mentions, free two-day shipping is just one of a handful of convenient new perks for shoppers. Target is also introducing same-day delivery through Shipt, a paid delivery service. They're offering a free two-week trial membership for people who want to give same-day delivery a try. If you need something the day of purchase but don't want to sign up for Shipt, you can also do Target order pickup, ordering the item online and picking it up at your local store later that day. This is particularly helpful around the holidays when you don't want to push through crowds of people to find the specific gift you're looking for or stand in insanely long lines at checkout.
Target is far from the first big retailer to announce perks and new items in time for holiday shopping. Everywhere from Trader Joe's to Sugarfina's to Aldi's has teased or already brought our their advent calendars for the year. Starbucks just announced their holiday products for those of us who don't take a break between pumpkin spice season and indulging gingerbread everything.
While some stores are fully embracing the 'Christmas Creep', other retailers are trying to counteract the practice of putting out holiday items sooner and sooner. REI, for example, will be closing stores on Black Friday, as they have for the past couple years with their #OptOutside.
Whether the Christmas Creep gives you the heebie jeebies or you can't wait to get your creep on, this holiday season will have something for you. If nothing else, that two-day Target shopping will have you feeling the holiday spirit all year long.