This Taylor Swift "End Game" Video Moment Has Got EVERYONE Talking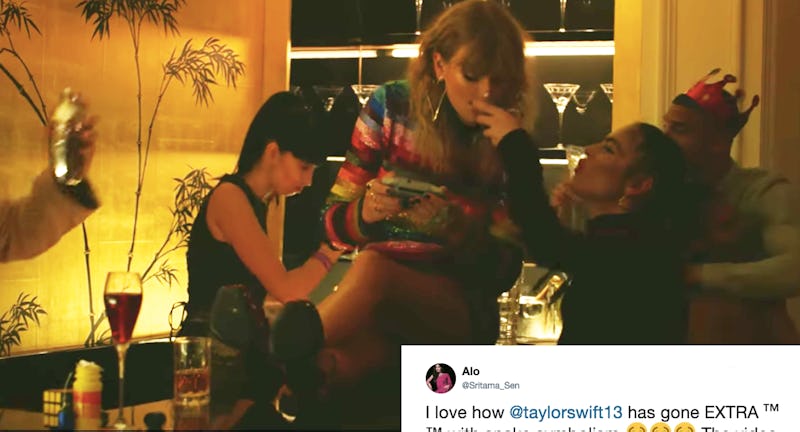 TaylorSwiftVEVO on YouTube
Taylor Swift's got a big reputation, and she seemingly gets a kick out of referencing all of her celebrity beefs. We've seen that time and time again in the promotion and videos leading up to the release of her Reputation album, but her latest visual pun may be the most clever reference of them all. You see, Swift is playing Snake in the "End Game" video. Of course, that's far from the only snake imagery depicted in the video, and certainly some have snake reference fatigue, but, at least with this visual, Swift is saying something a little different. She isn't a snake; she was playing a snake. And that's why everyone can't stop talking about this moment.
The diss dates back to her infamous 2016 feud with Kanye West and Kim Kardashian. When West released his single "Famous" off of his album The Life of Pablo, Swift denied giving the rapper permission to use her name in the line, "I feel like me and Taylor might still have sex/ Why? I made that b*tch famous." Kardashian came to her husband's defense and later shared a video of Swift seeming to approve of at least a portion of the track. The pop star responded to Kardashian's Snapchat video on Instagram, denying that she signed off on all of the lyrics in the song, also saying, "I would very much like to be excluded from this narrative, one that I have never asked to be a part of, since 2009."
The video surfacing, however, lead to Swift being called a liar, and, famously, a snake, and the entire beef played a huge part in Swift thinking that her reputation was tarnished. It's a theme that forms the basis for her latest album.
After taking a small hiatus from Hollywood, and apparently the rest of the free world, Swift wiped all of her social media accounts clean, leading fans to believe that the singer was up to something big. Shortly after, she released a series of mysterious snake videos on her Instagram and Twitter accounts before announcing that her single "Look What You Made Me Do," and her sixth studio album Reputation, was soon to come.
As you probably have guessed it, the project's title, as well as quite a few tracks within, frequently reference the public perception of Swift in the wake of the feud. Even her recent SNL performance, and music videos for "Look What You Made Me Do," and, now, "End Game", have references to the epic beef, too.
A nice chunk of Reputation is a reportedly dedicated to Swift's boyfriend Joe Alwyn, and "End Game," more specifically, talks of her desire to be her lover's one and only. Featuring Swift's best friend Ed Sheeran and rapper Future, the Joseph Kahn-directed visual shows Swift having the time of her life in every part of the world. But, no matter where she ends up, her mysterious lover is heavy on the brain.
In one of the final video clips, Swift rings in the new year with friends in London (ahem, like Alwyn's hometown), and, in the midst of the party, plays a round of Snake while sitting atop the bar. The subtle hint is cheeky, and definitely plays into Swift's unexpectedly-expected sense of style. Sure, there was a snake straw that she drank out of early in the video, but that she's on Level 1-3? And that the game is called "End Game"? There was a lot going on in this one shot, and fans who caught the hint found it just as entertaining, to say the least.
What was once a way an insult about the artist is now a fun and an endearing reference to be shared between Swift and her fans. It was unclear how the singer was going to overcome her damaged reputation, but, by the looks of the reactions to her latest releases, she's definitely exceeded a lot of people's expectations. And, whether you hate or love the singer, you must admit that all of these shady references to her celebrity feuds over the years are so extra that they're pretty hilarious.
Here's to hoping that Swift's reptilian comeback doesn't cease with "End Game," because fans are having too much fun discovering all of her sneaky nods to the famous diss.