Every 'Reputation' Reference to Taylor Swift's Love Life That's Too Obvious To Ignore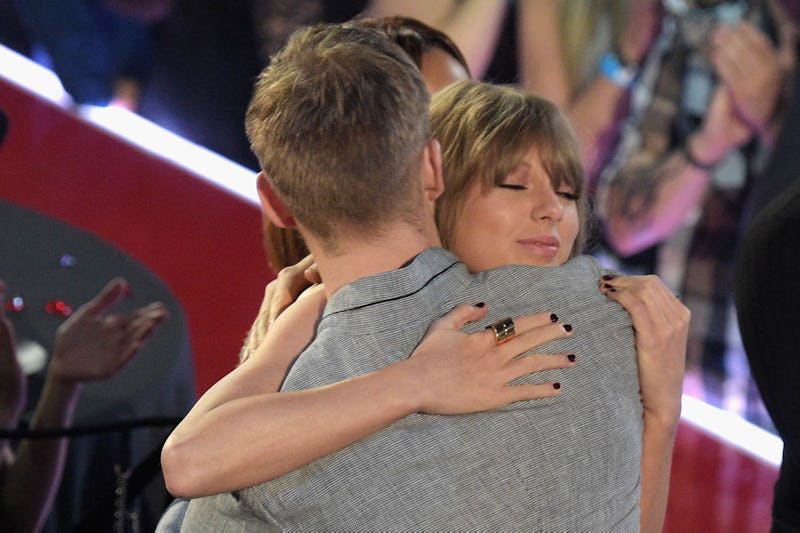 Jason Kempin/Getty Images Entertainment/Getty Images
Taylor Swift writes songs about her boyfriends. She writes songs about a lot of other things, too, but her cleverly written odes to love and loss have been a key part of her music's appeal for the length of her career. As a result, the lyrics and references to boyfriends on Reputation — boyfriends past and present — are there to be scrutinized intensely. As Swift said about Speak Now to MTV in 2010, her songs have "little markers that maybe everyone won't know, but there are things that were little nuances of the relationship, little hints." And seven years later, with the boyfriend references on Reputation, that hasn't changed.
Since her last album, 2014's 1989, the singer's relationships have raised more eyebrows than the debut of her bleached-blonde bob at the Met Gala red carpet. Swift's highly-publicized relationship with Calvin Harris ended abruptly, and she moved immediately into a relationship with actor Tom Hiddleston that was also highly-publicized. The singer has reportedly been dating the actor Joe Alwyn since February 2017 and has largely withdrawn from the public eye. Fans are excited for the references to her romances that she'll pepper throughout Reputation, especially since her absence from non-Tumblr social media and almost 18 months without an interview have left most scrambling for answers.
The four singles released ahead of the album — "Look What You Made Me Do," "...Ready For It?", "Gorgeous," and "Call It What You Want" — offer plenty of material to work with. But now that Swift's Reputation is available in full, these are the brand new clues that fans can eagerly decipher.
1. All Of "Gorgeous" Is Swift's Love Song To Joe Alwyn...
At least, that's the rumor. One fan claimed that, during one of Reputation's secret listening sessions, Swift reportedly told everyone to make sure that everyone knew that "Gorgeous" was about how happy she was with Alwyn. Another fan claimed that Swift said in those same sessions that every love song on Reputation is about Alwyn. Whether or not the general public agrees still remains to be seen. Especially since...
2. ...It Could Be About Tom Hiddleston
However, when "Gorgeous" was actually released, many fans noticed that the lyrics didn't seem to match up with just Alwyn. They honed in on the line about her boyfriend being "in the club doing I don't know what," a line that would make no sense if she was with Hiddleston when she met Alwyn but would make sense if she was with Harris when she met Hiddleston since Harris is a DJ. However, the line before it stated that her boyfriend was "older than us," and that line would apply to Hiddleston over Harris. So, who knows?
3. "Younger Than My Exes, But He Act Like Such A Man Though"
Swift came in hard on "...Ready For It?", seemingly lauding Alwyn, 26, in particular for being younger than her exes — Hiddleston, 36, and Harris, 33 — but more of a man than either of them. Youch.
4. "Late November... I said, 'You don't need to save me, but would you run away with me?' 'Yes.'"
"Call It What You Want" seems like an obvious mediation on Swift's retreat from the public eye following the "Famous" feud with Kim Kardashian and Kanye West and how she built a relationship with Alwyn during that time. But this particular line is a specific reference that would line up to Swift reportedly attending a screening of Alwyn's movie in November 2016.
5. "I Hit You Like A Bang, We Tried To Forget It, But We Just Couldn't"
"End Game" doesn't contain too many specific clues that would point to one of Swift's beaus over another, though Alwyn would be the obvious assumption. However, this particular line near the end seems like it could point to Hiddleston — particularly if "Gorgeous" is about the actor. After all, Hiddleston and Swift met at the Met Gala, and clearly didn't forget about one another since they were dating by summer of that same year.
6. "If A Man Talks Sh*t, Then I Owe Him Nothing, I Don't Regret It One Bit 'Cause He Had It Coming"
This "I Did Something Bad" lyric seems very on the nose, considering the contentious way Harris and Swift parted. Though their breakup initially seemed very amicable, when rumors that Swift was dating Hiddleston began to spread, fans speculated that Harris was dissing the singer when he was seen wearing a pair of Yeezys — despite the ongoing feud between Swift and West. However, things got worse when Swift confirmed that Hiddleston's hit with Rihanna, "This Is What You Came For," was co-written by her under a pseudonym. Harris responded with a since-deleted Twitter rant, saying, "I know you're off tour and you need someone new to try and bury like Katy [Perry] ETC but I'm not that guy, sorry. I won't allow it."
7. "They Say I Did Something Bad, Then Why's It Feel So Good?"
And if "I Did Something Bad" is about Harris, then this line from the chorus is certainly in reference to Hiddleston. At the time, their relationship was widely criticized due to how quickly it seemed to have begun after her breakup with Harris and due to their many, many, many Instagram photos and photo ops that led some fans to suspect the relationship was fake. If this line is in reference to Hiddleston, then Swift appears to have enjoyed the relationship, and that's what matters.
8. "I've Been Breakin' Hearts A Long Time, And Toyin' With Them Older Guys"
Swift's two most recent exes were in their early or late 30s, so this lyric doesn't require much explaining.
9. All Of "Delicate" Is Another Joe Alwyn Love Song
This one certainly doesn't require much explaining, but lines like "My reputation's never been worse, so you must like me for me" and "Do the girls back home touch you like I do?" seem like the biggest references to Alwyn on the song. In the last year, Swift's reputation has gotten bad enough that she dedicated an entire album to it, and it was during this time that Alwyn was reportedly dating her. And as Alwyn is British, the "back home" part could mean across the pond.
10. "So It Goes..." & "King Of My Heart" Are Also Joe Alwyn Love Songs
https://twitter.com/taylorswift13/status/926304551069736960
Well, between "I'm yours to keep and I'm yours to lose" from "So It Goes..." and "So prove to me I'm your American Queen" from "King Of My Heart," Swift doesn't seem to be being shy about how happy she is in her new relationship.
11. "I Wanted To Leave Him, I Needed A Reason"
"Getaway Car" is about a relationship gone wrong, and there's compelling evidence that Swift could be talking about Harris or Hiddleston here. In the case of Harris, "shoulda known I'd be the first to leave" could indicate the contentious public feud they would soon have. In the case of Hiddleston, unconfirmed reports at the time of their breakup stated that Swift wasn't as into the relationship as Hiddleston, which would mean the "He was the great escape, the prison break, the light of freedom on my face" line could reference her feeling trapped in her relationship with Harris until she met Hiddleston.
12. "First Sight, We Love Without Reason, 25 Years Old, How Were You To Know?"
Swift's current boyfriend, Alwyn, is currently 26-years-old. However, the singer reportedly met Alwyn at least a year ago — which would line up with this lyric of him being 25-years-old when they fell in love at first sight.
13. "We Were Dancing With Our Hands Tied Like It Was The First Time"
But, of course, the chorus and title of "Dress" could refer to the infamous Met Gala night. Video of Swift and Hiddleston dancing on the night that they presumably met went viral not long after, and eventually led to the short summer romance now known as Hiddleswift.
14. "It Was So Nice Being Friends Again... But Then You Stabbed My Back While Shaking My Hand"
https://twitter.com/CalvinHarris/status/753260609970417664
"This Is Why We Can't Have Nice Things" seems pretty clearly about Harris who, despite initially co-tweeting that his breakup with Swift had been amicable, began to diss her on social media months later.
15. "I'll Be Cleaning Up Bottles With You On New Year's Day"
When the title of this track first came out, fans wondered if perhaps the song was about Swift and Harry Styles, who she broke up with shortly after New Year's in 2013. And this song certainly seems to describe a relationship that isn't ideal, but that she's wistful about now. This would be in line with other songs Swift has written that are speculated to be about Styles, such as "Out of the Woods" and "Style."
16. "Please Don't Ever Become A Stranger Whose Laugh I Could Recognize Anywhere"
Is it about Styles? Is it about Hiddleston? Who knows?
At the end of the day, these lyrics and references may not be to any of these boyfriends, but the hints and clues are definitely there. Swift has told her story. Now it's up to her listeners to piece it together.