The '13 Going On 30' References In The "Thank U, Next" Video Include The Most Iconic Prop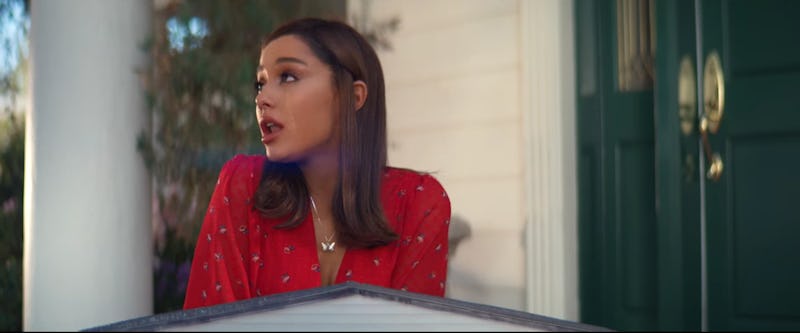 Ariana Grande/YouTube
She's 25, flirty and thriving! As part of her homage to classic romantic comedies of the early 2000s, Ariana Grande channeled one of everyone's favorite big time magazine editors for a very touching sequence in her latest music video. But, just in case you missed it, we've got all of Ariana Grande's references to 13 Going On 30 in the "Thank U, Next" video.
While her tribute to Mean Girls may have featured the most surprise celebrity cameos, and her homage to Legally Blonde may have been shockingly detailed, Grande's recreation of 13 Going On 30 was much more subtle, appearing primarily during the bridge of the song. And rather than recreating the film's iconic "Thriller" dance or the slumber party that Jenna (Jennifer Garner) has with her young friends, Grande chose to honor the emotional climax of the film, when Jenna discovers that her best friend and love of her life Matty (Mark Ruffalo) is getting married to someone else.
But even though it only appeared for the briefest part of the video, Grande's ode to 13 Going On 30 still earned plenty of praise from fans of the film — and a seal of approval from Mark Ruffalo himself, who declared he was having some Razzles in the singer's honor.
Let's break down all of the ways Grande managed to channel Jenna Rink:
The Dollhouse
Perhaps the most iconic homage to 13 Going on 30 is Jenna's dollhouse, which her childhood friend (and the love of her life) made as a gift for her 13th birthday. In the film, Jenna comes to Matt on his wedding day and confesses her feelings; he turns her down, and decides to go through with his wedding to someone else, and she tearfully asks for her dollhouse back and carries it next door, back to her house.
The Red Wrap Top
While her recreation of Regina George's Plastics ensemble may have gotten more attention, Grande put just as much effort into recreating Jenna's outfit, which featured a patterned, short sleeved wrap top and low-rise jeans. The minimal makeup and short, straight hair — which made waves after Grande teased it on Instagram — completed the look, for Jenna's transformation from big time magazine editor to girl next door.
The Paper Dolls In The Dollhouse
If you look closely into Grande's dollhouse, you'll see that there are tiny paper dolls in all of the rooms, with Grande's face plastered onto them. That too, is a nod to the dollhouse that Matt made Jenna in 13 Going On 30, which featured tiny paper dolls of Jenna and her ideal 30-year-old life. (And yes, in both instances the main character's doll is chilling in a bubble bath.)
The Sparkles On The Dollhouse
After being humiliated at her 13th birthday party, Jenna locks herself in the closet and wishes to be "30, flirty and thriving." She rocks back and forth, and the sparkles from the dollhouse fall down onto her shoulders and transform her into the adult she always dreamed she'd be; at the end of the film, as she cries on the front stoop of her parents' house, the sparkles again swirl around her and give her a second chance.
For Grande, however, once the sparkles take off from the roof of her dollhouse, she's whisked away to Harvard Law School, where she lives out her own version of Elle Woods' many legal adventures.
The Bride
"Thank U, Next" also features a bride who looks suspiciously like Grande herself (note her signature high ponytail, and her BFFs Alexa Luria and Courtney Chipolone in their second cameos as the bridesmaids. While she's supposed to be the woman that Matty is going to marry instead of Jenna, the fact that she's made to look like Grande could be a reference to the fact that Jenna and Matt do get married at the end of 13 Going On 30, after she gets her second chance.
Jenna's Dance
OK, this one might be a little bit of a stretch as Grande technically does the nae nae at the end of her video, but 13 Going On 30 does include an iconic scene in which Jenna does the "Thriller" dance along with Matty and some of her friends at a high-profile event for the magazine. And since we didn't get to see a full homage to that moment of rom com history, we'll take this tiny dance break as compensation.
Now, it's clearly only a matter of time before we see Grande star in a romantic comedy of her own — and considering how much she loves the genre, we're sure that it, too, will become a cultural icon just like the rest of the films in "Thank U, Next."