Another 'Bachelor' Season Is Officially Happening & As Arie Would Say, "That's Amazing"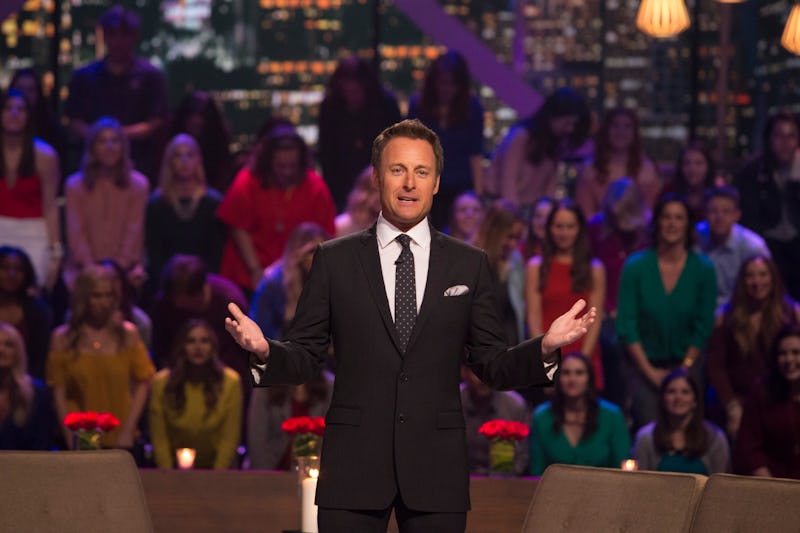 Paul Hebert/ABC
Cue a chorus of celebratory glasses clinking, because there is some major Bachelor news. On Tuesday, March 13, Deadline reported that ABC has renewed The Bachelor for Season 23. So do not fret, noble denizens of Bachelor Nation: Arie Luyendyk Jr.'s season will not be the show's last. There will be more date cards to parse, two-on-one dates to gape at, prop-riddled limo entrances to admire, and right reasons to discuss.
What's that? You say this renewal isn't exactly the most shocking turn of events in Bachelor history? Well, you are not wrong about that. The Bachelor is an incredibly popular show, so it makes all of the sense that ABC is keeping it around. The Bachelor getting scooped up for another round was about as predictable as JoJo Fletcher choosing Jordan Rodgers at the end of her season.
The first season of The Bachelor premiered back in 2002, and it has been a fixture of ABC's primetime lineup, as well as a pop culture institution, ever since. The show has sired several hit spinoffs, including The Bachelorette, Bachelor in Paradise, and Bachelor Winter Games. People host viewing parties for it, write about it, create fantasy leagues for it, talk about it, tweet about it, and podcast about it. It has inspired multiple scripted series. It's been parodied on Saturday Night Live and Jimmy Kimmel Live. The reality dating competition show is a pop culture juggernaut, and it doesn't show any signs of slowing down.
In an August 2017 with Variety, Robert Mills, ABC's senior vice president of alternative programming, offered up his thoughts on The Bachelor franchise's longevity. He told the publication,
"As big as the ratings are, they're definitely not telling the whole tale. Everybody knows it has the highest group viewing. It's become an event. It's so social. This show has become like a sporting event — we don't have football, but this does feel kind of like football. Once you got to hometown dates, that's kind of like the playoffs and then the final rose is your Super Bowl. The advent of social media helped, and also when the show took a turn and it started going real and it wasn't a game show, people realized there are real stakes and real emotions — we always point to Brad Womack's first season when he didn't pick anyone."
Yes, at some point in the future, the 23rd Super Bowl-chelor will be on your television set.
So, who will be America's Next Top Bachelor? Well, ABC typically saves that decision until after The Bachelorette and Bachelor in Paradise air, and uh, neither of those shows have returned. We're still two months away from Becca Kufrin's season of The Bachelorette, and Bachelor in Paradise Season 5 premiere will happen sometime after that. *Does some really impressive calculations.* That means it could be several whole months before the next Bachelor is named.
When ABC announced that Arie would be the star of The Bachelor Season 22, the reaction was about as warm as Nick Viall and Vanessa Grimaldi's ice bath; many members of Bachelor Nation weren't exactly feeling this throwback pick. Assuming Season 23 doesn't follow in Season 22's polarizing footsteps (i.e., comb through the older seasons of The Bachelorette), the next Bachelor will most likely be on Becca's season or the upcoming installment of BiP. So it probably isn't a bad idea to keep your eyes peeled during the forthcoming rounds of The Bachelorette and BiP for any and all potential future Bachelors.
Anyway, congratulations to The Bachelor on Season 23. May ABC give you at least 23 more seasons.