The Bad Relationship Pattern Each Zodiac Sign Is Likely To Repeat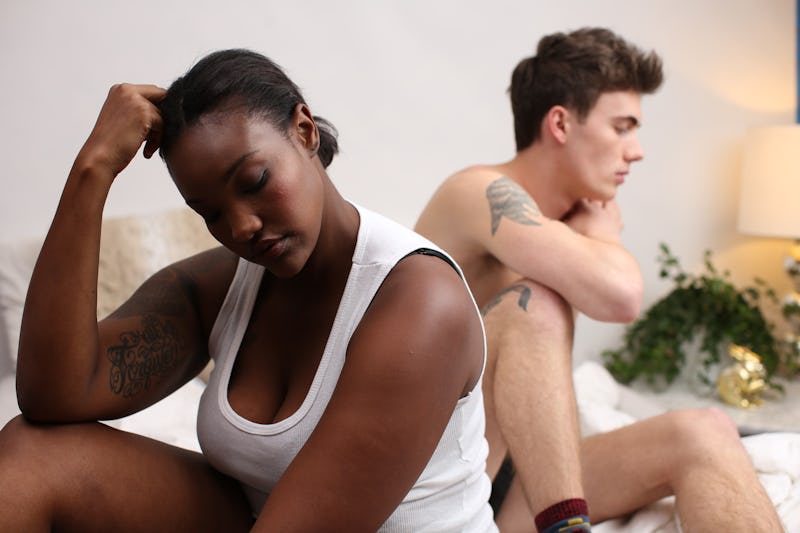 Ashley Batz/Bustle
No one is perfect in relationships. Over time, every person has to overcome a pattern they might fall into so that they can have a healthy connection. Understanding the zodiac signs in relationships, however, can be a lens through which to explore what bad habits you and your partner may be most prone to.
Whether these zodiac signs' habits are due to insecurities, miscommunications, or perspectives completely out of line with their partners', they can become lifelong bad habits if not addressed. Luckily, every single sign has their own things to overcome, so no one is alone in dealing with this issue.
Some of these habits might clash more than others. Zodiac compatibility takes into account not only matching good traits, but also how each sign deals with conflict, and their chances of overcoming tough times. A couple is less likely to last through inevitable bumps in the road if their habits clash. Cancer and Aquarius, for example, are two signs that are not known for their compatibility. Both have habits of ignoring their partner when the going gets rough.
Still, just because a person displays bad relationship patterns doesn't necessarily mean they'll fall into toxic relationships. "People can make the same mistakes over and over again in relationships," astrologist Lisa Stardust tells Bustle. " [...] Sun signs (zodiac signs) can shed insight into the patterns people make, what they are prone to repeat, until they have the urge to transform." And with open communication between partners, the couple should be able to figure out how to fix potential problems by overcoming whatever issues they're dealing with.
Here is the bad relationship pattern each zodiac sign is likely to repeat, according to astrologers.