Some Of The Best 'Breaking Bad' Side Characters Are In The Movie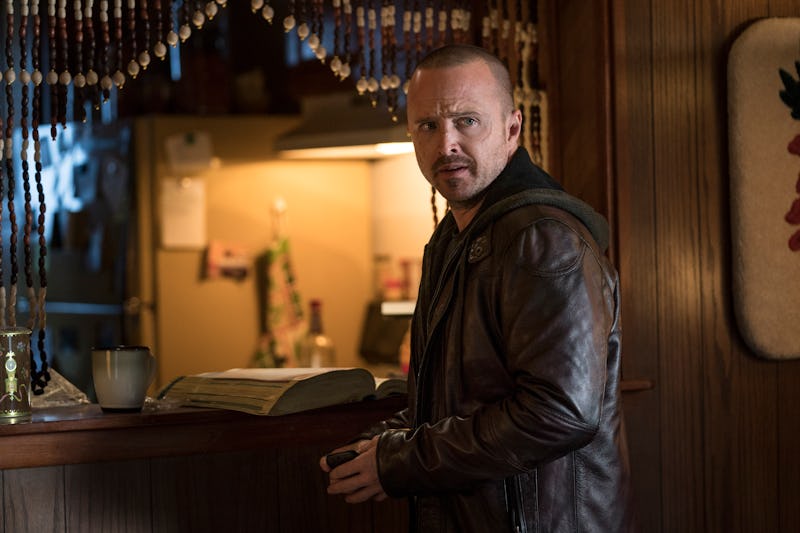 Ben Rothstein/Netflix
Jesse Pinkman is back in the Breaking Bad movie El Camino, but he won't be the only beloved character to return since the El Camino cast features both major and small players from the Emmy-winning series. The Netflix movie will follow Aaron Paul's Jesse immediately following the Breaking Bad series finale. Jesse briefly tasted freedom driving away in his El Camino after Walter White saved him. Yet, as the DEA searches for Jesse in the sequel movie, other Breaking Bad characters will become involved in this manhunt. Only a few actors were confirmed ahead of the premiere on Oct. 11. But knowing the mind of creator Vince Gilligan, the possibilities of cameos in El Camino are endless.
Evidence began to emerge nearly a year ago that Gilligan was working on a Breaking Bad follow-up movie about Jesse. Yet, details remained relatively scarce with The Hollywood Reporter noting the movie filmed in secret. Even with the movie confirmed and about to premiere, the cast list is hush-hush. The Hollywood Reporter stated in September that El Camino "features more than 10 familiar characters from the show." But the publication respected Gilligan's wishes and only revealed two other characters who would be involved besides Paul's Jesse — Skinny Pete and Badger, who have appeared in trailers for the movie.
While the official cast list is being kept under wraps, there are bound to be some major comebacks when the movie drops. Especially since the Oct. 7 red carpet premiere in Los Angeles was essentially a Breaking Bad reunion. Betsy Brandt (Marie Schrader) and RJ Mitte (Walt Jr.) were in attendance — although Mitte said he wasn't in the film to TheWrap. As well as actors whose characters had died during the series, like Dean Norris (Hank Schrader), Giancarlo Esposito (Gus Fring), Krysten Ritter (Jane Margolis), and Jesse Plemons (Todd Alquist).
Walter White actor Bryan Cranston also made an appearance, which will only make fans more hopeful that Heisenberg himself will return. But here are the only Breaking Bad actors who were confirmed to be in El Camino ahead of the movie's release.