Here's Who Is In 'Grey's Anatomy' Season 14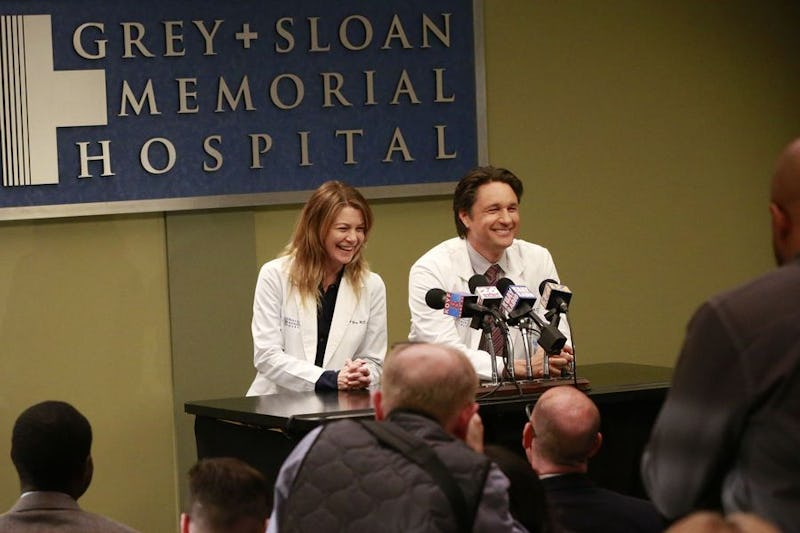 ABC/Mitch Haaseth
There are very few shows that have been on TV as long as Grey's Anatomy. The hospital soap opera, created by the magnificent Shonda Rhimes, began in 2005 and is still alive. Grey's Anatomy features a strong ensemble cast that is in a constant state of flux season to season. Season 13 of Grey's Anatomy featured 15 season regulars in the main cast. This high number of featured doctors doesn't even include the heavily highlighted recurring roles and guest cast. But, who will be featured in the Season 14 Grey's Anatomy cast when the show returns this fall? The hospital will most likely be filled with familiar faces and some new ones.
There are very few storylines that haven't been explored on Grey's Anatomy: plane crashes, car crashes, shooters, every medical condition possible, love triangles, love squares, promotions, firings, basically anything you can think up. So, the cast is constantly changing: Doctors die, leave, and disappear season to season. And, with the recent hospital explosion in last week's episode, any number of characters could be in danger.
Will some favorite doctors meet a brutal end? Who will the newbies be? Some doctors are definitely not disappearing any time soon, while others may hang up their stethoscopes.
Definitely Wearing Lab Coats (aka Returning):
Meredith Grey
The show is all about Meredith Grey. Her name is right there in the title. She's been solving cases and dealing with tragedy since she was a lowly intern. Now a powerful surgeon, this doctor is the main focus of the show. When her true love on the show, Derek Shepherd, died, many questioned where the show would move from there. Then, it became about her dealing with grief, finding herself again and moving on from tragedy. Ellen Pompeo, the actor who plays Meredith, has spoken time and time again about how thankful she is for the show's longevity. She spoke recently to The Hollywood Reporter about wanting to stick with the show, saying:
To have a show on the air for this long and have it be this successful and have it be driving a whole night of television and be the network's number one show — I'm super grateful. And I don't want to take that for granted, and I don't want to walk away from the golden goose. I want to put a leash around it and take it everywhere with me.
Chances are, where there is a Grey's Anatomy, there is a Meredith Grey.
Arizona Robbins
When Arizona Robbins rolled into the show she was a tough but optimistic pediatric surgeon. Her character has been through the wringer, experiencing everything from plane crashes to divorce. And she'll be sticking around for more. According to TV Line, Jessica Capshaw has a contract that has her signed in through Season 14 of the show.
Owen Hunt
In April, actor Kevin McKidd happily announced that he would return for Season 14 on Twitter. Owen Hunt was originally cast as the hunky, tortured romance for Christina Yang. Owen has now become a much larger presence, he's woven into the storylines of multiple doctors. With the reemergence of his sister that was presumed dead, there's sure to be a lot of Owen story in Season 14.
Probably Wearing Scrubs Again, But Not 100 Percent:
Alex Karev
The bad-boy-turned-sympathetic-pediatric-surgeon-turned-more complicated-bad-boy-again will most likely be returning. Alex Karev is one of the few doctors who has been with the show since the get-go. Similar to Meredith, we have watched him grow from an intern to a doctor. This season he's been all over the map, from saving lives to serving time. It would be pretty shocking if he didn't return.
Richard Webber
Richard Webber is the father figure that Meredith looks up to, works with, and occasionally disagrees with. This season has seen Webber's job get put at risk, and his teaching practices questioned. From the very beginning of the show, Webber served as a mentor, the ultimate voice of wisdom and guidance. Despite all the hospital shakeups, we'll most likely see Webber again in Season 14. It just wouldn't be the same without him.
Miranda Bailey
Miranda Bailey has been the hard-on-the-outside-but-soft-on-the-inside mentor since Day 1 of Grey's Anatomy. With an ensemble cast that's constantly in flux, fans tend to hold on tight to the OG hospital crew. So, Miranda is likely to return for the 14th season, representing the original hospital gang.
Jackson Avery
Jesse Williams has been busy outside of working on Grey's Anatomy. Between side projects and speaking out about important political issues, Williams has a lot going on. Still, he most likely will make time to save fake lives. Jackson Avery has been a popular character and has grown up quite a bit over the seasons. He began as a rather shallow intern, growing into the passionate doctor he is today. Character growth is a huge reason that the longevity of the show is fulfilling for fans.
April Kepner
Speaking of character growth, April Kepner is not the nervous intern she began as. She's now a powerful surgeon who stands by her decisions, even when that isn't the popular choice. There are many questions about her that need answering during Season 14: What career jump will April shoot for next, what is the fate of her on-again-off again love with Jackson, and what direction will she head in? With so much up in the air for her character, we'll likely see her return to see those storylines through.
Benjamin Warren
Jason George went from simply Bailey's hunky husband to a rule-breaking intern preforming surgery without permission. With huge storyline increases, it's likely Ben won't disappear from the intern locker rooms anytime soon.
Maggie Pierce
We've already lost one of Meredith's sisters, and fans don't want to lose another. While Maggie Pierce originally just took on the role of giving Meredith some family (much of hers was dying off), she has grown into a much larger part on the show. Friend, confidant, and blood relative to Meredith. Smart, capable doctor to others in the hospital. Maggie seems to be holding her own and staying on the show. She's also dealt with quite a bit of pain recently, which is basically initiation in the Grey's Anatomy world.
Nathan Riggs
Nathan Riggs is the brooding doctor who knocked down Meredith's barriers to earn a place in her heart. First surrounded by mystery, Nathan has established himself as a good match for the dark and twisty Meredith Grey. With his former love, Owen's sister, returning from the presumed dead, there's plenty more drama here to unlock. Nathan needs to return.
Andrew DeLuca
Andrew DeLuca has had a rough year at the Grey's Anatomy hospital. He got beaten up by Alex, was told to ignore his pain, and seems to constantly be lusting over the wrong doctor. Still, I don't think he'll be hanging up his scrubs yet — because all of that means major drama, and this show lives on that.
Jo Wilson
Jo Wilson has been at the center of most of the jail-related drama this season. We learned that Jo isn't her real name and that she's running from her abusive ex-husband. It seems like the drama has almost eclipsed the character herself. But that was likely intentional. Camilla Luddington who plays Jo, gave birth to a baby this year while shooting Grey's Anatomy. She is probably due to return for Season 14, with an even bigger onscreen presence.
Amelia Shepherd
Like most of the Grey's Anatomy surgeons, Amelia Shepherd has been through the wringer multiple times. This season she's dealt with addiction, grief, and a fear of commitment. Despite her flaws, she has important friendships and romantic relationships with those on the show, so it would be hard if she disappeared completely.
Putting Down The Surgical Knife And Leaving The Show:
Stephanie Edwards
Stephanie Edwards has been the a promising intern from the get-go. She's smart, talented, and a bit less whiny then some of her intern colleagues. But, sadly for her fans, it was announced Stephanie will not be a returning face for Season 14. Jerrika Hinton, will be leaving to work on Alan Ball's new HBO drama. While she could return as a guest, there is no guarantee, especially with the last Grey's Anatomy episode seeing her running toward an exploding man. Ah, Grey's Anatomy, how you tear at our heartstrings.
So many doctors are ready to meet their fate in the Grey's Anatomy Season 13 finale. I'm excited and scared to see where the show goes next.