Kian Lawley Has Been Fired From 'The Hate U Give' Movie After A Racist Video Resurfaced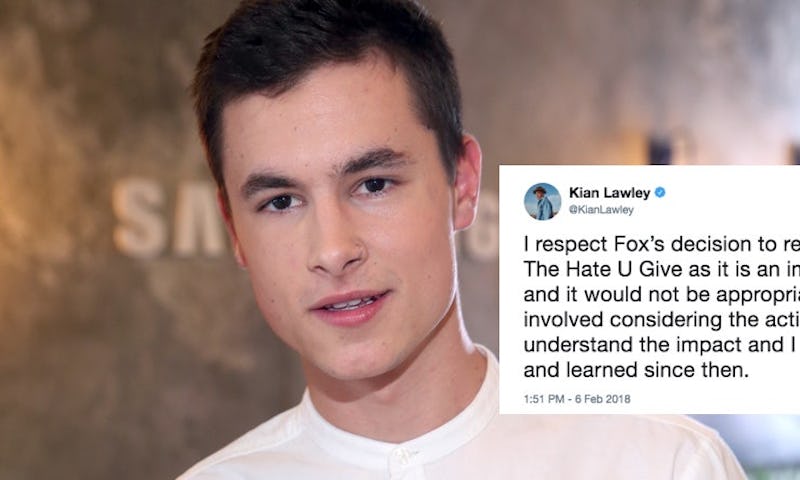 Jonathan Leibson/Getty Images Entertainment/Getty Images; Kian Lawley/Twitter
The studio behind the upcoming film, The Hate U Give, fired actor Kian Lawley for racist comments he made in the past. In a recently resurfaced video, the YouTube star is heard making racial slurs and using the N-word, according to Variety. The movie, which is based on the 2017 YA novel of the same name, will recast Lawley's role, but more importantly, this move by the studio shows that they will not tolerate any form of racism from their cast. (Bustle reached out Lawley's rep, who had no additional comment.)
In a statement, a spokesperson for Twentieth Century Fox Films told Variety: "Due to the controversy surrounding his past comments and behavior, Kian Lawley will no longer appear in The Hate U Give. The studio plans to recast the role of Chris and reshoot scenes as needed." Lawley was playing the boyfriend of protagonist, Starr Carter, played by Amandla Stenberg, who becomes an activist after seeing her friend killed at the hands of police violence.
While there's no word yet on who may replace Lawley, recasting will likely be no easy feat for the crew. According to The Hollywood Reporter, filming wrapped in November, which means Lawley's scenes will require reshoots and possibly some CGI magic. THR reported that this decision "parallels Sony's decision to replace Kevin Spacey with Christopher Plummer on Ridley Scott's All the Money in the World" after Spacey was accused of sexual misconduct by multiple men, including actor Anthony Rapp. (In a statement to Variety, Spacey's representative said the actor is "is taking the time necessary to seek evaluation and treatment," though Spacey initially claimed to not remember the encounter with Rapp.)
Lawley has since apologized twice for the video, in which he says, "We're all black drinking purple Kool-aid and eating Kentucky fried motherf*cking chicken." After the video resurfaced, Lawley tweeted on Feb. 4:
"if u don't learn from ur mistakes, u can never grow as a person. i've learned a lot & i am grateful to have the power to change. i never want to be who i was yesterday. we're in a constant battle to become a better version of ourselves, use ur voice as ur weapon."
Following the announcement of his firing, Lawley released a statement to Variety, which he also tweeted. "Words have power and can do damage," he wrote. "I own mine and I am sorry." Lawley said he respects the decision to recast him and that "it is an important story, and it would not be appropriate for me to be involved considering the actions of my past."
Lawley ended his statement by writing, "I understand the impact and I have grown and learned since then. From now on I plan to use my voice for positive change."
The YA novel by Angie Thomas — which is an ode to Tupac Shakur's quote about "T.H.U.G. L.I.F.E." and is inspired by the Black Lives Matter movement — is about urging people, especially young ones, to make a positive change in society. It's why it's so important that Lawley will be removed from the film, which also stars Regina Hall, Anthony Mackie, and Issa Rae. Lawley's association with the movie would only muddle its important message.
The Hate U Give, which Bustle's Senior Books Editor Cristina Arreola previously called the book "every millennial woman needs to read," looks at Starr, a 16-year-old black girl attending a majority-white prep school on scholarship. She's forced to straddle those two worlds and it's only after she witnesses the death of her childhood friend Khalil by police that it becomes how much this weighs on her. Starr is forced to choose between staying silent, or speaking the truth knowing it could possibly put her and those she loves in danger.
Since the book, and now the movie, delves into the black experience, Lawley's use of racist language simply doesn't make him a good fit. If anything, it only adds to the very problem — racial tensions in America — that the movie is trying to shine a spotlight on.
It's clear that this movie is going to result in a lot of powerful discussions, and the studio is making sure that Lawley's behavior won't take away from them. The firing of Lawley from The Hate U Give is a small — but hopeful — sign that racism doesn't have a place in Hollywood.