Statistics Show The Ideal 'Bachelorette' Contestant Sounds Just Like This Former Bachelor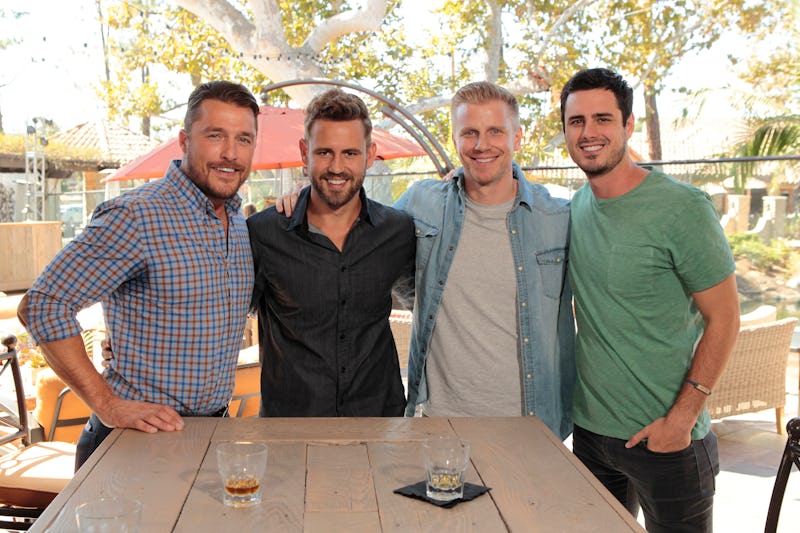 ABC/Rick Rowell
As Bachelor Nation tries to predict the outcome in Becca Kufrin's quest to find love in The Bachelorette Season 14, a new study by Homes.com suggests that the "ideal" Bachelorette winner fits a specific profile which closely matches that of a former contestant — and former Bachelor.
The data analysis conducted by Homes.com indicates that contestants with the name Ben have earned the most roses on average (5.33), followed by Tanner (4), Nick (4), Chris (3.69) and Ryan (3.63). It also reveals that the most common hometown of contestants is Dallas, Texas (12). However, it points out that competitors from Denver, Colorado are most likely to win the dating game show with contestants from that area receiving 3.67 roses on average. All-in-all, the findings appear to indicate that the "ideal" winning Bachelorette contestant is pretty much a 31-year-old named Ben from Denver who has a career in insurance.
While quite a few contenders seem to fit the bill for these findings, the name that seems to stick most is Season 11 fan fave, Ben Higgins. Though he didn't officially win his season of Bachelorette, which featured Kaitlyn Bristowe, his first name and current dwelling space certainly strike a chord after reading the recent study. Of course, Higgins originally hails from Warsaw, Indiana. However, the fact that he currently lives in Denver shouldn't be ignored. Both locales could be credited as the source for that downright undeniable midwestern charm which fans have come to know and love him for.
Higgins was merely 26-years-old when he joined the Bachelorette in 2015, an age which reportedly garners an overall average of 2.54 roses. However, it seems that five extra years may have suited him well as 31 seems to be the magic number when it comes to the most rewarded age, according to the study.
After coming in third, and losing the competition to Shawn Booth, Higgins went on to become the Bachelor in Season 20 and ultimately proposed to Lauren Bushnell in the March 2016 finale. The pair later called off their engagement and announced their split in May 2017.
While there aren't any contestants in the insurance business for Becca's season, there were plenty of candidates with interesting employment backgrounds for her to choose from including, pro football players Colton Underwood and Clay Harbor. She also had her choice of two men that work in sales, Chris Randone and Blake Horstmann, who just so happens to be from the stats' "ideal" location of Denver, Colorado. There's also Jean Blanc who works finance and is a self-proclaimed colognoisseur, AKA cologne expert.
In terms of "desirable" locations, Becca had a huge selection from the data analyisis' second most popular destination, Los Angeles, California with Wills Reid, Leo Dottavio and Christon Staples all being from the West Coast destination. Meanwhile, this season's John Graham and Joe Amabile AKA "Grocery Store Joe" were both from Chicago which just so happens to be number 6 on the study's list of popular hometowns.
In the past, Joe Bailey from Kaitlyn's Season 11 stint on Bachelorette, was an insurance agent when her appeared on the show. Sean Lowe from Season 8 featuring Emily Maynard also worked in the industry and later went on to become the Bachelor in Season 17.
As many fans may know, Becca's season is winding down and heading into the "hometown date" weeks of the show. With Blake now officially in the final four, it seems that she will soon be heading to Colorado to meet his family and friends there.
Despite things not working out with Lauren, the recent Homes.com data analysis seems to have be spot-on point when it comes to Higgins being the "ideal" candidate. His charisma, charm and care for others is certainly something that all of Bachelor Nation continues to love.