Feminist Lyrics On Christina Aguilera's New Album Will Help You Embrace Your Inner "Fighter"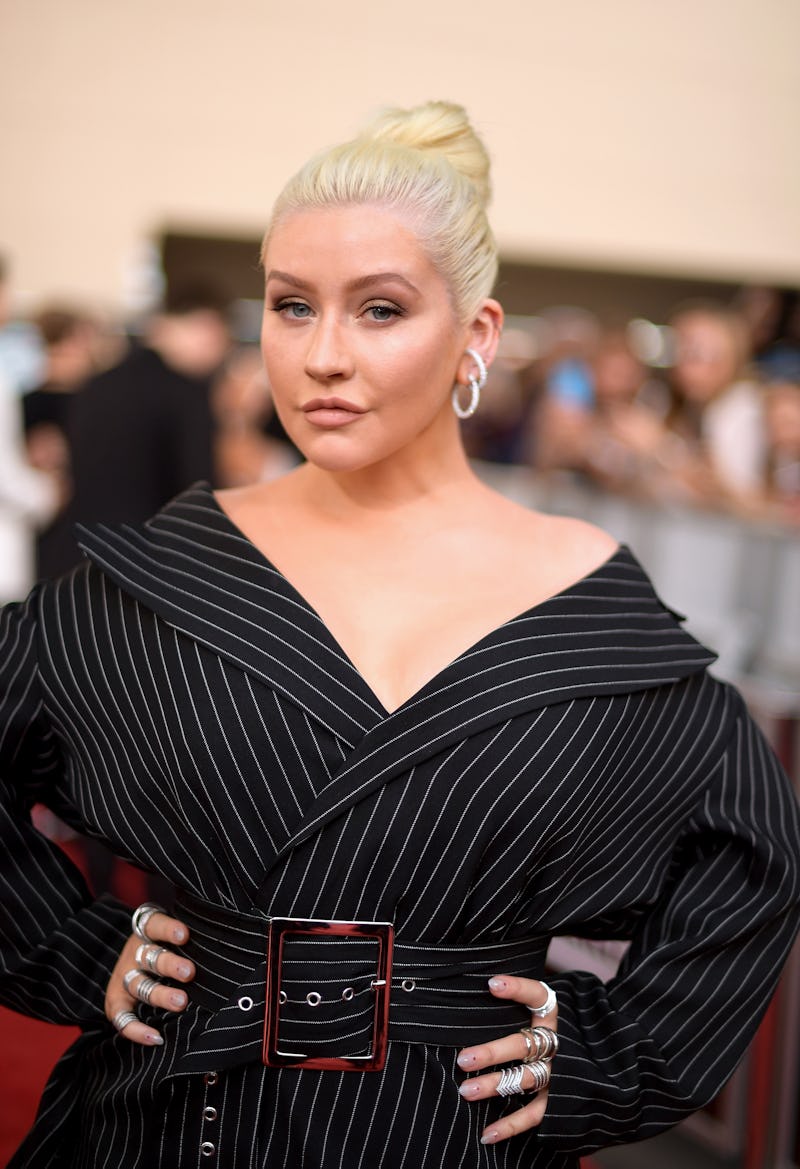 Matt Winkelmeyer/Getty Images Entertainment/Getty Images
Not only is she back, but she's back with a bang — the feminist lyrics on Christina Aguilera's Liberation are everything fans could have asked for and more. The singer's eighth studio album was released on Friday, and it's chock-full of that trademark Xtina feminism, with lines that will empower you right up out of your chair. Whether you use that energy to lace up your shoes for a sweaty run, finally ask your boss for that raise, or just sing affirmations to yourself in the mirror, Christina Aguilera's new album has something for everyone.
In the mood to hear a bunch of adorable little girls tell you what they want to be when they grow up? Turn on "Dreamers," which features Aguilera's own daughter Summer Rain Rutler sharing her aspirations with the world. Feeling more like hearing about what the industry has done to the singer's body image and sense of self? Check out "Maria." Or maybe you're looking for Aguilera feeling herself, strutting her stuff and more than holding her own against a cocky rapper? Look no further than "Like I Do," where the 37-year-old goes toe-to-toe with GoldLink and comes out on top with lines that highlight her years of experience as an industry heavy-hitter.
And that's just the tip of the iceberg; there are plenty more feminist lyrics where those came from. And they speak to a whole range of what it means to be a woman, so come on over and check these out.
"Maria"
In the album's third track, Aguilera laments her career beginnings with the line, "How was I supposed to know? / That it would cost my soul?" But she finds her way closer to the end, declaring:
"So tired of painting all this makeup' / Cause it won't hide my deep cuts."
She's not going along with what's expected of her anymore, and being vulnerable is a brave first step.
"Sick Of Sittin'"
In Liberation's fourth track, the former Voice judge comes in hot, dropping the mom mic with the line:
"I ain't built for no fake sh*t / B*tch don't play me, I raise kids."
Just in case you were wondering if she was messing around. During a spoken-word portion of the song, Aguilera suggests that even though she's taken heat for using her voice, she'll never silence anyone else.
"I make it a policy not to tell anybody to sit down / I just still encourage everybody else to stand up."
Near the end of the track, there is what could be a nod to feminist icon and California Congresswoman Maxine Waters. Aguilera sings:
"They wanna take my shine / They wanna take my time / But I'mma take what's mine"
It's not clear if she was deliberately paying homage to Rep. Waters' infamous "reclaiming my time" quote, but it seems pretty clear that the singer is here to reclaim her time, and the Congresswoman would likely be proud.
"Dreamers"
Here's a tip: don't listen to "Dreamers" unless you're in a very dusty room, because it might bring a tear to your eye and you'll want to have an excuse ready. The spoken word interlude is just a bunch of little girls talking about what they want to be when they grow up, and it's a devastating combo of adorable and empowering.
"I will make myself heard / I create my own rules / I will work hard / I am nobody's princess / I want to grow up and be president / I want to be president"
There's that dust!
"Fall In Line"
Anyone who watched the 2018 Billboard Music Awards is already familiar with this one, but it bears a closer look. The track features Demi Lovato, and speaks directly to the next generation that was just heard from in "Dreamers":
"Little girls, listen closely / 'Cause no one told me / But you deserve to know / That in this world, you are not beholden / You do not owe them / Your body and your soul"
In the song, Aguilera acknowledges that the world has a long way to go before women are taken as seriously as men, but urges the little ones not to let that stop them from fighting back.
"It's just the way it is / And maybe it's never gonna change / But I got a mind to show my strength / And I got a right to speak my mind / And I'm gonna pay for this / They're gonna burn me at the stake / But I got a fire in my veins / I wasn't made to fall in line"
Even though "Fall In Line" corresponds perfectly with #MeToo sentiments, Aguilera told W in a May interview that it was written long before the movement caught fire. She shared that she just felt "it was just a song that needed to be heard," adding, "I have always wanted to be that advocate for women and anybody that was kind of struggling to have their own voice."
"Like I Do"
On Track 8, rapper GoldLink does his entire verse of bravado before Aguilera cuts in to set him straight:
"Let me make this simple for ya / Lay it out on the table for ya / In case you need a little reminder / I've been doing this way before you / Boy you already know my story / You were raised in all my glory"
She reminds him she's out of his league and that she doesn't need his money, and even lashes out at mansplaining with the lines:
"Don't talk for a second / Just get all this lesson / Don't you second guess it / Just show some respect and / It can go far for you"
Wise words from Xtina.
"I Don't Need It Anymore"
Track 11 may be just another interlude, but it still packs a punch. "Can you feel it?" Aguilera sings, continuing:
"Change's in the air / Take back the power / Breathe it in your skin"
It's a brief but empowering message that fits in with the feminism on the rest of the album.
"Accelerate"
In the extremely danceable "Accelerate," featuring 2 Chainz and Ty Dolla $ign, Aguilera pulls out more of that now-trademark swagger. She urges her fellow women to go out and get what they want, whatever that is:
"All my boss ladies / Go get your Mercedes / No matter long as you get there / Just don't let it drive you crazy / Get that moola, power, you on fire tonight / You can get it how you want it, that's it, go tonight"
The important message is that nothing is out of reach, so if you want something, go and get it.
"Pipe"
The album's 13th track might be the most risqué of the new album. It features XNDA and is a breathy, sexy addition to Liberation, made even more enticing by how much Aguilera owns her own sexuality. She flips the script with lines like, "Yeah, that's right I'll send you with my money and my own time," and reminds her partner that her maturity is an asset.
"You already know what you came here for / You know that I'm grown and I'm 'bout it / And I know what to do witcha body / Every single time that you drop it / Trust me I know what to do with it"
Nothing sexier or more feminist than a woman who knows what she wants, and is confident in what she has to offer.
All in all, Liberation is a sprawling ode to feminism in all its many facets, and it gives Aguilera's fans not just something to sing along with, but something to aspire to.