These Photos Of Dream Kardashian's Birthday May Be The Cutest Thing You See All Day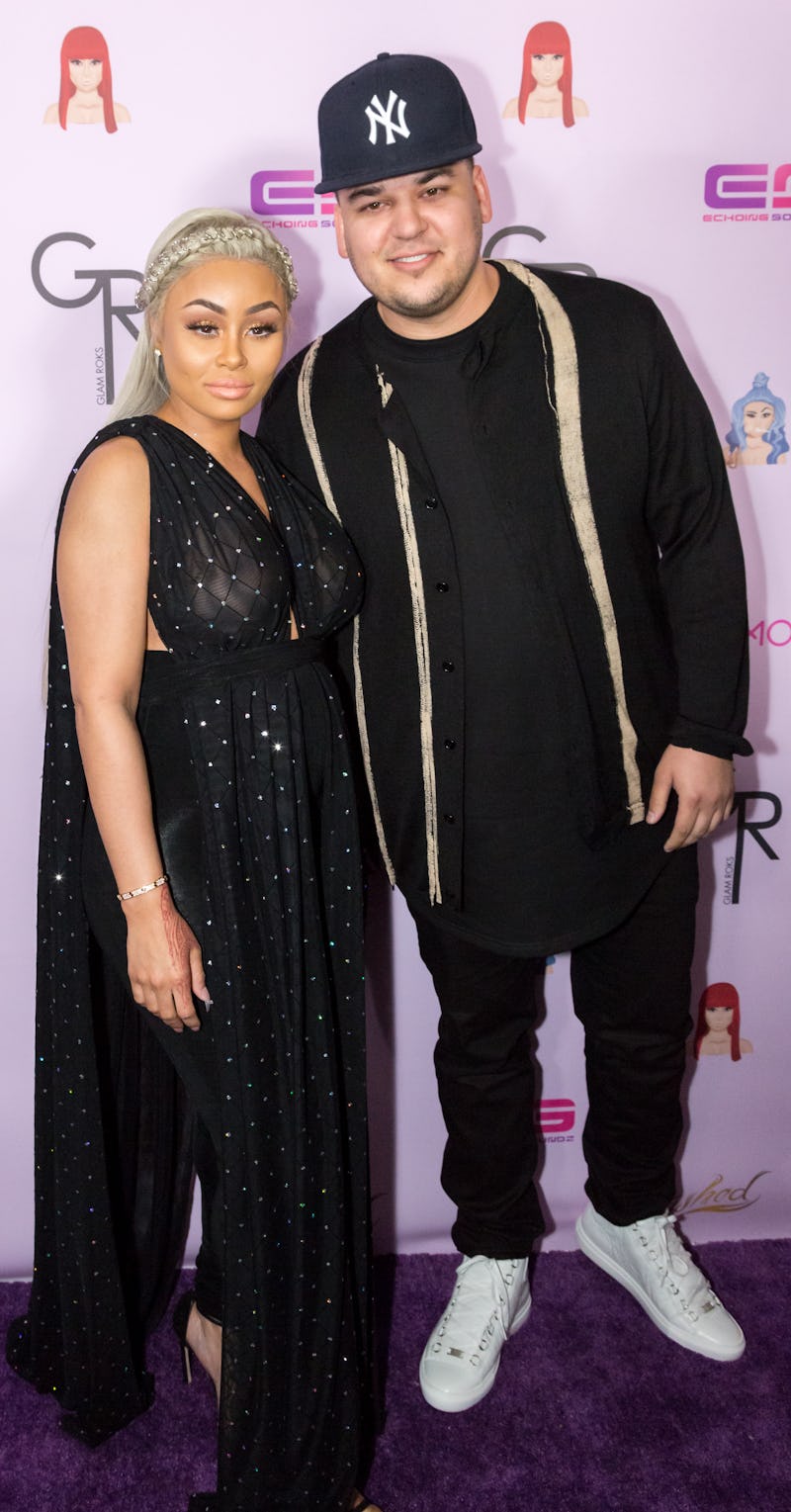 Greg Doherty/Getty Images Entertainment/Getty Images
In November 2016, Angela "Blac Chyna" White and Rob Kardashian had their first child together. And a year later, Rob posted photos of Dream Kardashian's first birthday, and they're too cute to be believed. It seems like only yesterday the rocky couple was in the news for something, and it may well have been yesterday, since they have more ups and downs and accusations against one another than an episode of Real Housewives. Though the status of Rob and Chyna's relationship seems official — that is, officially off — their adorable 1-year-old is legitimately a dream.
On Friday, Nov. 10, the Kardashian-Jenner crew shared photos of their newest member's birthday party. The sisters (and half-sisters) have a frequently strained relationship with Rob, which makes the photos and videos of Dream Kardashian's birthday all the more heartwarming. Rob himself has a tendency to withdraw from the public eye, so watching him immersed in family activities, and celebrating his tiny daughter, was exactly the type of news the world needs.
Watching him joyfully celebrate his daughter, showering her with love and affection and gender-neutral presents (you give her that toy Mercedes sports car! Just like her half-brother King!) is an encouraging sign to longtime Kardashian fans. So, are you ready to see adorable baby pictures of Dream Kardashian? Are you sure? Here they are.
First of all, Dream is wearing a classic warm-up set from Adidas with velcro Adidas Superstars. Is she being sponsored by the athletic brand yet? If she's not, she should be. Imagine an Instagram account devoted to baby Dream's modeling efforts. The brand partnerships she could make! If Dream leaned in to advertising opportunities, she could be so rich that by her second birthday, she'd need a legal team of her own. Plus, an endless feed of Dream in comfy-cute baby wear? Yes, please. But, anyway.
Since Dream's father Rob Kardashian is known to be prickly and reclusive, it's delightful to see them both surrounded by family on her birthday. Kim, Khloé, and Kylie were all present for Dream's party, too, and it was well-documented on social media. Honestly, it was a lower-key affair than fans are used to seeing from the family. Get Kris Jenner behind the wheel of a birthday bash — or any party, really — and it often turns into a full-blown circus. Dream's birthday party, by comparison, appears to be tame. Yes, there were two elaborate birthday cakes present, and sure, one had a charming picture of Dream on it, and it's not likely she'll remember any of it. But the down-to-earth vibe of the fête at home, with balloons and presents and family, was all reminiscent of Keeping Up With The Kardashians' early days.
Before the show was a global sensation, it had a grainy, authentic home movie vibe. It was a home movie about eight rich people, including the children of an infamous defender of O.J. Simpson and one Olympic champion, sure. But it was mostly an inside look at how one big, loving, dysfunctional family gets through the day. This cozy, family-only birthday party for the newest Kardashian reflects that. Without cameras present, fans are relying on hilarious Snapchat videos or unprofessional photos posted on Twitter to get an idea of what went on at the baby's birthday party. For one reason or another, that's really endearing.
While Dream's parents don't appear to be speaking, it didn't stop the two from throwing adorable birthday parties for their daughter. Chyna posted a solo picture of Dream to her Instagram account, in which the 1-year-old is fully dressed like a mermaid. Why? Because it's cute, OK? Along with the picture of sweet Dream, Chyna wished her daughter a happy birthday with a few added emojis.
Honestly, the Kardashian-Jenner-Whites are still the tight-knit, over-the-top family they've always been. No matter how famous they are or how much money they have, that's always their truth. So happy first birthday, Dream Renée! And of course, you're a Scorpio. Of course, you are.