Kimberly Guilfoyle & Donald Trump Jr. Apparently Have These Pet Names For Each Other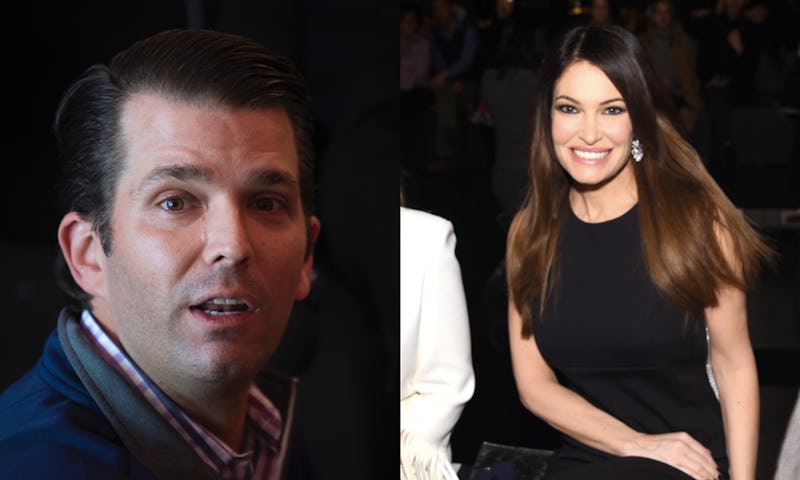 Jamie McCarthy/Getty Images Entertainment; Drew Angerer/Getty Images News/Getty Images
According to "spies" who spoke to the Page Six, Kimberly Guilfoyle's nickname for Donald Trump Jr. is "Junior Mint." Don Jr., who began dating Guilfoyle shortly after separating from his wife Vanessa, reportedly calls his girlfriend "Pooh Bear," according to the Post's "spies." The couple was reportedly heard using the pet names for each other in Southampton.
As for the meaning behind "Junior Mint," Page Six reports some of its sources said the name is a reference to Don Jr.'s bank account, though others said it has nothing to do with money. One could also reasonably surmise that it's a reference to the suffix of his last name, and the fact that he is Donald Trump's son, although Page Six didn't report that this is the case.
Prior to and during her relationship with Don Jr., Guilfoyle co-hosted The Five on Fox News. Some argued that this presented a conflict of interest, as she was reporting on the president while in a romantic relationship with the president's son, and in July, Guilfoyle left the network. She then joined America First, a pro-Trump political action committee, and will reportedly be campaigning for Republican congressional candidates in the fall.
According to the Page Six report, "spies" heard Don Jr. and Guilfoyle using their alleged pet names for one another while they were in Southampton "over the weekend." However, the Vancouver Sun reported that the president's eldest son was in fact vacationing in the Yukon mountains during that weekend.
Don Jr. and Vanessa announced in March that they would getting divorced after 12 years of marriage. In May, rumors began swirling that he Don Jr. and Guilfoyle had become an item, and that news was confirmed in June by Vanessa, who accused the media of launching an "attack" on Guilfoyle "simply because she's dating Don." Vanessa was reacting to a New York Daily News op-ed that accused Guilfoyle of having a conflict of interest by remaining at Fox News while dating the president's son.
Don Jr. posted images of himself and Guilfoyle vacationing in the mountains in June, then pictures of the two celebrating the Fourth of July at the White House. Vanity Fair reported in July that the couple had discussed getting married, though neither Don Jr. nor Guilfoyle offered any comment this.
Although Guilfoyle left Fox News shortly after being accused of having a conflict of interest, it's still not entirely clear why she left. At the time, the network announced merely that "FOX News has parted ways with Kimberly Guilfoyle" but offered no further explanation.
Shortly thereafter, the Huffington Post reported that Guilfoyle had been accused of sexual misconduct and other workplace violations during her time at Fox News. Sources told Huffington Post that Guilfoyle showed images of male genitalia to her colleagues and engaged in "emotionally abusive behavior" toward staffers at the network.
Guilfoyle's attorney John Singer denied the allegations, saying in a statement that "any accusations of Kimberly engaging in inappropriate work-place conduct are unequivocally baseless and have been viciously made by disgruntled and self-interested employees." Neither Singer nor Fox News replied to Bustle's request for comment at the time.
Prior to joining Fox News, Guilfoyle worked as a prosecutor in San Francisco. She was married to then-mayor Gavin Newsom, a progressive Democrat who now serves as California's lieutenant governor and is running for governor in the fall.