Here's A Sweet Look At Nick Jonas & Priyanka Chopra's First Dance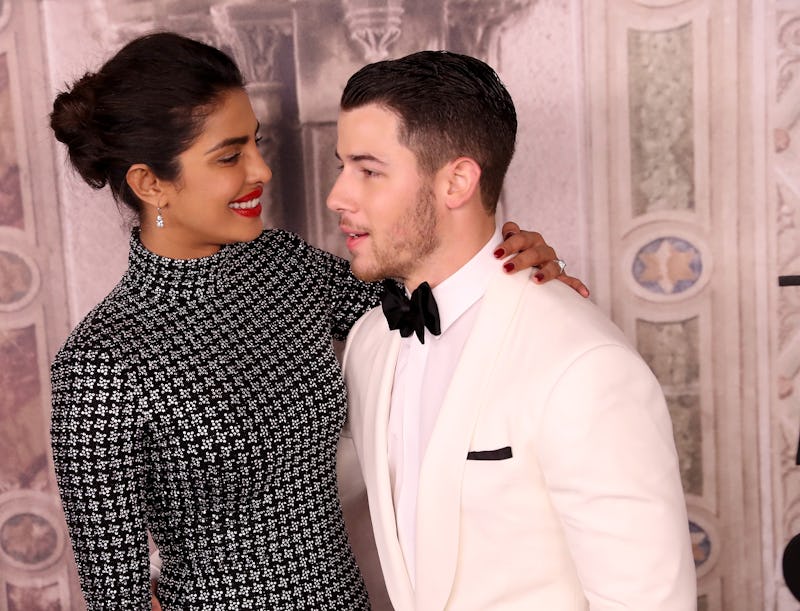 Rob Kim/Getty Images Entertainment/Getty Images
Priyanka Chopra and Nick Jonas' wedding weekend has come to a close, but fans are still loving all of the gorgeous photos from the various ceremonies and rituals. Now, People has released footage from a classic part of the wedding. Chopra and Jonas' first dance video shows how much the two of them care about each other — their love is clear from the tender way they're embracing in the sweet footage.
The video is from Chopra and Jonas' first wedding ceremony, which took place on Saturday, Dec. 1. They had a Christian ceremony that day, followed by a Hindu wedding ceremony on Sunday. At Saturday's event, the two wore Ralph Lauren attire, which was fitting, since they both attended the 2017 Met Gala in Ralph Lauren. The outfits are stunning, too — Chopra's Ralph Lauren gown had a 75-foot veil.
And for fans who are curious about what song the newlyweds chose for their first dance, People reports that they used "The First Time Ever I Saw Your Face" by Roberta Flack. The classic sounds like the perfect way for them to show their love for each other with their dance.
For the Hindu wedding ceremony, Chopra wore a traditional Indian lehenga, created by Indian designer Sabyasachi Mukherjee. Her future sister-in-law, Game of Thrones actor Sophie Turner, also wore a Sabyasachi outfit to the event. Jonas also wore a traditional Indian outfit for Sunday's ceremony, including a silk sherwani and jewelry that was also designed by Sabyasachi.
Dancing was clearly a big part of the couple's wedding weekend, too, extending way beyond their romantic first dance as a married couple. Before the official wedding ceremony, Chopra and Jonas hosted a Sangeet, a traditional ritual that included a dance-off between their two families. The couple's Sangeet even included a Jonas brothers performance — a video Chopra shared on Instagram shows Joe Jonas holding a microphone. (Sadly, there's no audio of the performance.)
In her Instagram post about the Sangeet, the Quantico star wrote,
"It all began as a fierce song & dance competition between the families but ended, as always, as a huge celebration of love."
Jonas and Chopra confirmed their engagement in August, and their relationship progressed quickly over the last four months. Chopra had her bachelorette party in early November, just a few days after having her bridal shower at Tiffany's Blue Box Cafe in New York at the end of October.
To fans, the couple's relationship may seem to have been fast-moving — reports that Chopra and Jonas were dating only started in May. But as the couple explained to Vogue, they'd texted each other and spent time together in 2017 (even though they apparently lost touch for an entire year between the 2017 and 2018 Met Galas). Even though they weren't dating the whole time, they were definitely on each other's radar — so much so, in fact, that Jonas got down on one knee the first time they met in person. (Not to propose just yet, but as more of a romantic, grand gesture.)
Jonas and Chopra's first dance is just another example of how in love these two are. Their wedding ceremonies and rituals look super elaborate, and there was plenty of love to go around with their hundreds of guests. But in videos like the one of their first dance, it looks like the singer and actor only have eyes for each other — it's clearly true love.