This Is Bustle's First Issue, & We're "Owning It"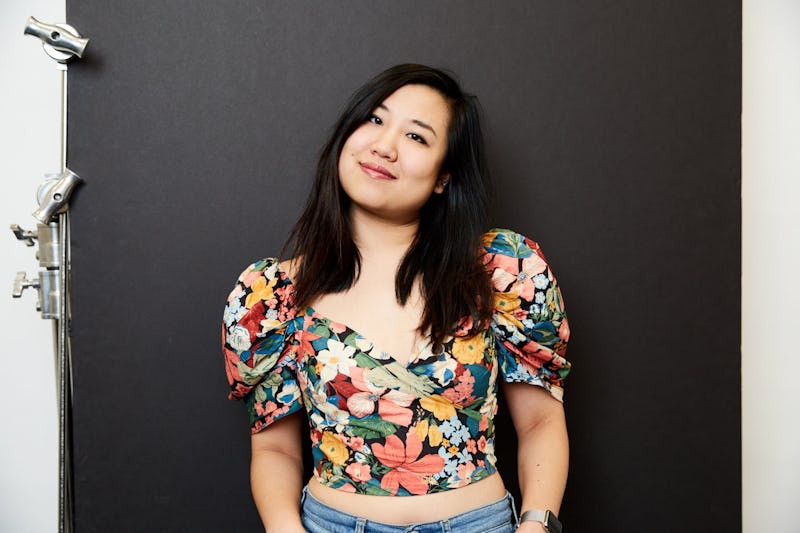 "Be confident." "Chart your own course." "You do you." At this point, these messages are ubiquitous. And that's not a bad thing — after all, no one misses the overt pressure to conform. But sometimes the directive to be true to yourself feels both vague and daunting. What does it mean, actually, and how can you apply it in your own life? What project, or activity, or goal would feel truly "you"? And if you're lucky enough to be clear on that, pursuing an unconventional route to your dreams may feel like a very solo project.
What we need on this front is inspiration and company. How are other young women solving problems, making their ideas a reality, and doing it all despite the voices, internal and external, that say they can't or shouldn't? How does that full embrace of a goal — or identity, or look, or interest — manifest across industries and identities? Answering these questions is the impetus behind Bustle's inaugural issue, Owning It, which launches today. Through original series, profiles, and even a brand-new podcast, we're hopeful you'll find the wisdom and encouragement you need to be unapologetic in your path and your passions.
Take Samira Wiley, who anchors our issue. The characters Wiley plays — who could forget Poussey from Netflix's Orange Is the New Black, or her role as the complicated and fearless Moira in Hulu's The Handmaid's Tale, which returns with its second season in just a couple weeks? — demonstrate a willingness to live life authentically, come what may. And as we learn in our one-on-one interview with Wiley, the actor has the same attitude IRL — even when that means she's "a housewife. Straight up."
You'll also want to explore our Fake AF package, in which we celebrate everything in the beauty world — from fake eyelashes to fake nails to fake hair — that society told us we had to do… and then shamed us for doing. We talked to Ro Morgan, celebrity hairstylist to icons like Naomi Campbell, who took us through all the amazing wig and other faux hair options available today (and how to wear them!). We spent some time with a nail artist at the Vanity Projects salon in NYC to check out how she's transforming her clients' fingertips into mini works of art, and we took a closer look at the stigma against fake nails in the queer community — and the women who get them anyway. We examined the history of wearing fake eyelashes in the Asian community, and also conducted an original survey asking more than 300 people about their beauty habits and attitudes toward makeup — particularly makeup and beauty treatments that are most certainly "fake." Whatever your ~*~aesthetic~*~, one thing's for sure: It's never been a better time to own your look, no apologies.
This month, Alicia Menendez, Bustle's News & Politics contributing editor, is launching her podcast Latina to Latina; in it, she talks to Latina news-makers such as actor Jackie Cruz, venture capitalist Natalia Oberti Noguera, and U.S. Senator Catherine Cortez Masto about navigating their careers, how their culture influences their approach to life and work, and their best advice for owning it in your own field.
In our Royally Fascinated series, which launches today and rolls out up until Prince Harry and Meghan Markle's wedding on May 19, we're owning our societal obsession with royals and nostalgia around them, as well as our current infatuation with Harry and Meghan. We unpacked the casual use of the "princess" label today (including how it's commonly used as a pejorative), spoke with a British history professor about where our royal fascination came from, and had deep chats with psychologists about Disney princesses. A Princess in Theory author Alyssa Cole analyzed how princesses are depicted in pop culture, and in celebration of the upcoming royal wedding, Fug Girls and The Royal We authors Jessica Morgan and Heather Cocks wrote a rehearsal dinner speech for Meghan Markle that we'll go ahead and declare a true must-read.
Our Owning It issue also includes Bustle's first-ever Lit List. For the inaugural class, Senior Books Editor Cristina Arreola identified amazing women from around the country who are redefining, revolutionizing, and just plain owning it in the literary world, including Patrice Caldwell, editor at Disney Hyperion and founder of People in Color in Publishing; Marley Dias, creator of #1000BlackGirlBooks; and Abena Hutchful, director of the Youth Free Expression Program at the National Coalition Against Censorship.
Finally, a little later this month, we are introducing our spring edition of Bustle's Most Wanted — and this time, all of our picks are guaranteed to upgrade your life in one way or another. Think: an aromatherapy filter that fits right on your shower head, cute glasses that protect your eyes from blue light (which can bring on headaches for some and sneakily mess with your sleep), and a system for single-cup pour-over coffee (the company was founded by women, to boot).
So, if you need encouragement on your road to owning it — whatever or however "it" is defined for you — look no further than the incredible women highlighted in Bustle's first issue. Then take some of that audaciousness inspo and run with it — we dare you.
- Amanda Chan, Managing Editor, Bustle