John Legend Looks Just Like Luna In This Baby Pic & Even Chrissy Teigen Can't Handle It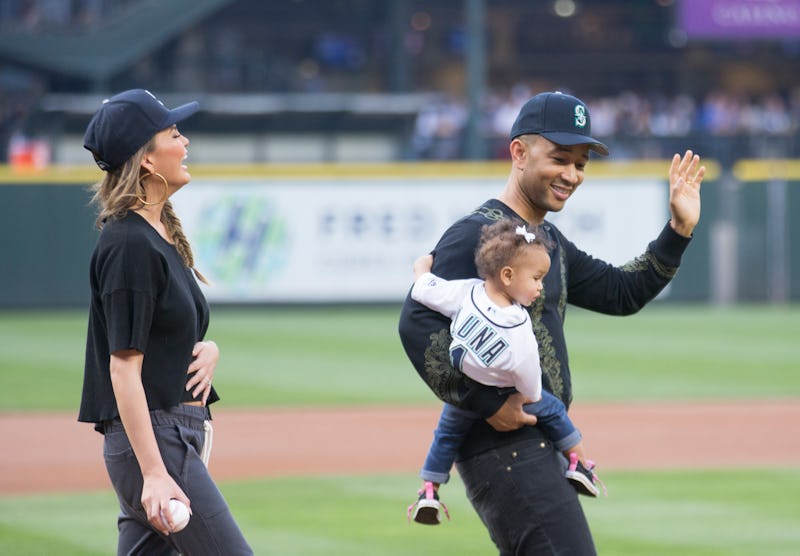 Stephen Brashear/Getty Images Sport/Getty Images
There's no doubt that baby Luna is one of the cutest toddlers ever. And if you couldn't decide which parent the 1-year-old takes after the most, her mother just made it easier. On Twitter, Chrissy Teigen pointed out that John Legend's baby photo looks exactly like Luna, and the resemblance is almost scary.
The Sports Illustrated Swimsuit model reposted a throwback picture of Legend and his mother, father, and brother, and the little singer-to-be's youthful glare is breaking the internet. Baby Luna and baby Legend look so much alike that some commenters insist that a little bit of photoshopping had to ensue before the couple chose to share it with the world. But, according to Legend's original post, and judging by the 1970s retro-ness of the outfits, the picture is, indeed, of "Johnny Stephens" and his adorable family.
Not to say that Luna doesn't take after her mother, because anyone who's ever seen the two pictured together will definitely attest to the fact that she does. But when comparing the baby pictures, Luna and Legend are pretty much twins. Finding humor in the photo's uncanniness, Teigen tweeted the photo with the caption, "baby John = baby Luna," and she wasn't the least bit joking.
And just in case you needed a refresher of what Luna looks like today, here's a photo of the tot with her gorgeous mom:
Luna definitely looks a lot like Teigen here, but when pictured next to Legend, the little one totally looks a lot like her father too.
It's not unusual for a child to take after their parents, but in the throwback image, it literally looks like Luna stole Legend's facial features from him. Teigen wasn't the only one to completely lose her mind over just how much baby Luna and baby Legend resemble each other, however. All of the fan reactions prove that Teigen's analysis was spot-on.
Lucky for Teigen, the couple still has another chance to create a little human that looks just like her. While at the 2017 SAG Awards in January, the supermodel revealed that having a boy is in the near future. Teigen later clarified her comment, explaining that through the in vitro fertilization process the couple underwent previously, they were able to extract three healthy embryos — two of them being girls, and one being a boy.
The first girl embryo reportedly didn't take, but the second girl embryo birthed baby Luna. Teigen continued explaining on Twitter, saying, "Since this is coming up again, I said our next baby would be a boy because that is the embryo we have left. A boy. So. Yeah."
Although she didn't have to explain herself, doing so definitely helped a lot of people understand the very intense situation. "We had multiple embryos," she tweeted. "Girls and boys. We simply chose to put in a female first. We didn't 'throw away' anything and still would love to have more of both in the future. Hard to explain such a complicated process here."
Having a big family has always been part of the plan for the famous couple, and Teigen shared in InStyle's November 2017 issue that they will be trying for their second baby, a little boy, soon. When she was pregnant with Luna in February 2016, Teigen opened up about why she chose to have a little girl first. She told People,
"I've made this decision. Not only am I having a girl, but I picked the girl from her little embryo. I picked her and was like, 'Let's put in the girl.' ... I think I was most excited and allured by the fact that John would be the best father to a little girl. That excited me. It excited me to see … just the thought of seeing him with a little girl. I think he deserves a little girl. I think he deserves that bond."
Oh, and the bond between Legend and Luna couldn't be tighter. The photos of their baby-selves totally prove that to be true.