This Magical 'Sabrina The Teenage Witch' Reunion Will Give You Lots Of Feelings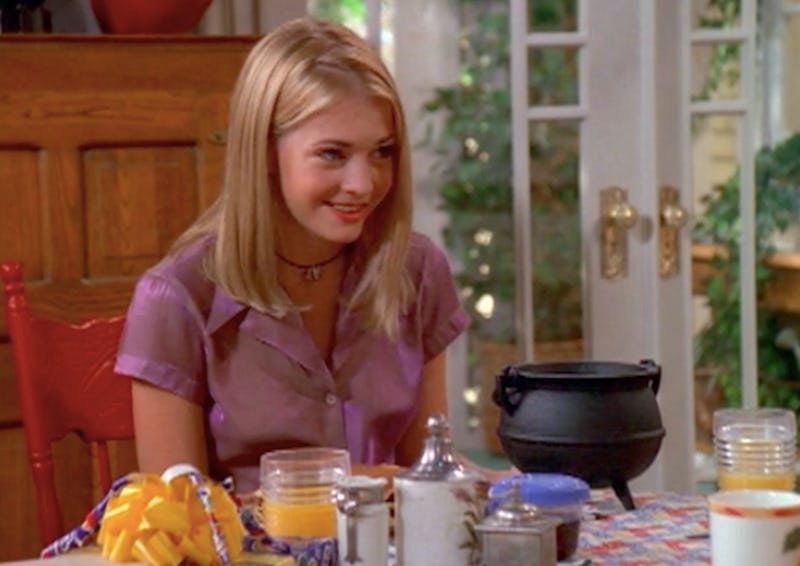 CBS Television Distribution
Entertainment Weekly reunited the cast of Sabrina The Teenage Witch at Stan Lee's Los Angeles Comic Con, and the resulting panel sounds magical. The teen comedy-drama aired on ABC and The WB from 1996-2003, and the first-ever Sabrina The Teenage Witch cast reunion proved the show meant just as much to the stars as it did to fans. At various points in the panel, the series' actors and producers referred to it as "iconic," "fun," "happy," and "kind of a miracle." It's all true; the quirky-cool sitcom struck a chord with enough people so that 14 years after the series wrapped, fans were clamoring for it at the L.A. panel.
As the actors detailed their experiences working on the hit, one thing was obvious: Sabrina The Teenage Witch affected its creators as much as its fans. News of the Sabrina spinoff threw the internet into a tailspin, which they understood. After all, the forthcoming Sabrina spinoff from The CW's Riverdale has little in common with its cheerful predecessor, but that doesn't stop fans from freaking out — or fawning over the original. It's not every day that an actor has to take to social media to explain they're not involved with a different version of a TV series they filmed the pilot of more than 20 years ago.
"It just sort of worked," Caroline Rhea, who played Sabrina's Aunt Hilda, observed, "The chemistry ... it just sort of worked, as one lunatic supernatural family!" That's undeniable. Aunt Zelda's practical advice, Aunt Hilda's goofiness, and Sabrina's flustering wouldn't feel half as real had the trio not come across as a real family. Sabrina's boyfriend Harvey, her high school friends, and even her enemies all felt genuine. Even if the show was about a family of witches. But that's part of why it was so beloved; it was pithy, and funny, and fictional, but it never felt fake. No one would think to describe it as a "fantasy" or comic book series, though Sabrina was very much both. It was just a cute WB series, with a hot guy, and a talking cat, and its lead had great clothes and happened to have enviable powers.
The highlight of the panel, though, was when Melissa Joan Hart had the opportunity to speak. The actor, who had been working since childhood, landed the part of Sabrina Spellman in 1996. It wasn't her first starring vehicle — that would be Nickelodeon's Clarissa Explains It All — but it would introduce her to a wider audience, and make her one of the most recognizable faces of the late '90s and early '00s. According to EW, Hart "fondly remembers" the role of the put-upon teen witch as "one of the most defining of her career." As Hart said at the panel,
"Every actor wants to have that one role that's iconic, that speaks to people... When fans come to us and say, 'We grew up with you,' that is the biggest compliment we could ever receive."
In PeopleTV's video about the reunion, creator Nell Scovell mentioned that even today, she'll show up for meetings or similar work, and strangers will mention to her how much they loved growing up with the show. Beth Broderick, who played Sabrina's Aunt Zelda, commented that she's always touched when fans tell her they once looked to her character as a second mother. Nick Bakay, the voice of Salem, agreed, "It's great to be a part of something that resonates like that."
Hart went on to say that the appreciation from fans "makes us feel good that so many people enjoyed it, and enjoyed our work, and what more can you ask for?" Well, actual witchy powers, maybe. But settling for seven years of a beloved TV series and enough appreciative fans to last nine lifetimes seems good enough for now.