Alert: Your 'Harry Potter' Crush Neville Longbottom Is Shirtless In This New Trailer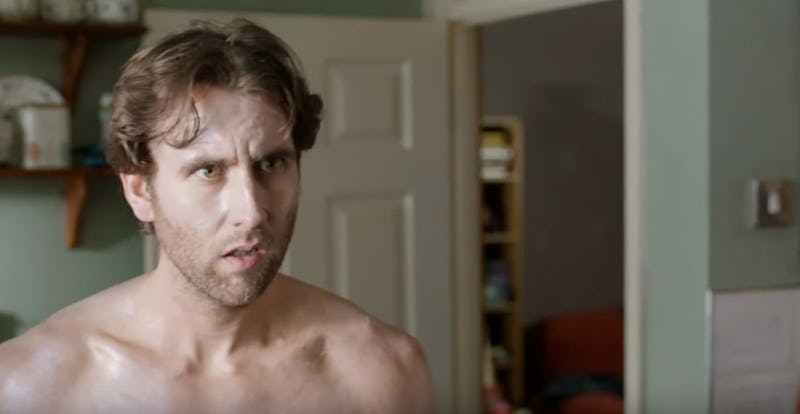 AccioMDL / YouTube
Remember Matthew Lewis? The actor who grew up to be so attractive that the Harry Potter production team had to actively look for ways to make him less attractive by the series' end? Well, Harry Potter's Matthew Lewis is shirtless in a trailer for the British TV series Girlfriends (director and writer: Kay Mellor), and you definitely want to step back from your cauldron for this one. The trailer for Girlfriends — a show which premiered on Wednesday, Jan. 3 and is available to stream on the ITV website — isn't actually about Lewis, but he certainly did make the fandom stand up and take notice.
As a child, Lewis brought heart and integrity to the role of forgetful Neville Longbottom for years. However, as he grew older, he shot up to six-feet-even, filled out more, and developed a jawline that could cut the Mirror of Erised's glass. It got to the point where, according to Lewis, he had to wear a fat suit to play Neville, in addition to the fake teeth that helped differentiate between character and actor. In 2018, though, with the Harry Potter movies far behind us, Girlfriends is finally bringing the fans what they need: a grown Neville Longbottom, shirtless and stubbled to the max. As the first trailer hints, his Girlfriends character might have a bad-boy streak in him too.
Oh, and if that weren't enough to make Harry Potter fans lose their minds, the actor who plays Lewis' mom on the show, Zoe Wanamaker, also played Madam Hooch in Harry Potter And The Sorcerer's Stone. They've come a long way from Neville getting stuck on his broomstick as it shot him wildly into the air.
Despite the preview image of the trailer featuring Lewis, Mellor's Girlfriends is actually a show about three older women going through unexpected personal challenges. In addition to the actors behind Neville Longbottom and Madam Hooch, it also stars Miranda Richardson and Phyllis Logan, the actor who played for six seasons of Masterpiece Theatre classic Downton Abbey. So, yes, this is an extremely British show.
But, beyond his scene in the trailer, it's nice to see Lewis acting again. The shirtless photoshoots are always great, and he's vocal on Twitter about his preferred football team, but it's been a minute or two since fans have seen Lewis tackle a full-on acting project like the new ITV series. His last acting credit was in 2016, when he starred as Sgt. Drum Drummond in the TV series Ripper Street, about a team of officers trying to maintain law and order while Whitechapel is being haunted by Jack the Ripper.
Plus, it's always fun to see what Harry Potter actors get up to outside of the franchise. Emma Watson, for instance, is taking over the world with her activism and philanthropy. The actor who played Lee Jordan showed up throughout NBC's Community as Magnitude, a one-man party whose catchphrase was "Pop pop!" Alfred Enoch, who played Dean Thomas, has remerged as a hunky, tormented grad student on ABC's How To Get Away With Murder. Rupert Grint really did buy that ice cream truck. Daniel Radcliffe has acted on-screen and on Broadway. And Tom Felton's Twitter is as delightful as his recent appearance on the CW's The Flash.
So, sure, it's not clear whether Girlfriends will also air in the United States, because BBC has equivalent channels in the U.S., but E4 and ITV series don't always air concurrently. But, even if you can't watch the show, Harry Potter fans can at least watch the trailer 30 times.