Tiffany Trump Is Reportedly Having A "Rough" Time, But Her IG Tells A Different Story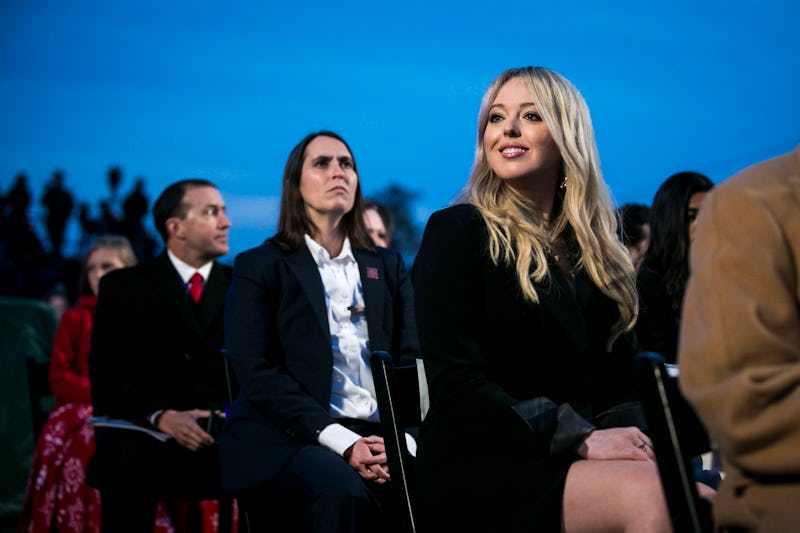 Pool/Getty Images News/Getty Images
Tiffany Trump has a lot going on in her life — she just finished her first year of law school, her father is the president, and she's lived most of her life in the public eye. Now, according to a new report, some of this has come together in a negative way. According to a source who spoke to People, Tiffany Trump's summer has been "rough" — but her Instagram tells an entirely different story.
Specifically, People's source said that Tiffany's breakup with longtime boyfriend Ross Mechanic in March and all of the bad press coming towards her presidential father have been getting to her.
"She has been having a rough summer," an anonymous source told People. "The breakup with her longtime boyfriend is still bothering her. All the negative attention on her dad is stressing her out and she's just not been doing well lately."
Tiffany's spokesperson, however, told People that the source was entirely mistaken.
"Your 'source' is simply wrong. Tiffany is doing incredibly well," the spokesperson said. "She had a terrific first year at Georgetown Law and is currently working this summer as a research assistant for Law Professor Shon Hopwood."
Hopwood, a professor at Georgetown Law, focuses on criminal law, civil rights, and prisoners' constitutional rights. Working as a research assistant for a law professor is a typical way for law students to spend their first summer of law school, especially if they are looking to go down an academic career path, according to U.S. News.
Those looking to get a glimpse of what Tiffany might want to do with her law degree could perhaps read something into that, although Tiffany hasn't confirmed anything herself about her career goals just yet. Tiffany also had to bat down rumors that she had dropped out of law school, which the Daily Caller initially reported but which the Washington Post confirmed to be false.
According to the People report, Tiffany isn't spending all of her time this summer hitting the books, though. She was photographed with her mother, Marla Maples, in London, where the two of them went out on the town with a Secret Service agent in tow. Tiffany also posted a picture of herself in London on Instagram with a good friend, where she wrote that it was "definitely worth the trip to London to see my girl!"
Overall, Tiffany's Instagram paints her summer in a very positive light. She's posted pictures of herself in exotic and colorful locales, along with several pictures of herself with friends — and even a picture of herself along with Donald Trump and her younger half brother, Barron, for Trump's birthday.
Tiffany did happen to go to London right after her father was there. His visit, of course, provoked massive protests in the United Kingdom's capital city, including a "Trump baby" balloon that floated high above the streets. While occasionally showing up for White House events where the whole family was involved, Tiffany has kept herself quite separate from her father's administration — which could have kept her visit to London protest-free. Even if she did run into a naysayer or two, though, it seems like it didn't ruin her trip.