Kristen & Katie From 'Vanderpump Rules' Have Some Serious Feelings About Hangovers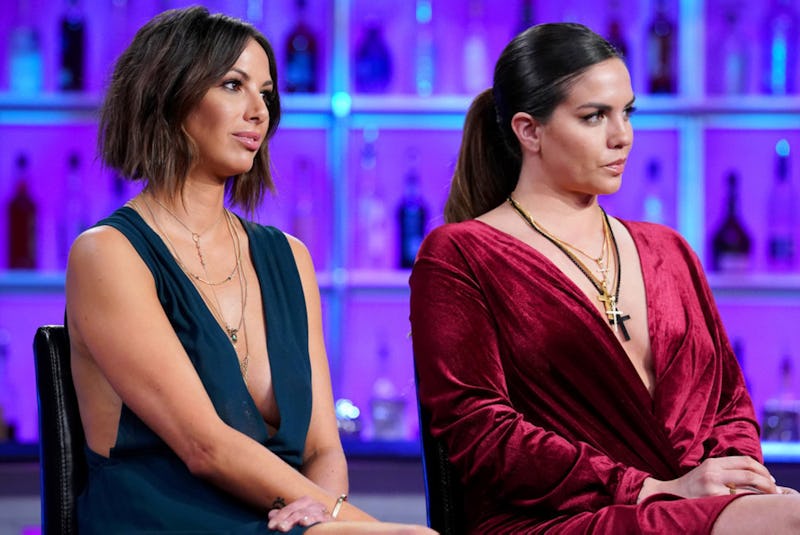 Nicole Weingart/Bravo
The first part of the Vanderpump Rules Season 6 reunion is still a few hours away, but the Vanderpump Rules subtweets have already begun. Pumpers Katie Maloney and Kristen Doute got into a fight about hangovers over the weekend. Sure, their Twitter exchange could've been in good fun, but what if it wasn't? Come on, what is more Pump Rules-ian than a salty Twitter spat about hangovers?
On Saturday, May 5, Kristen tweeted a GIF of Pump Rules super fan Rihanna giving someone a ruthless side-eye and wrote, "hungover people annoy me." After some folks noted that it seemed odd that a member of the booze-loving Pump Rules roster can't empathize with hungover people, Kristen tweeted,
"you guys, I'm very rarely hungover. not enough hours in the day to waste my time like that. It's called rally & live."
Apparently, Kristen will not be bested by any ol' hangover. Moreover, she has no patience for anyone who does succumb to a hangover. So if you have a screaming headache the morning after a long night out, do not look to Kristen for support. If your stomach feels like it's been replaced with a horde of rats that are wrestling in a kiddie pool full of Jell-O, do not tell Kristen about it.
If you have to text someone to come to your place and bring you a glass of water because there is no way you are pulling yourself out of your own bed and crawling to your kitchen, do not let that person be Kristen.
She's all about the rally and live.
Kristen did not name names, but she did not have to. The next day, Katie offered up not one, but two replies to her co-star's anti-hangover tweets.
Uh-oh. We might just have our hungover culprit.
Wait a second. Didn't Kristen just tweet about having a hangover? *Scans Twitter.* Ah, yes. Yes she did.
No, Kristen never claimed she's never experienced a hangover; she said she "very rarely" winds up on the hangover struggle bus. But uh, she apparently was hit with a hangover just a few weeks before she tweeted that hungover people annoy her, and that couldn't feel more right.
Let the record show that Kristen is not immune to hangovers.
Face mask, soup, and Corona Light, aka the "rally and live" trifecta.
She's even endured some especially gnarly hangovers that last through the night.
Rally and live and watch The Hills.
But hey, maybe Kristen and Katie's tweets were all in jest. Maybe everyone was having a laugh and everything's fine and no one is actually that annoyed. Maybe Katie was in full-on hangover zombie mode on Kristen's couch that day and Kristen was giving her grief for it, but you know, in a jokey way. Maybe this isn't actually a fight after all.
But what if it is? Hey, weirder pastas, er, fights have happened. Also? Neither party is a stranger to getting into heated Twitter exchanges with co-stars, and neither party is a stranger to petty conflict. This may be another quintessentially ridiculous and delicious Pump Rules squabble, and Season 7 could very well start with Kristen and Katie feuding over hangovers. We should all be so blessed.
No, it is not too early to start thinking about what Season 7 will entail. Almost every single Pump Rules season premiere has kicked things off with Scheana Marie's birthday party, and today happens to be Scheana Marie's birthday (happy birthday, Scheana). So uh, it stands to reason that Pump Rules Season 7 filming will probably begin any day now.
And let us hope Season 7 starts filming soon, because this summer is already shaping up to be a big one for Pump Rules. Tom Tom will reportedly open within the next several weeks. The show has been nominated for an MTV Movie & TV Award. Lala Kent's song "Boy" hit number one on iTunes' electronic chart. And now, we may or may not have a legendary hangover feud to chew on.