This Model Was Body-Shamed & Cut From A Publication For Her Size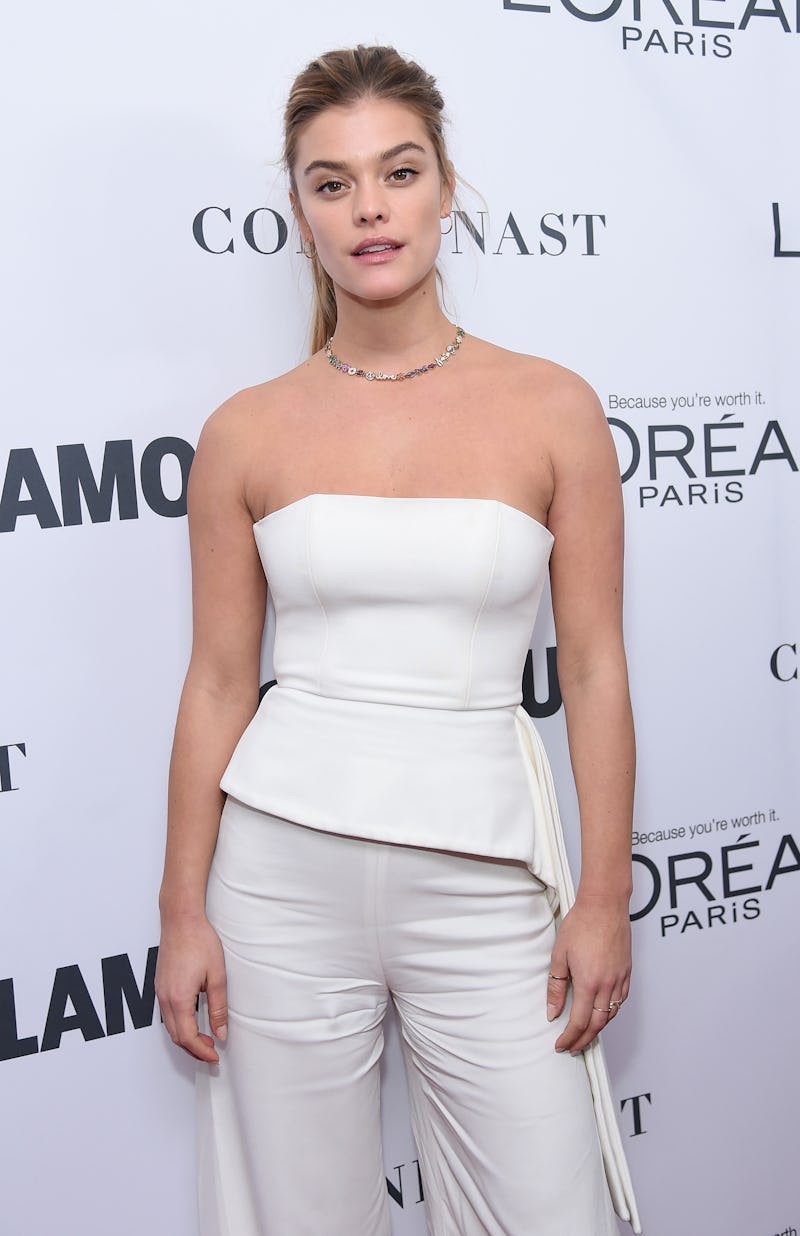 Jamie McCarthy/Getty Images Entertainment/Getty Images
When it comes to inclusivity in fashion, there's still quite a long way to go. From size inclusivity to more diverse models, fashion could certainly improve. Unfortunately, another moment of body shaming has happened, and it's ridiculous. Victoria's Secret model Nina Agdal was body shamed by an unnamed publication, but she's not keeping quiet about the incident. Instead, Agdal is speaking out about her experiences in the industry and the harmful realities of body standards in fashion.
A few days ago, Agdal took to her Instagram account to post a photo of herself topless and wearing a pair of worn, low-slung denim from an unpublished shoot. While the image was gorgeous, the caption that accompanied it revealed the ugly truth behind the photo.
Agdal revealed that she had been cut from a cover and story in an unnamed publication due to her size. The publication allegedly e-mailed her agent claiming that she couldn't fit into sample sizes, did not look like the images in her portfolio, and "did not fit their market." Agdal denies that she could not fit the samples in her Instagram post, but the story is about much more than sample sizes.
Agdal details that she trusted the creative team, and it meant quite a bit to her to walk into the shoot confident in her body. She wrote, "After a tough year of taking a step back from the insensitive and unrealistic pressures of this industry and dealing with paralyzing social anxiety, I walked into that shoot as a 25 year old WOMAN feeling more comfortable in my own skin and healthier than ever before."
Agdal didn't let the publication's decision to cut her and shamed her body dampen her confidence. Instead, she took the opportunity to release an image from the shoot and call for an end to body shaming.
She explained that what she experienced is much bigger than just herself writing, "I decided to release an image to draw awareness and support of an issue that's bigger than just myself and affects so many people not just in the fashion industry, but in general, with the goal of bringing women from all over together in a celebration of our bodies. Let's find ways to build each other up instead of constantly finding ways to tear each other down."
While brands like Missguided, ASOS, and Aerie have made pledges to no longer photoshop their models and retailers like ModCloth are no longer using the phrase "plus size," there still seems to be quite a way to go when it comes to the fashion industry becoming inclusive, and it's also more than just bodies.
Back in November, actor Lupita Nyong'o's natural hair was edited out of a cover story for Grazia magazine. She was not consulted about the editing, and like Agdal, took to her Instagram to explain her frustration that fashion still attempts to marginalize black women's natural hair. In the post, Nyong'o wrote, "Had I been consulted, I would have explained that I cannot support or condone the omission of what is my native heritage with the intention that they appreciate that there is still a very long way to go to combat the unconscious prejudice against black women's complexion, hair style and texture."
Grazia magazine did strongly apologize to Nyong'o explaining that they gave no direction for the image to be edited in such a way.
From speaking out boldly about body shaming to calling out those who seek to impose racist standards of beauty, models and actors are coming forward to challenge beauty norms, and that's what is actually beautiful to see.
In a post to her Twitter account, Agdal told supporters that going forward, she'll seek to speak up further about body shaming and support those who have also experienced it. Here's hoping to more of Agdal and a more inclusive fashion industry.