Chyna's Instagram Live Song Choice Speaks Volumes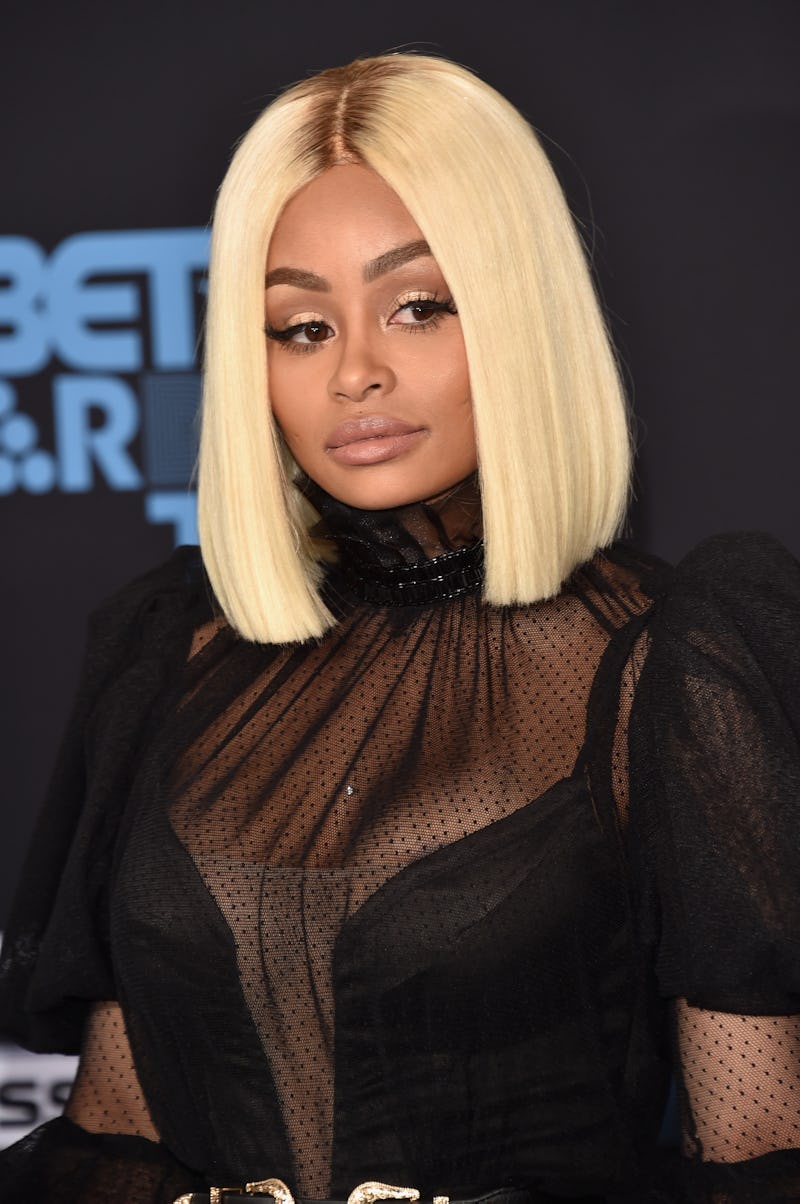 Alberto E. Rodriguez/Getty Images Entertainment/Getty Images
It looks like Blac Chyna may be singing a new tune in the ongoing beef between her and Rob Kardashian. In the latest turn of events, Chyna has taken to Instagram Live to seemingly air out her grievances with her former fiancé. But what did Blac Chyna say about Rob Kardashian on Instagram Live? Well... let's just say that her song choice did all the talking this time around.
UPDATE: Blac Chyna's lawyer told ABC News in a statement "We are considering all legal options and recourses at this time." Bustle has reached out to Kardashian for comment, but did not receive a response at the time of publication.
UPDATE #2: Kardashian's lawyer told TMZ in a statement that Kardashian's actions were a "spontaneous reaction that he regrets" and that they will not be contesting the restraining order. "Rob's only concern is for the well-being of baby Dream," the statement finished.
EARLIER: In footage from the Instagram video that's been uploaded to YouTube, Chyna seemingly directed lyrics from Cardi B's song, "Bodak Yellow" at Kardashian. The snippet, which features Chyna snuggled beneath a set of Versace bed sheets that she appears to be purposely showing off, shares somewhat of a "money over everything" message, as the track plays prominently in the background.
Throughout the hook of the song, Cardi raps,
"And I'm quick cut a n*gga off
So don't get comfortable
Look, I don't dance now
I make money moves
Say I don't gotta dance
I make money move"
The lyrics are certainly relevant due to the nature of Chyna and Kardashian's tattered relationship. It actually sounds as if Chyna may be alluding to abruptly "cutting" Kardashian out of her life — something she reportedly has done in the past, according to Us Weekly. It's also worth pointing out that Chyna was once a dancer prior to dating Kardashian, just like the lyrics reference.
As a recap of what happened between Kardashian and Chyna on social media, things kicked off Wednesday morning with Kardashian alleging that Chyna had cheated on him several times. (Bustle has reached out to reps for Chyna and Kardashian for comment on the claims and posts each of them made on July 5, but did not receive an immediate response.)
After a few choice words, Kardashian also expressed the notion that Chyna had a child with him to get back at her ex-boyfriend, Tyga, and Tyga's girlfriend at the time Kylie Jenner, who also happens to be Kardashian's sister. The Arthur George entrepreneur also claimed to have paid for Chyna to have plastic surgery after she gave birth to their daughter, Dream. Things got even uglier between the two as Kardashian then began posting alleged nude photos of Chyna on Instagram.
During the onslaught of posts, Chyna hopped onto Snapchat claiming that Kardashian had physically abused her in the past; she later deleted the post. She then shared two videos of jewelry as Drake's song "Cameras" proceeded to play in the background, making it apparent that Chyna has opted to speak through song lyrics, rather than address the troubling situation in her own words.