Here's What You Should Do If You're At Disney World When Hurricane Irma Hits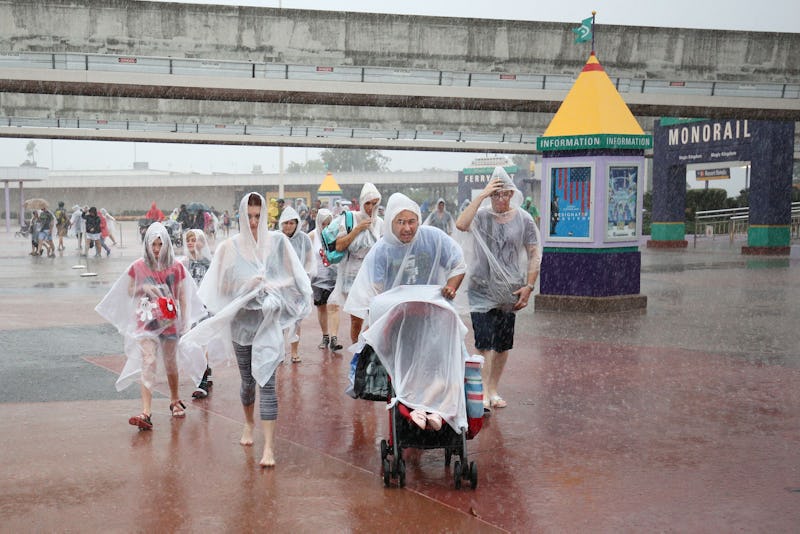 GREGG NEWTON/AFP/Getty Images
Hurricane Irma is heading towards Florida, and its projected path is making plenty of people anxious. With the recent devastation from Hurricane Harvey not yet even fully known, the threat of another hurricane hitting a major U.S. city feels especially urgent. And while it remains unknown exactly where Irma will make landfall, there is a possibility that its path will cross Orlando. If you have a trip planned to Disney World, here's what to do if Hurricane Irma hits.
It's important to note how unlikely that scenario is, because Disney has demonstrated it's not unwilling to close its parks if a hurricane threat is imminent. As recently as 2016, Disney shut its doors completely as a precautionary measure against the potential threat of Hurricane Matthew. So if there is even a small indication that Hurricane Irma could head towards Disney World, the park will probably be closed to visitors entirely.
In fact, in its nearly 46 years of being the "Happiest Place on Earth," Disney World has closed shop for hurricanes on four separate occasions. And though it's still too early to know for sure, a threat from Hurricane Irma could bring that number of Disney closures up to five.
Disney has its own hurricane policy, and offers certain refunds to guests if a hurricane warning is issued within a seven-day period of their visit. That being said, on the chance that Disney World stays open, and Hurricane Irma makes a quick and unforeseen move towards Orlando, guests to the theme park can expect a very different experience than the one they'd planned.
If Hurricane Irma loses some of its momentum and is downgraded from its current Category 4 status to, say, a Category 1 ranking or a tropical storm, it is possible that Disney World would stay open. During Tropical Storm Fay, visitors were allowed into the Disney theme parks. While weather conditions were not ideal, the rain and wind did not pose any real threat to Disney World patrons.
Even when Category 4 Hurricane Charley passed through Orlando in 2004, many families remained at their Disney World hotels, and simply waited for the storm to pass.
If Irma remains a Cateogory 4 hurricane, then Disney guests would likely be similarly advised to shelter in place. According to CNN, Disney World also has a 215-person strong emergency response team dedicated to preparing for and mitigating any number of threats or unexpected events. Disney World visitors can expect to be told where to go and what to do in the event of any impact from Hurricane Irma.
And as Disney has been in the business of making customers happy for decades now, it's a good bet their plan is a trustworthy one.
Read more on Hurricane Irma:
Will Hurricane Irma Be As Bad As Harvey?
The Latest Irma Forecast Shows The Monstrous Hurricane Barreling Toward The Caribbean Islands
Will Hurricane Irma Hit Orlando? Florida Is Concerned About The Storm's Effects
Hurricane Irma Is Getting Closer To The Caribbean's Leeward Islands
How To Track Hurricane Irma, The Next Major Storm Heading This Way
These 2017 Hurricane Predictions Reveal The Storm Season Isn't Even Close To Over
Irma Has Been Upgraded To A "Catastrophic" Category 5 Hurricane