That '13 Reasons Why' Cliffhanger Set Up Such An Intense Plot For A Possible Third Season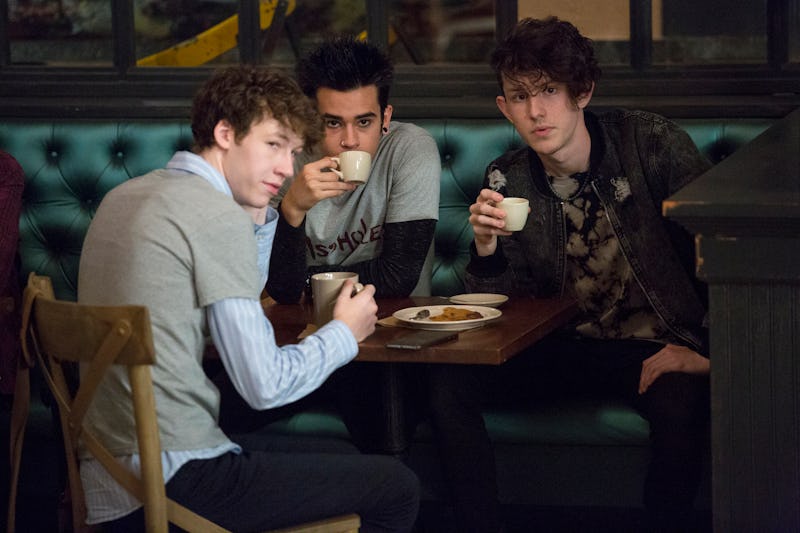 Beth Dubber/Netflix
SPOILERS for all of 13 Reasons Why Season 2 follow. With 13 Reasons Why Season 1 finishing Hannah Baker's story (and the book that it was based on), a Season 2 didn't seem completely necessary. Yet, the ending of Season 2 introduces a new storyline that hints at what 13 Reasons Why Season 3 could be about — if it gets renewed, that is.
After being physically and sexually abused at school, Tyler reaches his breaking point. He arrives at the school dance in the final scene of Season 2 with the intention of perpetrating a mass shooting. Clay is able to convince Tyler to leave before hurting anyone, but Lincoln High School is going to have to face another major issue in a potential Season 3 as 13 Reasons Why tries to prove that the series doesn't need Hannah to continue portraying relevant storylines to teenagers.
Although Netflix hasn't renewed Season 3 yet, the Season 2 finale certainly makes it seem like the series plans to continue. But in an interview with Bustle, producer Mandy Teffey discussed the possibility of a third season — and she didn't seem so certain of the show's fate. "You know, I think it's the same thing as the first season. We sold it as a miniseries and realized what amazing work that it turned out to be and that Season 2 would happen," Teefey said. "And obviously, there's always, 'Oh, maybe there's a third season' and you talk about it, but there's not any confirmation because there's just so many characters and so many stories to tell. Also, how much can happen in one high school? You know, with the exact same characters."
Yet, despite Teefey's questioning how much longer 13 Reasons Why can go on for, the series seems poised to move forward with a third season. Sonoma West Times & News reported that the school where 13 Reasons Why films has already approved a licensing agreement for another season. And with that Season 2 cliffhanger, it would be surprising if the writers hadn't already started to think about how Season 3 can follow the fall out from Tyler's plan.
Before Season 2 premiered, showrunner Brian Yorkey told The Hollywood Reporter about a potential third season, "I always think there's more story to tell, but I think that depends on viewers and everyone's reaction to it and whether it's important to keep telling the story." And with school shootings so prevalent in American society (the Santa Fe High School shooting in Texas occurred the same day that 13 Reasons Why Season 2 was released), reactions will certainly be divisive about the level of violence portrayed — especially in that final episode — and how that could extend into another season.
Still, the response to the depiction of suicide in 13 Reasons Why after the first season was also charged and it was renewed anyway. So it seems doubtful that people's aversion to the show's portrayal of school shootings will stop the series from moving forward. In fact, the series seems to be fueled by tackling these controversial — and incredibly sensitive — issues. As they discuss in the Behind The Reasons after show, the people behind the series think 13 Reasons Why creates a dialogue about the problems that teenagers face today.
If a Season 3 is officially a go, 13 Reasons Why will go deeper into school shootings and how all the characters involved — not just Tyler — are impacted. Since Clay and Tony (who already has a record) assist Tyler in fleeing the scene, they will surely face some legal issues. And the school could even see another lawsuit. Beyond the shooting, the Season 2 finale set up other plots for a future season. While Bryce will no longer attend Lincoln High, he'd probably still be present since his girlfriend Chloe told Jessica that she's pregnant. Bryce actor Justin Prentice told Bustle, "They haven't told us yet if there's going to be a third season, but I'm crossing my fingers."
Along with teen pregnancy, 13 Reasons Why can continue dealing with sexual assault, suicide, and drug use through the characters of Jessica, Alex, and Justin. In the Season 2 finale, Jessica sleeps with Justin at the school dance even though she was there with Alex. Jessica is still recovering from Bryce raping her, Alex is still recovering from his suicide attempt, and Justin is still using heroin. So this love triangle will be extremely complicated in a potential Season 3.
Season 3 will also most likely introduce new characters just like Season 2 did. The only characters who probably won't return are the ones who started the story in the first place — the Bakers. Season 2 seemed to close Hannah's chapter of the story. But by setting up the school shooting plot, 13 Reasons Why Season 3 will aim to show that the world is still complex and scary even when some things have gotten better. As Teefey explained, the show operates by asking, "Let's see what's happening now and whether it needs to be told or let it be." And as school shootings continue to happen in real life, 13 Reasons Why probably won't want to let that topic be.
If you or someone you know are experiencing suicidal thoughts, call 911, or call the National Suicide Prevention Hotline at 1-800-273-8255.
If you or someone you know has been sexually assaulted, call the National Sexual Assault Telephone Hotline at 800-656-HOPE (4673) or visit online.rainn.org.
Additional reporting by Shannon Carlin.