'Broad City' Season 5 Is Coming & We Need It Now More Than Ever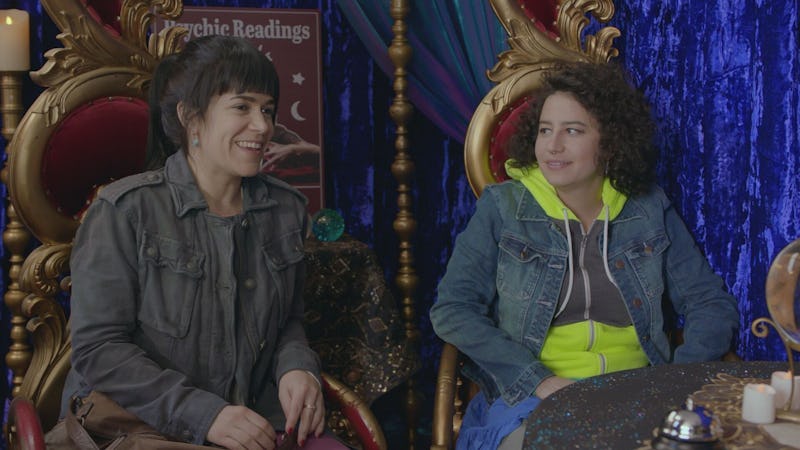 Comedy Central
Broad City has long been a beacon of light in increasingly dark times, but it's never been more vital than in 2017. Hopefully the world feels a little more positive when Broad City returns for Season 5. But the wonderful thing about the show is that it's there for you no matter what. However, fans who rely on Abbi and Ilana to keep them grounded in a increasingly wild world may have to wait a while before the pair return to TV.
In Season 4, Broad City has dealt with hallucinogenic mushrooms, seasonal affective disorder, and the wake of the 2016 election, while Ilana and Abbi continue to try to live their best lives in New York City. The show's 10-episode season comes to an end with the episode "Friendiversary" on Dec. 6, before the pair leave us for another hiatus. Broad City has already had a lot to say about how 2017 has been for women, and a break will only give Ilana Glazer, Abbi Jacobson, and their writers more time to cook up more relevant storylines.
For example, the #metoo movement exploded in October in the middle of Broad City's Season 4 run, and Ilana Glazer has personally spoken out about the topic. There's a chance that women speaking up about their experiences with sexual harassment and assault using this hashtag — as well as the many accusations being leveled against men in Hollywood — could be one of many topics tackled in Broad City Season 5. The real world is giving Broad City plenty of material, but fans may find themselves waiting a long time for Season 5 to hit Comedy Central.
Per TVLine, the show was renewed for Seasons 4 and 5 at the same time, back in 2016. Comedy Central hasn't announced the Season 5 premiere date, nut the show may take another extended break similar to what happened between Seasons 3 and 4. Even before a month-long delay of the premiere from August to September of 2017, the show was scheduled to be on break for over a year — the longest that Comedy Central had gone without new Broad City episodes since the show's debut in 2014. The hiatus was a result of scheduling conflicts, which Glazer explained to V Magazine. "We had a bizarrely fortunate experience where our schedule was pigeonholed into this certain time frame," she said, "because Abbi and I were both doing movies."
Each of the first three seasons of Broad City debuted in January or February of their respective years, making Season 4 the first ever fall premiere for the show. At best, it will probably be around another year until Season 5 premieres, meaning that the show could return in fall of 2018. However, if the show decides to take a longer break, there is a possibility that there may not be new episodes of Broad City until 2019. While a longer wait sounds difficult, it doesn't mean that Broad City fans won't be able to get their fill of Abbi and Ilana during the break between seasons.
Between Seasons 4 and 5, Jacobson will be working on the Netflix animated series Disenchantment, the heroin drama 6 Balloons, and developing the comedy series Meaty at FX. Glazer will likely continue to perform, much like she did onstage with 2 Dope Queens' Phoebe Robinson on the Yas Queen Yas tour in late 2017, or may find time to work on films (she appeared in 2017's The Emoji Movie and Rough Night).
While the Broad City stars do find time to work on other projects, fans who are still in love with Broad City can take solace in the fact that Season 5 is coming eventually. It is great to know that no matter how dark reality gets, there is a light at the end of this tunnel, and it's screaming out "yaaaas."